M0XII
CQ Zone: 14 - ITU Zone: 27 - IOTA: EU005 - WAB: TQ18 - LOCATOR: IO91TM
Originally from Westport in County Mayo on the West coast of Ireland, you may have heard me on the air under my call-sign EI5IX.  
Currently I live in London in the United Kingdom where you can find me active on-air under the Callsign M0XII.
Active in various contests, IRTS, RSGB, BARTG, ARRL, IARU, FISTS, WAE, UKEI, CQ-WW/WPX Contests on HF/VHF/UHF bands under many callsigns.
 I've also done various Dxpeditions including Islands and Lighthouses around Ireland and the UK.
I do not use the QSL Bureau nor Direct QSL. After many years of activity, I have many shoe-boxes filled with cards. While I cherish each QSO I make, I do not seek cards unless it is a new band/country. If you truly need a confirmation of Great Britain from me and it's a must have, then I would be delighted to send one to you 100%. Just please email me with a request and I will try to accommodate you but I would prefer to send via OQRS service on Club Log, or via eQSL & LoTW where I upload my logbooks quiet regularly. I'm also a validated member on both. These are the method I use when seeking a confirmation. I hope you understand, and do not consider this a rude practice.
73's
Slán agus beannacht leat,
M0XII / EI5IX - Pat.
http://www.ei5ix.blogspot.co.uk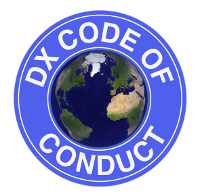 I have attached the DX Code of Conduct.
Should you ever hear me NOT complying, kindly send me an email as a reminder!