Homebrew PicaStar 2 transceiver with touch pad screen control
PicaStar 3 transceiver using Glenn's "Comboboard" at far right (panel graphics still to add)
I am also very interested in vintage amateur radio AM equipment and I am an active VMARS member. I am a regular participant and scheduled net-controller of the AM nets on 3.615 MHz and the set-up that I am currently using comprises a Heathkit DX100U transmitter, a HRO-500 solid-state receiver and also a Perseus SDR receiver to enable accurate reports to others.  I also have an Eddystone 730/4 receiver, an Eddystone 888A receiver and a 1941 vintage HRO-MX receiver as back up AM rigs. Recently I acquired and restored an Ajax A75 "Leader" marine AM radio telephone capable of 75w carrier on 80m which I also regularly use on 80m. You will also find me on 5.317 MHz operating AM using my Kenwood TS 2000 and laterly the homebrewed rig pictured further down this page.
Restored HRO-500 solid state receiver 1962 vintage at far right - yes it works as good as it looks!
DX100U transmitter totally rebuilt above
Ajax A75 "Leader" marine radio telephone at centre mainly solid state but with valve PA using two TT22 bottles and operates from a 24v dc supply.
730/4 receiver
Above right is my restored T1154M / R1155A combination complete with homebrew power supply and microphone pre-amplifier. The receiver has been totally rebuilt from the bare chassis onward but is now without the DF circuits and the right hand "system" switch which has been replaced with a separate RF gain control. The power supply produces the 1200, 220, 24 and 6.3 volt dc supplies and has overvoltage protection to the 6.3v rail to ensure that no expensive damage can occur to the valve heaters/filaments. The supply also contains all of the original interlock features of the air-bourne installation.
Below are a few pictures of my recent constructional project, an AM Tri-Band Transmitter based on a design by Dave Porter G4OYX . The transmitter has a valve RF deck using a single GU50 PA valve capable of up to 50w carrier power output. The modulator is solid state and has carefully tailored audio to meet the requirements of the 60m band.  The transmitter is xtal controlled and works on the 80, 60 and 40m band.
Another refurbishment project has been completed; the superb 1950's designed Labgear LG 300 as pictured below.  The Power Supply/Modulator unit to the left was totally rebuit and now has solid state plug-in rectifiers fitted which results in a very much cooler running unit.  Both cabinets and front panels have been re-sprayed and the transmitter is now capable of exceeding its original specification for RF output on all of its operational frequencies.  This has now been joined in the shack by another identical LG 300 transmitter but this one using a homebrew power supply / modulator built in an original Labgear case to look very simalar to the original article.  Both give near identical results......nice to have a spare!
The latest refurbishment project is now complete as shown below
This is an aicraft Bendix TA-12 C transmitter as used in many American aircraft and the Canadian Lancaster bombers in the Second World War.  To run this I have built the homebrew power supply / modulator as shown which provides anode/screen modulation.  With this I am able to achieve a 70 watt fully modulated carrier on AM and using an Astatic Silver Eagle microphone has resulted in excellent audio reports being given from receiving stations.
Apart from amateur radio my other hobbies include photography, model engineering, large model airplanes, motorcycles and most things electrical, electronic or mechanical.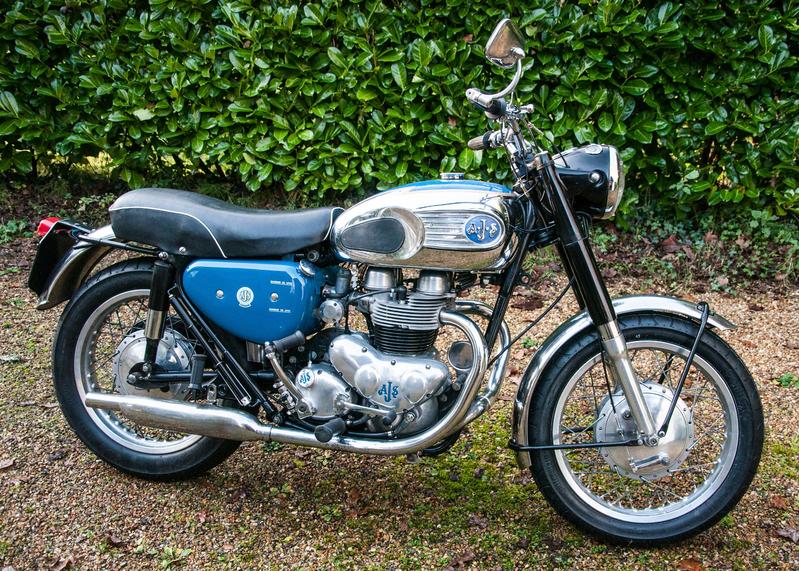 Above is the latest completed restoration project, a 1965 AJS Model 31 650cc CSR "Hurricane".  OK it's not a radio but it still puts a smile on my face.
Look forward to meeting you on the bands.
73 de Paul M1PVC