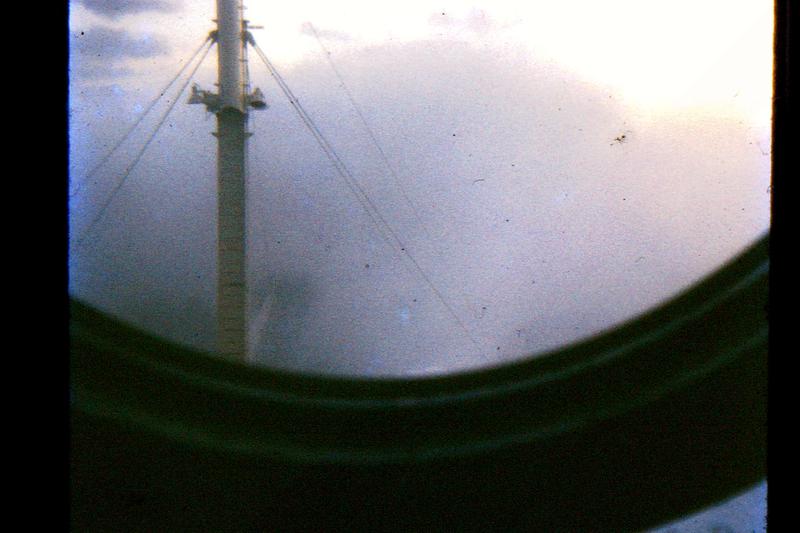 Biography of My Qrz . Com
--------------------------------------------Beware of Nigerian scams using Western Union for money transfers.
                                                         Your goods will never arrive and your money is lost for good!!
                                                         Started being a Ham January 2012
Hello All ,
I`m an ex R/O who finished life at sea in 1983 and never touched a Morse Key or Radio since until 2012 . My ex R/O friend G4CGG Richard from Hull, encouraged me to get into Amateur Radio. Since then I joined the Stockport Radio Society (www.g8srs.co.uk) who got me through the Foundation Licence and Intermediate one. They gave me all the information I needed to set up my little shack area and all the Antenna details for which I am truly grateful .Also, I am a member of Maritime Radio Museum Society Wirral ( www.mrmsw.co.uk ). This website is worth a look at as it is quite nautical with ship pictures etc. I use my M6MPC callsign all the time as I love QRP working (M6 callsigns are qrp only, max 10 watts, designated by Ofcom), sense of achievement instead of run of the mill qro operating!! Two pictures (14 down), are of my village, Tintwistle, meaning a bend in the river. The twenty second picture down shows faintly the dreaded pylon right in the centre with a tree to the right. The river Etherow, flowing into the five reservoirs, is a tributary to the River Mersey. We are on the side of Tintwistle Low Moor, over 800 feet above sea level, in the Peak District of Derbyshire. It used to be spelt Darbyshire, hence the pronunciation Daar bi shire. Whoever changed the spelling, and still kept the same pronunciation must be daft! It should be Der bi shire! In the photo you can see the HV Pylon in the middle of the picture, which is only 70 meters from the cottage. To compensate, we have a lovely country pub, 16th century, Bull's Head, just down the road. The pub was put up for sale, May this year 2017, but the present tennants, Mick and Jane, managed to buy it off Enterprise Inns. A sigh of relief all round the village!! I forget the pylon after a few pints!! Fourth picture down. Due to family commitments, I have left Stockport Radio Society Christmas 2016. I look after/carer for my mother age 94 and Aunty age 96, her sister. If I have to break off a QSO, it's because they need my attention, which happens frequently. Please bear with me on this one.
My operating area is very small, probably one of the smallest in the UK. The bench is 2ft 8"long, 1ft 10"deep and 1ft10"high, with a shelf for power units, antenna tuner etc., mounted above the bench. Bugs are to the left of my Ten Tec rigs.
A new picture, is Tintwistle from a distance. Looking from the Glossop to Woodhead Road B6105. this shows the village on the side of Tintwistle Low Moor.
I think the urge to go to sea came from my grandfather, who had done sea time but in ship's orchestra's/bands as he was a cello player. He had been up the Amazon to Manaus on one ship called the 'Hilary' ,one of Maggie Both's ships which went from either Liverpool or New York in those days. "He was also a survivor of the 'Lusitania' which was torpedoed on May 7th, 1915, sank in 18 minutes off the Old Head Of Kinsale, near Cork, Ireland. (Otherwise, I wouldn't be here!!)." The 11th down picture is 'Esso Humber' going through ice up one of the Swedish Fjords. The 5th picture is my little shack area. The 13th picture down is the radio set up on the "Planet" Light Ship, Canning Dock, Liverpool. The rig being the Kenwood TS 570 DGE together with W3DZZ antenna. The 14th picture is our  A3  description of the Lusitania, and my Grandfather (insert on right) , with his cello.
The 6th picture down is of the Strick and Ellerman Line 'Gorjistan/GHQC', my second trip to sea, when I was still a junior R/O. She was a six cyclinder 'Doxford P type Main engine, with auxillary generators. The drawback was - a DC ship, not AC. Consequently, as the radio room was modern, and all AC, we had a DC motor, shaft coupled to a large alternator, mounted in a big cabinet above the Bridge. This supplied all the power required for the radio gear and more. Marconi gear was all DC!!
I have added 4 new pictures. Me operating in the rear radio room on the Planet light ship with callsign GB100MFA. This was the Lusitania/MFA event for the whole month of May 2015. A picture of the "Planet" light ship permanently alongside in canning dock, Liverpool, painted red, is another new picture. This is by the pavement on the Strand, round the corner from Pier Head.
Due to circumstances beyond our control (our little radio group), the Planet Light Ship has been towed out of Liverpool to the port of Sharpness on the River Severn, near Gloucester. Unpaid berthing dues etc we are told. However, as one door closes another one opens and our group of ops has now been offered space to set up again but onboard a small tug in the Albert Dock called "France Hayhurst". We are now in the middle of fitting it out for our needs with the kind blessing of Cathy Roberts the owner. More on this in the near future. Three new pictures of the tug with me operating on "France Hayhurst", 2nd picture down, with callsign M0LBL. Just finished the antennas and working fine. All the lads have made it quite cosy below, and we have found out our simple antennas are getting us out into the bigger world, even though we are in a corner of the Albert Dock, Liverpool, completely surrounded by high ex warehousing - now flats/apartments. There is a new picture below the tug one, showing our M.R.M.S.W. crew with a couple of the lads missing off it. (Bill, cw op like me, was taking the picture!!) I'm second from the left after having my hair cut short!
Also, 10th picture down of my Dawes Galaxy touring bike 1997, last of the butted frames and made in the UK. The photo is the latest one with new bigger tyres and front pannier with light mounted on it. This bike has a schmitt dynohub in the front wheel for dynamo lights front and back and Cree battery high power white LED twin lights on the handlebars. These are better than car headlights!!  I had 24 gears, 8 block in the back wheel and triple chain wheel, all original apart from STI brake and gear shifters and the 8 block which used to be 7. I did Lands End to John 'o' Groats fully loaded with front and rear panier bags 7 years ago when I was 63 yrs old. (It took 12 days, myself and friend to do the 1000 miles). I was quite fit then before major back problems and sciatica in my left leg which won't go away. I had a back operation 2 years ago, fixed a few problems but couldn't get rid of the sciatica. It is easier for me to bike ride than to walk, hence I try to get out as much as possible on this bike or my other 2 bikes. I use my old mountain bike on the Longdendale trail, across the valley on the other side from Tintwistle. There is a photo showing the trail which was the very efficient railway line from Hadfiled near Glossop to Sheffield via the Woodhead Tunnel. (Overhead d.c. electric). This was closed late 1960's as unecconomic, one of the biggest lies going. It was taking too much coal to the power stations around Manchester and so was in competition with road hauliers. You can guess why it was closed - someone didn't like the competition and guess what - they closed the line!! How dearly this line would have made many lorries go off the road, and would have been invaluable as a fast train service across the Pennines. The present route through Edale is very slow. I rest my case.
The next picture,16th down,  is an old collier called 'Helmwood,' one of France Fenwick's coastal fleet. We took coal from Blyth, South Shields etc., and went down south to the London power stations on the river Thames. On the way, we used to pass 'Radio Caroline' which was anchored out beyond the 3 mile limit off Frinton-on-Sea, Essex. I had a radio blackout half a mile each end of the ship, as she was pumping out one heck of a lot of power on Medium waveband. Our Ship was flat out at 10 knots!!! She was a steam job - up and downer, with Scotch boilers. She could only go with the tides, otherwise, she went backwards!!
I have included a radio room picture of the American version of ITT/Mackay Marine. It makes some of our radio rooms look so completely outdated. The way the equipment is rack mounted for ease of operation is also well ahead of UK installations. The American callsign is WFIN. This picture is above the one showing me operating on the British Voyager/GCHM. Another picture I have just found, is the "Starman". This, later renamed as "Starman America", and was Kelvin Hughes radio equipped. We carried an oil refinery cat cracker (part of) from Constanta, Romania to Aquaba, Jordan, via Suez. I was on this ship in early 1980. Peculiar shaped ship run by Blue Star Shipping. Wierd radio room behind the bridge. Remember having bad main RX problems - frequency receiving offset by over 500kc/s. HF coast stations took some finding to get traffic away!
The sea pictures are of small Shell Tankers that I sailed on, and whilst in Curacao,met one of the station operators -Henk Bogers who used to take me up to the station / PJC (picture above operating heathkit electronic keyer) .The other sea pictures are mainly North Sea , when I was on Survey / Submersible support vessels . The best one of the four vessels was the British Voyager / GCHM - full ITT/IMRC radio equipment in the radio room and only the best i.e. ST 1600 TX 3020 RX etc. She was converted from a whale factory ship called the Fairtry 2, originally Salvesens of Leith, near Edinburgh. Extremely good and safe ship in bad weather. She was one of the biggest working the North Sea at 3,000 gross tons.
The picture below is Henk Bogers at Curacaoradio/PJC. Henk allowed me to work a ship on one visit to give me some experience of what it is like shoreside with comms. Really enjoyed the opportunity he gave me! Below this, is me operating the telex machine on British Viscount/GUKZ. She was top end equipped with ITT/IMRC equipment including 2 - 3020 Mackay rx's!! Also, the main tx was an ST1400 all synthesized for any marine freq. and a joy to use. She had 400 watts A2H on 500 khz, quite a punch but not as much as the ST1600 which had 600 watts A2H on 500 khz!! The PA rack of this TX had an Auto ATU, a bit ahead of other tx's!
Also, picture of T.Akasaka/VRJB - 53,000 dwt bulk carrier I was on with Redifon Gear - another picture above with me operating. To my left is a valve electronic keyer, one of the first out on the market in those days and it worked the equipment well. (Larsen of Denmark)
You can see bottom picture of "Beryl Alpha" a three legged concrete (Condeep) Platform similar to Brent Bravo which I saw being towed from Norway and dropped into position mid summer 1976. When working out in the North Sea northeast of Shetland we used to have a good rapor with Wick Radio / GKR which became our main station for comms during our frequent trips there.
Since becoming an amateur I have had many QSOs with ex R/Os which has helped me get back up to first class speed like I used to do 50 yrs ago.I can now send pretty good on a pump action key and Vibroplex left handed bug which is a converted right handed one . I stopped using a hand key late 1965 as was using one of the electronic keyers of that era. I also have a morse class before the club meetings start. (Stockport Radio Society). We have about half an hour with up to 6 lads sitting round a table whilst I send with a WW2 8AMP pump key. Their speed is coming up by the week so am quite pleased. These lads will not be snails on air!
Recently three members of our radio club , I was the driver, went to the Isle of Coll , Inner Hebrides, in my VW Campervan to operate on the island for a week during the summer (2013) . The weather was good but not best of QTHs for take off to the west . We were mainly using a 3.5 Mhz Doublet -open feeder into an Auto tuner in the Camper . Ray M1REX and his son Andy were doing SSB and I was doing the CW (of course)- I don't do talking as my skill is the Key as per my sea going years . The lads managed to get a lot more QSOs on SSB than myself on CW but nevertheless it was great fun. The Island only has about 200 inhabitants -one shop- one hotel -cafe a little petrol station and Post office. It really made me appreciate what we take for granted are indeed luxuries to the islanders !! They all seem to help each other out one way or another , a really good spirit , pity this does not happen on the mainland in the same proportion , if it did, we would have a very caring society.
I have no interest whatsoever in winning competitions, awards for this that or the other. Contests take away an amateur's time on the bands for their selfish esteem, and for what? Who has the most power, highest antennas, ideal qth etc. Also, there is a lot of cheating going on to get serial numbers up! It's one big joke and there are far too many contests going on week in, week out, and nearly every weekend. Plus the fact that they are using a 'keyboard' to send CW from, and not their key!! Free time for working amateurs on the bands is getting severely limited and some I have been talking to, cannot get on the bands they want at weekends!!! Why are some contests 48 hours long? Absolutely ridiculous!! No need for this whatsoever, just taking away the bands from ordinary hams. There are no band limits for these contests, consequently, any qrp or ordinary ham who wants to work low power dx contacts, has no chance. There is also a lot of cheating with the power used, meaning legal limits for the contests get broken all the time! I can tell just by the experience of listening.This is supposed to be a hobby, not a business!! Think about it. Also, morse readers are coming into the equation. Lazyness and boneidle operating is taking over. Have they no shame? Proper amateur communications are becoming nothing more than computer derived communications and consequently, the skill level has dropped dramatically. We need to address this before CW gets overtaken by computer comms - urghhh!!! Now contests are creeping into the WARC bands, when will this selfish, grabbing of the bands end? Will there ever be free slots for ordinary Hams who want to enjoy the hobby? Will the RSGB do anything about this? Absolutely not! It is full of contestors!!! They even have a "Contest Support Committee". These contests are now going right across the CW end of the bands - A dutchman was on 1813 khz with SSB in the last SSB contest. The whole 160 meter band was wiped out by these dam contestors who think they rule the airwaves. It has got to stop!! No cw op could work the band for over 24 hours, it's and absolute disgrace as to the selfishness of these serial number moguls who dare you to try and come on the bands when they are on. Roll on Amateur radio and not contesting!!
This is one good reason why I have left the RSGB. Promoting contesting is not promoting Ham Radio, just the opposite!!
Computer comms using VDU's (Screen displays) will be causing bad eye problems for lazy amateurs in the near future.
This will be another drain on the National Health Service, and purely self inflicted. Learn CW and live a little!
I have four keys for transmitting with. First key is a WW2 8AMP (pump key). It's very smooth in action and am trying to get my speed back up to 25 wpm like I used to do 50 years ago. The second key is an original deluxe with a chrome base which I have aquired recently together with Vibroplex bug case! This has now been converted to left handed operation like the other.The third key is an old Vibroplex 'Lightning' bug which I bought on ebay from USA and just converted it to left handed operation. (1950 bug) Conversion is done by drilling holes in the base plate on the opposite sides to where the dot post and dash post were originally fitted. Then change the support pillars round the opposite way so as the dot tension spring is now mounted on the right instead of the left. Turn the main centre shaft that has the weight on etc., upside down, remove the rod/axle and fit it the other way up. You now have everything mounted on the right instead of the left side. Common sense really. The dot contact spring needs a bit of fiddling around to get the correct position, but it's no big deal. The damper needs to be changed round 180 degrees. The damper "Goal Post" needs to be moved to the left by drilling 2 more holes as it is off centred. It just means measuring the same distance in on the base plate as it was for being right handed. The weight has to be taken off and re-fitted the opposite way round, away from the damper. Connections underneath have to be re-routed to the connection posts but that's easy. End product is a left handed bug - these are as rare as rocking horse muck to get hold of so that is why I have done these conversions. The upper picture of my shack area has my new addition - original deluxe chrome base Vibroplex bug just converted to left handed use. I also have a new electronic keyer - EZkeyer, I built up from a kit by an American Ham - AA0ZZ. Just trying it out at the moment (27.10.2014). The new keyer and single Vibroplex paddle L/H (1965), are on the left of my straight key in the top picture. Both are on the same aluminium baseplate. Also, I have an old little American pump key that my Grandfather bought me in 1964, to take with me to use on mv 'Gorjistan'/GHQC. The flat knob was removed and a new ball type knob was made in white plastic and fitted. Works a treat! I am now a permanent "Bug" operator, much prefer it to a paddle, and hope to be good at it in years to come.
One picture below is one of the ships I was on going through heavy seas - the view is through the rotating glass, motor driven from the centre, a bit like windscreen wipers only rotary in action. Without this unit, visibility on the bridge in heavy sea spray would be virtually nil. This ship, I think, was one of the small Shell Tankers I was on and looks like the 'Amastra/MYCK', or even the 'Axina/MYGC, both nearly last in Portishead Traffic lists and then traffic - happy days!!
There is a picture above of an old brick building which is boarded up. This was Humber radio/GKZ - an MF coast station situated at Trusthorpe in Lincolnshire, next to Mablethorpe. Used to be cracking MF station in its heyday, now just a rotting ruin. Great shame. Also, Our famous Portisheadradio, at Highbridge Somerset, was bulldozed to make way for a housing estate. All our history in communications just wiped out overnight!! The pratts that do these things, have no idea what they have destroyed. The Americans and other countries, keep their main H/F stations, turn them into museums for the public to be aware of what happened in the past. It's called a learning curve. Only this country, the UK, could destroy all that in the name of greed. Also, other countries turn their H/F stations into Radio Amateur Stations, again for the public to understand the workings of radio. Makes my blood boil with the demolition of Portisheadradio at Highbridge, Somerset!!!
My QTH is, by the way, 840 feet above sea level, so anyone thinking I'm using more power than I can legally do so, should think again. Due to this height I can work QRP or QRPP, and have no need for QRO, 100 watts+, that amateurs use most of the time. (Some amateurs are set in their QRO ways and cannot change like trying QRP). Life must be so mundane for them! The CW speed of some amateurs has not increased with time and some are still stuck on 12 to 15 wpm some twenty years or more after taking the RAE morse test. Why?!!! I have worked many hams over the age of 80 years, electronic keyers, and doing upwards of 25 w.p.m. So what is the problem for these hams. Is it like having no work ethick, as regards cw, or just stuck in a slow speed rut? I loose concentration at these slow speeds, so it's no fun trying to become a snail.
My Rigs are Main Txr Ten Tec Corsair 2, MFJ 969 roller coaster Tuner, Aux Txr Ten Tec 'Jupiter'.  Ant`s - Half Size G5RV  , Long Wire inverted 'L' 220 feet long with 9:1 balun at the base of the vertical section, in the back yard. "HUSTLER" 6 band trapped vertical ground mounted with 58 radials but without 18Mhz stub, a beverage antenna 140 feet running north/south 2ft 6 inches off the deck, and finally, a new 18 mhz (17m) dipole, but only 20 feet above the deck. A very simple set up. I have added a new picture of the Corsair2 front panel to show the ease of controls compared with Jap menu driven rigs. It beats them hands down!!
 One picture is taken from the top of the back garden, looking through the new galvanized gate down the garden with my Hustler vertical at the top and supporting my long wire antenna. Good view over the reservoirs and the highest Peak District  hills to the left - Kinderscout and Bleaklow. Just taken a recent picture of 2 Cock Pheasants  in the back yard. 2 cocks and 5 hen pheasants which come round for food daily. - beautiful looking creatures, as so colourful.
Unfortunaately we have an Hv Pylon 70 Mtrs away with power lines at 440,000 volts going right across the back garden.When the insulators of the Pylon are dry I get no interference but when wet I can hardly hear a thing on 1.8 Mhz and 3.5 Mhz and even gets noisy on 7 Mhz but to a lesser extent. Noise level in Tintwistle is virtually nil so it is like working portable most of the time and I think myself very lucky in this respect. This also helps when working QRPP milli watts!!..I am a member of Fists No 15903, Radio officers Association No 640 ,also member of G-QRP club No 14752. Also, new member of Maritime Radio Museum Society, based on the Planet light ship in Canning dock, Liverpool. (callsign - GB2LBL). I drive to Liverpool every Friday to operate with the other Scouse lads in our group aboard the "Planet". However, As I said above, the Planet is no longer in Liverpool but we now go to the tug "France Hayhurst" in the Albert dock. Nearly finished installing the antennas etc., so should be on the air soon. (October 2016) The callsign of the tug is M0LBL.
The seventh picture down is of the Troll Park/GONQ, red hull, pale green superstructure and all aft. We used to take 2,000 volkswagon cars to Baltimore from Emden in Germany. Then down the eastern seaboard of the States to Savanah - pick up part cargo of paper reams - then up the coast to Stephenville, west coast of Newfoundland to pick up the rest of the cargo. Then it was back to the UK. The Radio room picture is below in console form showing my Vibroplex single paddle key before it was put into the aluminium box later.
One picture shows the Shell Tanker Achatina/GXQP on a collision course with Alcatraz Island, San Francisco Bay - we turned to starboard later for obvious reasons!! Then continued out of the bay and under Golden Gate Bridge, heading for Panama Canal. I had my honeymoon aboard this ship for 7 and a half months, a very comfortable home during this period. These 'A' class small tankers had a split radio room. The main sets where in the front part of the room, and the emergency gear plus battery charging/ship's communal radio amplifier and outlets, were all mounted in the rear of the room, behind the alleyway door. Coming forward from this equipment was another door which went out onto the outside deck, very good for fresh air and a sea view whilst on watch. Picture below shows me in the foreground with the emergency rx/tx and other stuff mounted at the back of the room - eeeeh, I looked like a right spring chicken in those days!!!
A picture at the bottom shows my 'Hustler' vertical antenna at the top of the garden, just before the fence which is the boundary to open country over the moors. The HV pylon is to the left. The other fibre glass pole is the remaining support for my long wire antenna, (on the left).There is also a picture above of the Hustler showing the power lines passing across the back garden, but well below in relation to the position of the antenna.
Two pictures below in black and white are of the Fairtry 2. This ship was converted into The 'Vickers Voyager, then British Voyager'. You can see the structural differences by looking at the Voyager below. Previously, when a whale factory ship, she had a complement of about 80 personnel. When converted to submersible support/survey ship, she had about 50 personnel aboard, but much more confortable. We had a massive lounge fitted down aft which was a good meeting place for all the lads of an evening.
The very bottom pictures are of the 'Esso Humber', on regular runs from Antwerp, Belgium, to the Baltic. Found the callsign recently - GZHH. It was a nice ship and a lovely run.
A picture in the snow at our front door, is my bus, VW T5 Campervan - the one I went to the Isle of Coll with. Very comfortable to drive, and great for 
doing portable radio using the leisure battery, internal table and having a brew at the same time!
Very bottom picture of my new aquisition. An old style Marin Mountain bike "Mount Vision" which I got off Tony, G4LFU  ex R/O.
I had just finished doing the Longdendale trail up to Woodhead Tunnel and back, and the picture shows part of the
trail near to Hadfield. Very enjoyable, and right on my doorstep, so to speak.
Above is the part radio room of British Viking/GUIY, one of the submersible/survey ships I was on. It shows the Mackay (American part off ITT group) fully synthesized rx with digital switched freq. readout. Below is mounted the rx antenna switching unit together with phone switching etc. To the left of this was my old electronic keyer in an aluminium box with Vibroplex single paddle. (Left handed!) Excellent gear to operate, and I'm sure Wickradio was a bit jealous as they only had museum Marconi gear to operate with!! Happy days.
I hope you like my write up and thank you for viewing my page.
P S Bug CW forever!
Mike


�

�
�
�
�
�
�
�
�
�
�