For OY/MM0ZBH the QSL Manager is N2OO - see https://www.qrz.com/db/OY/MM0ZBH
MM0ZBH QSL
1st choice: LoTW and eQSL
2nd choice: Direct (email for address)
Other callsigns: MA0ZBH, MO0ZBH, MQ0ZBH, 2M0ZBH, MM6ZBH, 5B/MM0ZBH, GS8VL, PA/MM0ZBH/P, OY/MM0ZBH
Home Station
Radio: Kenwood TS590S transceiver and Kent twin paddle key
TX Antenna:
Cushcraft D3W for 12/17 and 30m.
Moxon beam (homebrew) for 10/15/20m. Using three feedlines and an Ameritron remote antenna switch mounted at the top of the mast.
1/4 wave vertical for 40m (homebrew)
Inverted L for 160m and 80m (homebrew using 40m vertical)
RX antenna:
Wellbrook Loop ALA1530
2 x Beverage antenna 40m long NE and SW used for 160m receive.
Remote RX for 20m to 80m:
SDRPlay RSP1, MiniX Z84 mini PC with SDR-Radio Server, Ubiquiti Nanostation 5GhZ wireless bridge running on batteries from a remote location 400 metres from my QTH back to the shack and SDR-Radio Console running on the shack laptop.   I can now easily hear weaker signals on the 20m-80m bands due to the much lower noise floor at the remote location.   I will be adding 160m beverage rx antennas soon.
Mast: 11m Tennamast and SPID RAU rotator
The shack is in the loft so no luxuries like windows, carpet or wallpaper but it does the job.
Portable Station
Elecraft KX3, 150w amplifier
Wire antennas
Palm Radio mini paddle
Clubs
GMDX
RSGB
CDXC
European PSK Club: EPC # 17507
Licence
March 2011 as foundation licence MM6ZBH. 10w TX power.
May 2011 as intermediate licence 2M0ZBH. 50w TX power.
December 2011with full licence with callsign MM0ZBH - all bands and 400w TX power.
QTH
I live in a village called Aberdour, it is located in the region of Fife and has a population of 1500 people. People come to visit Aberdour to visit the castle and go to the beach. Aberdour is located 30 mins on the train from the capital city Edinburgh and 45 mins in the car from St Andrews and the famous golf courses.
My WAB square is NT18 and my Locator Square is IO86ib
Home QTH
Clublog Logbook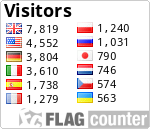 Local weather: