ICE HOUSE RADIO - N0CTR - 2017!!!!!
Grandson 8 year old Blake and 75 meter ladder line antenna and toys on lake.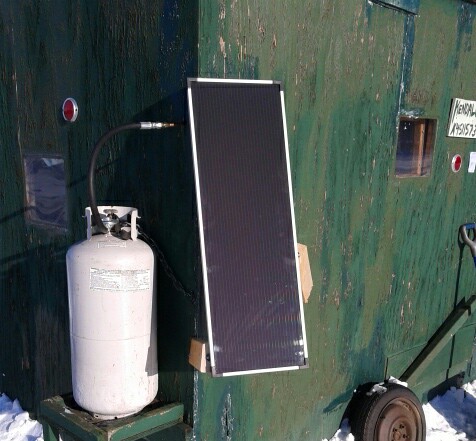 Propane heat and solar charger for batteries on ice shack.
ICOM 7300, MFJ901, 12V deep cycle battery in ice shack.
Rebuilt RV-5 vertical.
L
100 ft tower with vertical 75 quad and 160, 6 meter.
N0CTR "Skip" Hansen has been a ham sense 1973, mentored by Dick Fejld N0CE and K0WLT Vern Hanson. Became a general with 30WPM CW with an old Vibroplex Side winder still now. Two stations, home base in Champlin, second station in Brainerd, MN. Active on all bands.
Satalite operation accomplished with Oscar 10, home brew transverter and antennas.
Would like to thank my wife Tammy for all her support!
Moved to Brainerd Upper South long lake in October 2015.
Installed rebuilt RV 5 vertical elevated with tuned radials.
 Six meter and 20 meter dipole on tower at 50'.
Full 75 meter meter loop vertical at 100' with phased correctional element east to west.
160 ladder line feed dipole at 100 ft with JP6 at 118 ft.
Complete Drake C line with Sherwood mods on receive.  
TS 520, 3 813 home brew amp, Denton GLA 1000, amp. FT 780, FT 290R, TS 2000, TS 480 on complete HRD system dual screen system. Multiple high power tuners. QRP 80 meter cw transceiver.
                              PAUL BUNYAN ROUND TABLE 3.993 MHZ, 8PM CST (suspended, 75M bad)
The roundtable is in honor of K0WLT who was on or near this frequency from late 40's. Three times a day!! Skip and friends get on and shoot the bull. It's mostly a fun and technical conversation. We can go for hours... You will find some great long time buddies on and we all have respect for each other and would take the shirt off our backs for each other.. join us at no risk, expense or pain.  Happy CQing from us all.
From all of us from the PBR. 73's