The N1CQ facility.
Looking back at station from European direction at sunset.
---
---
Autumn in New England
αει
View from base of 162' Rohn 25G tower                                                                             Hy-Gain   155BAS
E-mail is n1cq@comcast.net
Left: Red-Tailed Hawk Right: A Bald Eagle w/ Trout in talons
3 element Mosley CL203 at 162 feet during an ice storm in early 2010
Current antenna complement at N1CQ
75m Flat top dipole at 126 ft w/ passive reflector, 2 Element horizontal phased array to SE
160 m Dipole broadside europe
160m / 75m 300 ft long wire
20 m 3 el Mosley at 162 ft, stacked 3 el Telrex 20m326 beams (126 ft and 40 ft)
15 m 3el Hy-Gain 153BA at 100 feet
10 m 4 el Cushcraft at 65 ft (fixed)
Receiving Beverage antennas: ENE, S, and W
Two Phased Four-Bay Bow-ties for UHF HDTV with Channelmaster preamp
Winegard 7 el Yagi for 88-108 MHz FM
Finco 8 el Yagi for Ch 4 and 5 TV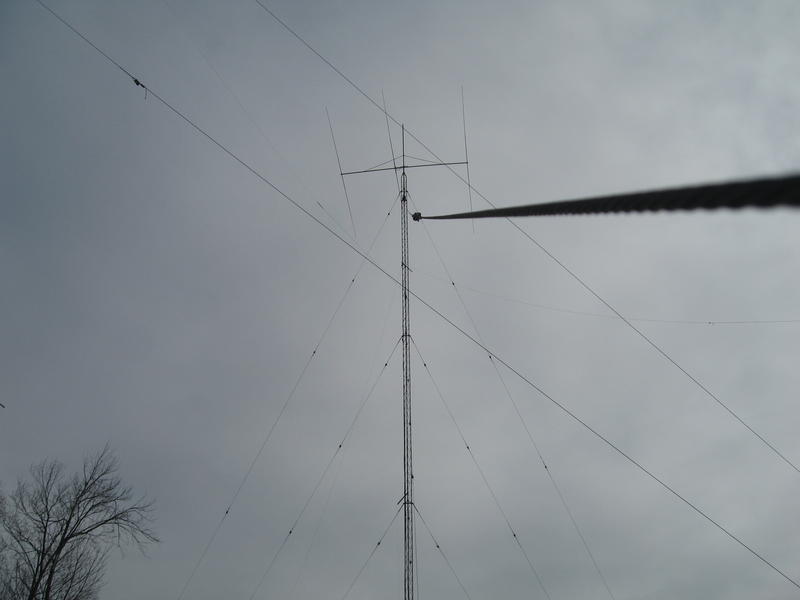 Note insulators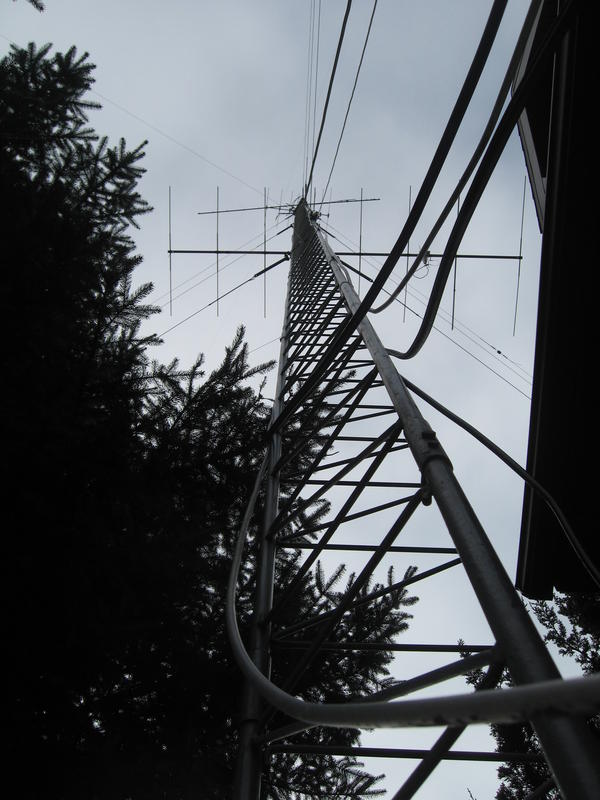 Atlas Systems 3.5" shaft x twin helix (8" / 10") Helical Anchor
Upper photo: 162' Rohn tower with broken top guy wire; courtesy Hurricane Irene.
So do you think Rohn 25G is tough!!!!!
Ahah!! The culprit..... Corroded aircraft cable installed in 1985.
Note electrical tape precluded water from exiting system, accelerating corrosion.
Conclusion: Do not use "galvanized aircraft cable" only use galvanized EHS type cable.