Thanks for visting my QRZ page. My name is Rick.
I will be operating from Southwest FL during February 2018. Locations include Naples grid EL96 and Marco Island grid EL95 IOTA NA052.  This is a 5W QRP portable operation using a battery powered KX3 and Buddistick vertical.
I became interested in radio in the mid 1960's after spending many hours listening to distant AM broadcast stations at night. I quickly progressed into shortwave listening and discovered the ham bands. Popular Electronics Magazine assigned me the SWL call WPE1HMV. A local ham W1GPL (SK) helped me get started in ham radio. I was hooked after participating in a low power AM 10M DX QSO.
In 1968 at age 16, I passed the novice exam and was assigned the callsign WN1KJT. My first station was a Heathkit AT-1 20W crystal contolled transmitter, Radio Shack Realistic DX-75 receiver and a 40M dipole. I spent the first 6 months at 5-10WPM with a straight key, followed by a Vibroplex Champion Bug. Contest operating with an electronic keyer got me to 20+ WPM. During my senior year in high school I upgraded to General and became WA1KJT. 
Engineering school (Northeastern BSEE) consumed my time until 1975. I did find time to operate the NU club station W1KBN from Suffolk County in Boston. Learned the fine art of handling pileups on a Collins S-Line. I've held the call N1DC since 1978 after passing the Extra exam at the FCC "Custom House" office in Boston.  
I spent 35 years in high tech design, manufacturing and QA positions with Picker X-Ray, Polaroid and LoJack. Now I'm restoring old cars (my other hobby) with my best friend from high school.  I built a 350 V8 powered 1956 Chevrolet 210 for cruising in the warm weather months.
Home Station:  Ten-Tec Omni VII transceiver (100W), Ten-Tec Encoder Keypad, MFJ Differential T tuner, WinKeyer USB, Bencher BY-1 paddle, Heil ProSet Plus headset, Heil HM-12 Microphone (boom mounted), Accurite Weather Station (wireless)
Portable Station: Elecraft KX3, Bioenno Power LiFePO4 battery, Buddistick Vertical
Antennas: HyGain Explorer 14  4 element yagi at 30ft for 10/15/20 (using a Ham IV rotator), dipoles at 35 ft for 40/80 fed with 450 ohm ladder line, 160M inverted L with two in ground radials fed with coax. Wire antennas use marine stainless steel pulleys and homebrew counterweights. Antenna switching via Alpha-Delta Delta 4C Console.
Computer and Software: Windows 7 PC with dual monitors, DX lab for regular QSO's,  N1MM+ for contesting.
                 Homebrew custom console                                HyGain Explorer 14 Tri-Band Yagi                         1956 Chevrolet 210
I spend most of my time operating CW, chasing DX and contest operating. You will find me in the CQWW, ARRL DX, ARRL SS, New England QSO Party, CWops events and other contests in the SOAB LP category.
Memberships: ARRL Life Member, CW Operators Club (CWops), Yankee Clipper Contest Club (YCCC), K1USN Radio Club, Marconi Cape Cod Radio Club (KM1CC), Titanic Marconi Memorial Radio Assoc Of Cape Cod (W1MGY), Skywarn Certified Storm Spotter
I have been a CW operator at the following special events:
K1USN      K1USN Radio Club Braintree  MA
Museum Ships Weekend and Veteran's Day 
KM1CC     Marconi Cape Cod Radio Club  -  Coast Guard Station  Eastham Cape Cod  MA
Marconi Anniversary Events, Int'l Marconi Day (IMD), National Parks on the Air (NPOTA) SS03, GRID CHASE FN51
W1MGY   Titanic Marconi Memorial Radio Association of Cape Cod
Titanic 105th Anniversary   National Park Service Salt Pond Visitor Center Eastham MA
W1NAS    Shea Naval Aviation Museum Amateur Radio Club   South Weymouth Naval Air Station MA
US Navy "Snow Goose" Blimp flight / USS Nautilus submarine journey under the polar ice cap 
Operating achievements:  all with 100W or less
DXCC CW, DXCC Phone, 5BDXCC, WAC, WAS, WAZ, WPX CW (1,956), WPX SSB (960), WPX Mixed (2,122)
QSL Requests
I QSL 100%.  All QSO's are posted to LOTW.   Buro cards answered via the ARRL Outgoing Service.  Direct QSL requests answered via US mail (a SASE is much appreciated).
73 !   Rick 
Marconi Cape Cod Radio Club  KM1CC
                         L to R   Rick  N1DC    Pi  K1RV    Henry  K1WCC    Barbara  N1NS
                                      Eastham Cape Cod Coast Guard Station (location of KM1CC operating events)
International Marconi Day 2017  K1RV, N1NS, N1DC     Rick N1DC with Virginia Binns Lovelace          Operating KM1CC using CW
Princess Elettra Marconi's visit  June 2014 - reading a WRTC 2014 message from KM1CC portable - Marconi site in South Wellfleet MA
     K1USN Radio Club      Watson Museum Braintree MA    
          Station # 1              (l to r)  Bob  KA1KIJ   Bill  K1WN   Pi  K1RV   Rick  N1DC       Sommer Yagi  (10 / 15 / 20)
  Operating CW  (Museum Ships Weekend)                    2015                                 2016
(l to r)  2015 photo  Larry W1VP  Rick N1DC  Ted W1TPB  Pi K1RV      2016 photo  Marty N1VH  John K1DSW  Pi K1RV  Mike WA1MAD  Rick N1DC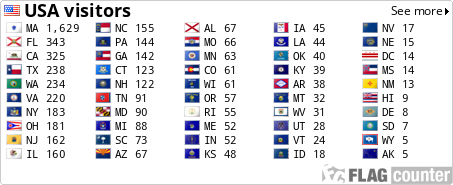 International visitors since March 10, 2013 - USA visitors since June 17, 2014