- ABOUT ME -
Bellringers #43    Straight Key Century Club (SKCC)  #12377T    QRP ARCI  #10005    Ten Ten Int'l  #58286   
Current Radio interests: HF operation, mostly QRP, primarily CW, some operation on digital modes (RTTY, PSK, JT65 and JT9), some VHF/UHF FM and DSTAR from the motorhome ...
... and chasin'  
   -- 5BDXCC Plus 30M & 17M -- DXCC Challenge -- DXCC QRP --
                                                                                             -- All mostly CW and QRP -- Never more than 100 watts --   
                                                                                                                                    -- DXCC Satellite --
                                                                                                      -
Past radio interests: Analog and digital satellites, building and running fully automated PACSAT satellite links to a terrestrial internet gateway, HEO satellite DX, EME, HF contesting, VHF/UHF repeater construction and maintenance, mobile operation on HF/VHF/UHF, APRS, DX packet cluster linking, high speed meteor scatter, fox hunting, SSTV, FSTV, building antennas, homebrewing and general tinkering.
Other interests: Current: RV camping, travel, photography, RC airplanes and helicopters, dogs (dachshunds), firearms ...
Past: Motorcycles, boating, watersports, aviation ...
Employer (RETIRED): AT&T Labs - Senior Member of Technical Staff - circuit switched systems, packet switched systems, AC/DC power systems, broadband ATM and IP transport, VoIP, IP firewalls
(RETIRED on 3/31/2015 from at&t labs with 38 years service) https://www.linkedin.com/in/dennisdease
- HF EQUIPMENT - 
In February, 2003 I put my first Elecraft QRP rig (Elecraft K1) on the air.  I upgraded to an Elecraft KX3 on 12/06/2014. This was a much bigger upgrade than I expected. I have enjoyed getting back into ham radio, especially with the intergration of computers into HF operation that the KX3 allows. The KX3 is a great radio, and it now is the focus of both my home and portable ham radio stations.  
On 7/30/2015 I added an Elecraft KXPA100 100 watt amplifier with its built-in KXAT100 ATU to my station. I like the way it seamlessly integrates with the KX3. I wish the Elecraft KPA500 amplifier and KAT500 ATU would integrate seamlessly with the KX3 like that. 
- ANTENNAS -
Until October 10, 2015, my only HF antenna at my home in Pelham, Alabama was an all band 88' long doublet up 50', fed with 450 ohm balanced window transmission line. That antenna is also commonly referred to as a 20 Meter Extended Double Zepp (EDZ). It provides bidirectional 3dB gain broadside on 20 meters and loads well on 80 thru 10 meters.
In October 2015 I purchased a 20 thru 6 meter hexagonal beam antenna from NA4RR (http://www.k4hex.com/). I painted the spreaders flat black and installed an old Yaesu satellite azimuth antenna rotor on my 53' Rohn 25G tower. On October 10, 2015 I erected the hex beam with the help of 3 of my friends.  It is a very good antenna that exceedes my expectations.
In November 2015 I lengthened my 88' 20 Meter EDZ to a 120' long doublet, still up 50'. 
Also in November I erected two 240' long beverage antennas, one pointing NE and one pointing NW. The beverages are 6.5 to 7 feet above ground.  I am now able to clearly copy weak signals on 160 - 30 meters unlike ever before. 
- PORTABLE OPERATION - 
When I'm operating HF portable from our motorhome (which I do a lot) I am usually using an Elecraft KX3 and KXPA100 amplifier. The antenna is typically a W3EDP style end fed 84' long zepp (thru a 4:1 UNUN) that runs to the top of a 34' long telescopic fiberglass pole (mounted to the rear ladder with its bottom 6' off the ground, making it 40' above ground at the top) and then off to the nearest tree in a lazy L fashion. If no trees are around, the end of the zepp runs at an angle from the flagpole down to a ground anchor. Sometimes I use a 120 foot long, 300 ohm ladder line fed doublet (thru a 4:1 BALUN) with the center atop the 40' mast. If space is limited I will just run a 38' wire up the mast and feed it with a 4:1 UNUN, using the motorhome frame as the counterpoise. If in a hurry I use a hamstick mobile antenna mounted atop the aluminum ladder.  The ladder is firmly bonded to the motorhome frame. The 42' long steel main chassis and aluminum house frame of our motorhome provides a pretty good HF counterpoise.
The KX3 sits on a pull out computer shelf near the front of the coach.  It is connected to the the KXPA100 100 watt amplifier located in the very back of the coach with 50' of shielded ethernet cable for 2-way integrated control, a double shielded stereo cable for transporting CAT back to a laptop near the KX3, and RG8X for the RF connection. The KXPA100 amplifier sits adjacent to the rear wall of the coach and the coach's alluminum ladder is on the other side of that wall. The KXPA100 amplifier connects to a BALUN or UNUN near the bottom of the fiberglass mast via a 8' long run of LMR400.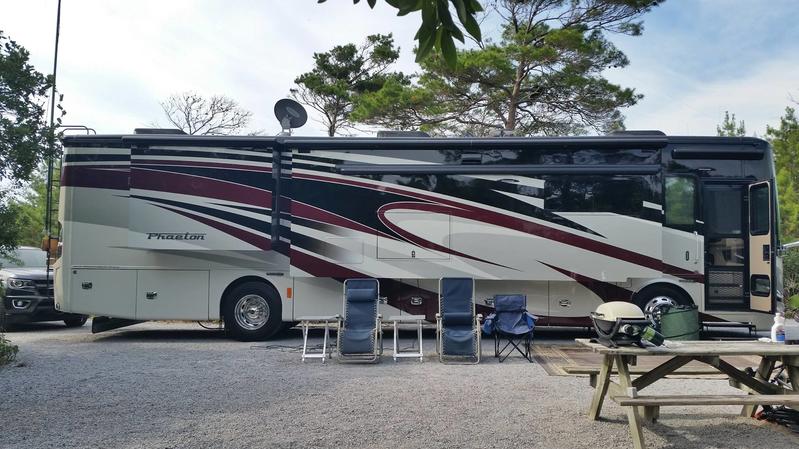 Logs - 
I did not start keeping a detailed HF log until March, 2013.  All but a few of the QSOs in the log below thru Sept 2015 were made with either the barefoot Elecraft K1 or the barefoot Elecraft KX3 using wire antennas or a mobile antenna.
In Oct/Nov 2015 I added 100W and a 6 band hexbeam to the home station.
My last 10 logged QSOs are below. You can also search my log for your call.  All of my HF QSOs are sent to CLUB LOG and to LOTW.   Now that we travel extensively, paper QSLs are no longer practical. 
If I'm operating portable (which I do a lot), this log may not update right away.  Usually I can update the log on the road when time and internet access allow. 
- SATELLITE OPERATION - 
DXCC SATELLITE # 118 - Molniya orbit satellite operation was my main radio interest from 1987-1995.
I operated primarily on AO-10, AO-13 and AO-40 (P3D) ... modes B, J and S using SSB and CW
I'm currently (2/1/2017) ranked #71 worldwide in SATELLITE DXCC with 151 countries confirmed via satellite.
That's me in the blue shirt on the cover of the ARRL's "Low Power Communication".  I was operating Field Day from a black sand beach on the big island of Hawaii ... running a homebrew, dry cell battery powered 20 meter CW QRP rig and a 20 meter dipole hanging between two tall coconut palm trees.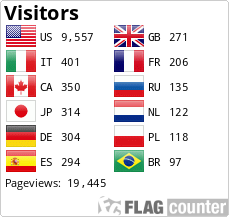 I added this flag counter on 6/14/2014 to see where the page hits come from.