Welcome to my page from E. Orange Ca. USA
Worldwide Mobile Radio Communications


             LISA ANDERSON - 2016  
---
A TRIBUTE TO MY DAD AND THE MARINE CORPS THAT HE LOVED
United States Marine Corps Distinguished Shooter Pistol 1963
---
THE FOND MEMORIES WITH MY DAD AT EL TORO MCAS
We miss you. Semper Fi
MCAS EL TORO HOME OF THE 3RD MARINE AIR WING
---
Below are my babies, Mr. Chico, Miss Trixy and me. Mr. Chico is in heaven with my Mom and Dad after loosing his battle with cancer on Jan 5, 2010. Next is my
Amateur Radio Station in my van, when parked I plug in AC power, my HF antenna, and a home brew 20' high, HDTV antenna.
Looking up my G5RVjr HF antenna 36' up above the trees. Our old sailboat from 1986 the Christina Ann.
---
Pictures from my speed skating days in Calgary, Berlin, Lake Placid and Milwaukee. 
Training with Peter Schotting and the National Team for the 1980 Olympic Trials in Milwaukee.
---
 

 

        GMT            CALIFORNIA 

 

CHILDHOOD MEMORIES

 

 

MY ANTENNA 36 FEET UP ABOVE THE TREES

 

 

 

 

 

 

 
Laser Interferometer Space Antenna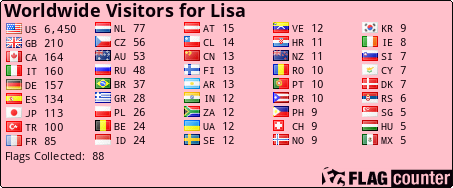 Other pages that I have made
Baby Chico and Trixy in 2007, Trixy with her ball at Eisenhower park in 2007,
she always knows when we are close to the park. The new member of our family is baby Lucy, Trixy and her are waiting for there treat.
AMATEUR RADIO STATION - N6QIC

             Lisa Anderson - 2012      

Nets that I check into:

The Noontime Net 7.283.5 Everyday 1700 Zulu. A Public Service Net 

10-10 International Net 28.380 & 28.800 Mon-Sat 1800 Zulu 

 

 

Lisa P. Anderson N6QIC

44.10.0.161 n6qic.ampr.org

Kenwood TS50 HF Transceiver

Kenwood PS430 Power Supply,

MFJ-945E Mobile Antenna tuner, G5RVjrHF Antenna 36' up above the trees

Kenwood TM281A 2meter mobile Transceiver.  Metz 1/2 wave Antenna

Yaesu FT209RH Hand Held Transceiver. 1/4 wave ground plane Antenna

Mac PowerBook G4 Laptop, Mac OSX, WiFi Internet Connection

 

 

 

10-10 International Net Member #76549

YLISSB -YL International Single Sideband Member #16751

 

 

      

44.10.0.161 N6QIC.AMPR.ORG
Thanks to all my great friends that I have made in ham radio.
I always look forward to talking to you.
Have a great day 73, Lisa
 Created By, Lisa Anderson © 2013-2018