Thank you for checking my QRZ web page.  I am a proud member of many CW clubs,  a avid DXer, and enjoy some contesting.  I only operate CW and have been licensed now for 30 years.  My home is located in the retirement community of Sun City West, which is about 35 miles NW of downtown Phoenix Arizona.
Ron N7RD
     A-1 Operator Club Nominees:  This award means alot to me.  I have been member for 10 years now.  I have nominated many but they still set idle.  I am including my list and if you have worked them you will know they are much deserving of having this award on their wall.  Please go to the ARRL site and nominate a deserving operator or second some of those you might have worked.  This award is about being a good operator not a big gun, it means alot to many good operators.
1. K7XH Mike  (JUST NEEDS 2nd)
2. K1KNJ Regis  (JUST NEEDS 2nd)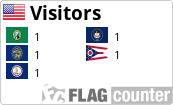 8478756 Last modified: 2017-11-28 00:02:59, 3323 bytes
Login Required

Login is required for additional detail.
You must be logged in to file a report on this page
Public Logbook data is temporarily not available for this user
United States Counties Award

#2421


Granted: 2016-07-20 16:00:03 (N7RD)



Endorsements:

250 Counties CW

100 Counties CW

250 Counties CW

100 Counties Mixed

250 Counties Mixed

500 Counties Mixed

Grid Squared Award

#6668


Granted: 2015-04-06 02:40:03 (N7RD)



Endorsements:

5 Band CW

10 Meters CW




12 Meters CW




15 Meters CW




17 Meters CW




20 Meters CW




30 Meters CW




40 Meters CW



5 Band Mixed

10 Meters Mixed




12 Meters Mixed




15 Meters Mixed




17 Meters Mixed




20 Meters Mixed




30 Meters Mixed




40 Meters Mixed




United States Award

#990


Granted: 2015-03-31 17:24:35 (N7RD)



Endorsements:

World Continents Award

#443


Granted: 2015-01-15 21:39:41 (N7RD)



Endorsements:

5 Band CW

10 Meters CW




12 Meters CW




15 Meters CW




17 Meters CW




20 Meters CW




30 Meters CW




40 Meters CW



5 Band Mixed

10 Meters Mixed




12 Meters Mixed




15 Meters Mixed




17 Meters Mixed




20 Meters Mixed




30 Meters Mixed




40 Meters Mixed




DX World Award

#61


Granted: 2015-01-15 21:21:33 (N7RD)



Endorsements:

5 Band CW

10 Meters CW




12 Meters CW




15 Meters CW




17 Meters CW




20 Meters CW




30 Meters CW




Mixed CW



5 Band Mixed

10 Meters Mixed




12 Meters Mixed




15 Meters Mixed




17 Meters Mixed




20 Meters Mixed




30 Meters Mixed




40 Meters Mixed