In November of 1963, I got my first Ham radio license. My call was WN5IPM. I had a Knightkit T-60 transmitter , a Heathkit GR-91 receiver and a 14-AVS antenna. I later changed my receiver to an Knightkit R100A.
My first contact outside of town was a station in Tucson, Arizona. It was very exciting and I used my radio daily from that point on.
I heard from someone that the best time to reach Hawaii on the radio was between two and four in the morning. For months, I got up every Friday and Saturday night at two AM and listened. Finally on May 16th, I contacted WH6FKI and got a 109 signal report (very weak) for my first Hawaii contact. Since my original license only lasted for a year, I was studying for my General Class license which I took and passed in May. My new call sign was WA5IPM. I then tried a little AM using a earphone as a microphone. I also got an NCX-3 Transceiver.
In February on 1965, I put up my first radio tower. I dug the hole by the side of the house by my bedroom. We mixed up the concrete and put in the base and the anchors for the guy wires. A guy from the Electric company put the tower sections up. He was very large and did it like the tower sections were toys. He also put up the antenna like it was nothing. When it was done I had a 4 element 20 meter beam on a 40 foot tower. This made me much louder.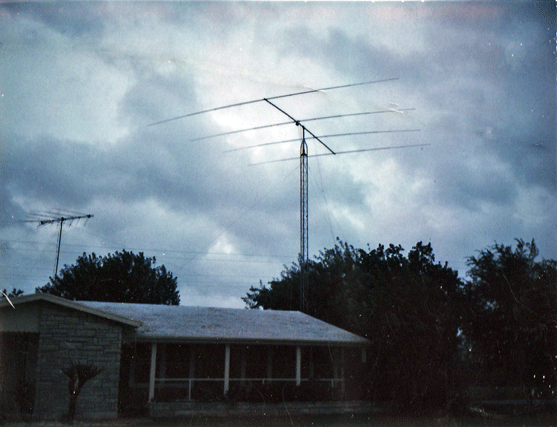 After going to college, I was inactive for a number of years, but In the fall of 1973, after moving to Phoenix, I decided to try out my NCX-3 radio which I had not used in years. I went to the radio store and got some coax and wire and made a dipole antenna. I climbed on the roof of the apartment where I lived and set up a very low inverted Vee antenna on 20 meters. My first contact was with Russia and my interest was rekindled again. I received the call sign WA7YRP.
I became more interested in radio and bought a linear amplifier for the radio. It made me much louder and made it easier to contact people far away. There was one recurring problem. My neighbor had an organ which I really interfered with. He seemed to think that it should be up to me to fix it (which it wasn't since my radio was working properly) We did not get along well.
During the summer of 1974, I bought a Ten Tec Triton II radio transceiver. I originally order it from a company which ended up being a crooked mail order company. I then ordered one directly from the Ten-Tec, but ended up with two and had to sell the second one.
During this time, I studied my code and theory and took and passed my Extra Class ham radio test,
In the summer of 1975, I decided that I would rather live in a house. I had built a small vertical antenna which hinged so that I could lay it down flat when I was not using it and had worked over a hundred countries with it, but really wanted to have more room to do antennas. I moved into my new house in September. The first thing I did was install a few thousand feet of radials in the ground for a ground system for a vertical antenna set up. I initially put up a single one, but later added four additional verticals as a five element switchable vertical beam. I could instantly switch it in 8 different directions from inside the house using relays.
In the early part of 1976, I started putting up my tower for a beam antenna. I bought a used motorized crank up tower for $1100. It was still in the backyard of the people he had bought if from. I dug out a 3 ' X 3' X 5' hole in the ground for the base. It took about a week to do, with the last being done by my hands. I got the base installed and had a concrete truck come over and fill it. I then hired a crane to move the tower and install it. On the day of the move, it was cold and raining hard. We got it out of its old location, but the weather was too bad to install it. It was very scary watching him lift the tower over the house where it was installed. We left it tied to the crane until the next day when the weather was better and we installed it. The next weekend, I had him come back to put the antenna up.
A number of us turned in the applications to get two letter calls. I forgot to sign my application for W7RP and it was rejected. When I reapplied, W7RP was taken, so I got N7RP which I actually like better for CW because it is shorter.

I later decided to see how a Quagi antenna would work, and converted the driven element of my TH6-DXX to a quad driven element... It made a big difference.
In the fall f 1976 I became interested in radio contests again. In October, I operated from my station in the CQ World Wide DX contest and got first place on 15 meters for the 7th call district. In November, I operated from W7KW and got second place in the nation on 75 meters. I was somewhat disappointed because radio conditions were so poor that weekend even with his antenna at 170 feet. In December, I entered the ARRL 10 Meter contest and won for Arizona and got sixth in the country. This is my setup around that time.
During this time, and for the last year or so, many of us had been working with W7KW helping to set up his antennas. In May of 1977, we tried what was probably a first. We used hot air balloons to lift the antennas and top tower sections onto the 150 to 170 foot towers. I was on the top of the tower for the 40 meter antenna. The raising was shown on local and national TV and was written about in CQ magazine.
In August, I operated from W7KW in the All Asia DX contest on 40 meters.
For the rest of the story about W7KW and his towers... check out
http://lists.contesting.com/_towertalk/1998-08/msg00703.html
  In 1977 or 1978, I briefly had one of the very first Atlas 350Xl transceivers. It was advertised to had variable bandwidth tuning and two VFO's and other very interesting features. A friend of mine and I purchased one of the very first ones. As soon as I received it, I took it to W7KW's station to operate in a CW contest. I immediately found that there were some serious problems which at that time made it unsuitable for CW contest operation. I went home and got my TenTec transceiver which used in the contest. The next week, my friend and I got on the phone with Herb Johnson and his engineer from Atlas and discussed the issues. My friend and I were both Electrical Engineers and did not come away with a comfortable feeling after our discussions and we both returned our 350XL radios.
In the fall, I operated from W7ATF with his seven element 20 meter beam in the phone and CW contests and won for the 7th call district, but not for the country. I decided to run the legal power limit even though I was advised that I could never win without using more. This turned out to be true, but I just didn't feel right about cheating even though the winners were.

In 1982, I moved from Phoenix to Albuquerque and decided to be more low profile and installed a Butternut Vertical and a Cushcraft A3 Beam which was installed on a small tower on the roof.
In July 2008 , I received my new IC-7000 radio, which replaced an IC-706 MKII that I had been using for a number of years.
At that time I got serious again about increasing my DXCC count which stood around 300.
In January 2009, I got hooked on the Triple play Award and finished that in about 1 ½ months. I then decided I should keep going and am now trying to work all states on SSB, PSK31, CW, and RTTY on 80-10 meters and work all states on 160 and 6 meters. I currently have all states confirmed on 160-20 meters and 15 meters. I am also working on the DXCC Challenge.
In February 2010, I made a few upgrades to the set up. I added a K3 as the primary radio for 6m and below and added a 3 element 6M beam to the top of the mast.
The six meter sporatic E season went pretty well. I am still short a few states on six meters for WAS, but did get Japan, Portugal, and Alaska on six meters, so I look at the six meter beam as having been a success.
In June, I had a request for a SKCC contact from New Mexico... I decided to find my old key and get a number to give out a few contacts. While I was at it, I got enough to get my "T" SKCC number 6767T.
In July I operated for a short period from the Ponderosa Ranch near Zions National Park
By request from KD8KSN, I decided to try some satellite contacts so he could get New Mexico. I bought an Arrow Satellite antenna and found that you need one hand to hold the antenna, another to hold the handitalkie, another to adjust the frequency and another for logging....you run out of hands pretty fast. Here is my outdoor shack with the IC-7000, Ipod, and Arrow antenna.
I finally got my 1000 band countries for the DXCC Challenge.
Back to the subject of satellites......yes you can make contacts from inside your house with an Arrow antenna. Even with Seamless Steel siding.
Once again by popular demand, I went on a short trip down to DM64 to give out a few satellite contacts on October 12th. Unfortunately the computer crashed at the worst possible point, so I only made a few contacts on the linear birds and non on the FM ones. I will try again.
I now installed a AR2 preamp at the base of my discone antenna, so that I can actually hear when the satellite is lower than 70 degrees. I figured that in winter, a set up that I can use from indoors would be better than standing out in the freezing temperature with the Arrow.
As we move into the Fall/WInter DX Season and the low bands and to some extent the upper bands including 12M improve, I was reminded that when setting up an antenna...is it LOCATION LOCATION LOCATION. It is very important the the antenna is located out in the clear, away from any structures which would attenuate the signals.......The Butternut Vertical was a little more in the clear 25 years ago.
With the passing of Steve Jobs, a short write up of Apple and myself seemed in order.
In 1977, I bought one of the first Apple II computers. I also bought a 13" color TV for a monitor and a Radio Shack cassette player for data storage. The computer had 16K of RAM.
In 1979 I bought a floppy disk, so that it was easier to store data. In 1981 and 1982, I started writing computer programs with a friend. At the time the 300 baud modems were just becoming available and we wrote a computer terminal program which allowed you to log record and save your bulletin board sessions and also a stock portfolio program which would download and store stock prices. Because the only programming language that was available was BASIC, which was very slow, all the time critical taks had to be done in machine language which I did using the built in assembler in the Apple II. The terminal program was picked up by Apple was was in their 1982 catalog. We spent may all nighters working with Apple as they would demand changes which would be needed by the next day, forcing us to work all night and then go to our real jobs in the morning.
In 1983, I sold my Apple II and bought an Apple IIe. With its 128K of RAM, I was able to use a RAM Disk program to speed things up. I had use of an Apple III for a time to use for software development, but had to give it back.
In 1984, the Macintosh came out, but I waited until 1985 to get one, when the 512K version was available.
In 1990 I purchased at Mac IIsi and had fun with its sound input capabilities.
In 1998 I bought a 20th Anniversary Mac after they lowered the price from the initial $10,000 to a more reasonable $3000. In the fall, I bought an iMac on the day they were available, for my daughter to take to college.
In 2003, I upgraded to the Power PC with the G5 Power Mac and in 2006 moved to the Intel based Power Mac.
In January 2008, I bought the newer Power Mac with two Quad core processors and four 1 T Hard drives.
In January 2011, I decided not to buy new computer, but instead updated the hard drives to 2T each since I do large amounts of video work.
I have also bought large numbers of Ipods along the way... and of course am the proud owner on a 64 G Ipad.
Thanks Steve
In October 2013, I upgraded to a 27" iMac which is still running (although with a replaced Hard drive and RAM) in October 2017
Current DXCC Status as of October 2017
Current WAS status as of October 2017
10-10 13391

FH 1918