NAME IS JERRY
                 CONTINUOUSLY LICENSED FOR 60 YEARS     
   Riding on the ranch with my daughter N7AQH
  The steam train in Sumper, Oregon (Baker County)
The Elhorn Mountains just west of our place
SOME SCENES FROM IN AND AROUND BAKER CITY OREGON
Main Street in Baker City, Fall and Winter
St Francis De Sales Cathedral--Roman Catholic Diocese of Baker.  Our church
 Sunrise from our ranch
QSL INFO: I DO NOT QSL IN ANY ELECTRONIC FORM.  IF YOU WANT MY CARD SEND ME YOUR CARD WITH AN SASE AND I WILL BE HAPPY TO SEND YOU A CARD.  IF I AM YOUR FIRST HF CONTACT OR YOUR FIRST CONTACT WITH OREGON TELL ME AND I WILL SEND YOU A CARD AND NO RETURN CARD IS NECESSARY.
WHERE WE LIVE
We  (my wife Jay, N7WRJ,  and I) live in Eastern Oregon at the base of the Elkhorn Mountains 12 miles outside of Baker City.  We own a small ranch where over the years we have raised and trained American Paint Horses and Border Collie working dogs.  The flag of the United States, and the thin blue line flag honoring fallen law enforcement officers, fly at the entrance to our ranch 24/7/365. The photo was taken the day after 5 police officers were murdered in Dallas and the flags are at half mast.
PROFESSIONAL BACKGROUND
I began my career in public safety as a Technical Reserve Deputy Sheriff  in Communications at the age of 18.  The majority of my 53 years in public safety has been spent in Law Enforcement.  I am a retired Chief of Police but still serve as the Reserve Commander with a local law enforcment agency.  I have also served as Chief of a Fire/Rescue company, 9-1-1 Center Director, Probation and Parole Chief and Emergency Management Director.  Patches of the agencies I have served with are shown below.  I hold a Master of Science Degree in Administration and am the author of 13 published books.  The most recent books, all available on Amazon in both print and Kindle,  are: Firestone Park: Policing South-Central Los Angeles; From the Chief; The Second Seven; OathKeepers and Law Enforcement: A Cop's Thoughts---also on Amazon in print and Kindle; Firestone Park-Revisited
BELOW ARE PATCHES OF THE PUBLIC SAFETY AGENCIES I HAVE WORKED FOR BEGINNING IN 1964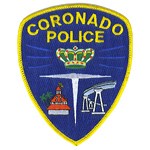 THE PHOTOS BELOW DEPICT MY TIME AS A DEPUTY SHERIFF, A SWAT LIEUTENANT,  A CHIEF OF POLICE, AND CURRENTLY AS RESERVE COMMANDER
The four above photos:  Deputy Sheriff, Los Angeles County 1969; SWAT Lieutenant Irvine CA PD 1978; Chief of Police 1995; Reserve Commander, Baker City Oregon Police 2017
I HAVE BEEN BLESSED WITH MANY MEMORABLE EXPERIENCES IN MY CAREER BUT FEW COULD EQUAL THE OPPORTUNITIES I HAD, ON THREE DIFFERENT OCCASIONS, TO MEET AND SPEND TIME WITH PRESIDENT REAGAN 
AMATEUR RADIO
I was licensed at age 12. When I turned 18 I volunteered my amateur radio "skills" as a member of the Disaster Communications Service which was operated by the Los Angeles County Sheriff's Department. I was assigned to the headquarters of the service as it was close to where I lived. There I became friends with Sergeant Tommy Thompson and Deputy Frank Oakden (K6TOW SK) and the blind civilian operator (Jerry W6BVG SK) who staffed the headquarters station during the day and ran the daytime nets on 2 meters.

All of the above named gentlemen took this youngster under their wing and the Sergeant and Deputy began to quietly recruit me to become a Deputy Sheriff when I turned 21. I succumbed, thankfully, to their recruitment efforts. So for the past 40 +years I have been a law enforcement officer and an active ham radio operator. Along the way I have "married" the two forming ham radio emergency communications units with the agencies where I have worked. After retiring from full time law enforcement I wound up running a 9-1-1 dispatch center which included responsibility for an extensive public safety radio system serving 28 agencies over 3810 square miles of very rugged and varied terrain. My knowledge of communications, gained through amateur radio, certainly served me well in that assignment. So, bottom line, my hobby led to my career for which I am very thankful.
I have been continuously licensed since 1958 and have held the following calls:  WV6CUP, WA6CUP, KG6LF, XE2GWB, K6BZ, KW7J, AND N7WR.  I am a life member of the ARRL and have held the following positions in the ARRL Field organization:  SM, SEC, DEC, EC, PIO, VE, and was the Chairman of the first ARRL Emergency Communications Advisory Committee.  I hold DXCC Honor Roll (need only to confirm P 5 to have them all) 7 BDXCC, 7 BWAC, 5 BWAZ, WAS and DX Challenge.  In retirement I have downsized my station from tall towers, big yagis, and legal limit to something much simpler but still enjoyable. I am no longer a serious contest or DX operator but do play with both as the mood strikes.  That's one very good thing about amateur radio----it is always there. 
     OTHER INTERESTS AND ACTIVITIES
I enjoy riding my American Paint mare that was born on our ranch and trained by me.  We are blessed with unlimited riding opportunites as I can ride up the road and be in the national forest in a matter of minutes.  I work out including 3 miles of jogging every day the weather permits.  I also enjoy pistol shooting and we have our own pistol and rifle range on our ranch.  I help rancher friends with brandings each year and over time have done every task necessary at a branding. During Spring, Summer and early Fall my wife and I hike in the mountains all around us.
My SUV as depicted in the attached photos is not meant for serious 4WD operations.  However many of the trails we hike in the Wallow-Whitman National Forest have trailheads along Forest Service Roads miles from paved roadways.  In addition, the cylindrical container on the roof rack has a breakdown 3 element 6 meter yagi and mount.  When six is open I can drive up a gravel road just 3/4 of a mile from my QTH (DN 14) and set up in the much rarer DN04.  If I happen to be in the area during an opening (about 70 miles from home) I can operate 6 meters from the even rarer DN03.
As of Feb 1, 2016 this  guy ("Trooper")is my second hobby.  As of 8/21/17 (current picture) he's 21   months old and weighs 84 pounds. By the time he is 2 yrs the goal is to train him to the standards for a patrol working dog (though he will be a pet and family protector and not go into police service).  His training is on schedule.  Pure bred German Shepherd. 
HIGHLIGHT OF 2017:  Daughter Ruthie (N7AQH) was married.  Picture is of the father-daughter dance at the wedding reception
POLITICAL AND MORAL PHILOSOPHY
I am an Orthodox Roman Catholic who believes in the right to life, the United States Constitution, and am a staunch supporter of our military and professional law enforcment.  I support and defend the rights of all citizens. I oppose abortion, unnatural marriage, Islamic terrorists, Obamacare, and amnesty for illegal aliens. As such you may conclude I am hopefull that the new adminstration which took office on January 20, 2017 will be able to repair the damage done to this country by the previous regime.