All QSO's are logged to LoTW and eQSL
(AG)

.


(I primarily use LoTW but also log to eQSL as a courtesy to other hams.)
Your uploads to LoTW are appreciated.
Thank you and 73,
Bob, N7ZO
 (Jump to Propagation Information)
---
---
My primary transceiver is a FlexRadio 6700, an amazing radio.
---
---
Certificates
I am somewhat goal-oriented and do not rag chew much, so 'chasing paper' helps keep me active on the radio.
I began logging to LoTW in October, 2012 with about 600 QSO's gathered and uploaded from various old logs.  All of my QSO's since then have been computer logged and uploaded to LoTW and eQSL.
October 2015 - The plan evolves:  I have some QSL cards from OQRS'ing.  So, for the first time, I have submitted cards to the ARRL DXCC desk via mail.  The result is five new countries and DXCC Mixed 250.  (Since my DXCC and LoTW accounts are linked, these now appear as DXCC credits in LoTW.)
January 2016 - The plan evolves further:  I have logged a growing number of QSO's with hams that only QSL directly.  So I have ordered QSL cards for the first time in my ham career and will begin sending them out in the hopes of confirming about a dozen more countries and some more band/mode slots.  I will also be sending cards to those who have requested a paper QSL from me in the past.
March 2016 - eQSL pays off:  While perusing the awards available through eQSL, I noticed that I had qualified for the CQ USA-CA 500 Award (USA Counties Award).  The award has been received and posted below.
April 2016 - Participated in the ARRL FMT (Frequency Measuring Test) for the first time.  Measured all transmissions with < 1.0 Hz. error.  (Actual errors were -0.39 Hz. on 80m, -0.16 Hz. on 40m, and +0.12 Hz. on 20m.)  This was a great learning opportunity.  Results at this link as it seems certificates are not done anymore:  http://www.b4h.net/fmt/fmtresults201604.php
June 2016 - Card checking:  As a result of sending my QSL cards (see January 2016 above) I have now have cards in hand for ten new countries.  I filled out an application on the ARRL's Online DXCC page, took the cards to the SEA-PAC convention in Seaside, Oregon, and had them checked.  The result is DXCC Mixed 275.  (This is the first time I have used a field card checker.  A special thanks to Norm Fusaro, W3IZ, from ARRL headquarters for checking the cards.)
July 2016 - More perusing:  NZART (New Zealand Association of Radio Transmitters) works by the honor system for at least some of their awards.  You fill out, sign, and mail a form listing the QSO's but cards are not necessary.  I qualified for the Worked All Pacific (30 "Oceania" countries) award and the IARU Region 3 Gold (20 region 3 areas) award.  Applications made and certificates received.  —  A 13 Colonies clean sweep was fast and fun.
July 2017 - Mostly 6 meter activity lately:  I began the spring Sporadic E season with 210 grids confirmed (LoTW) on 6 meters.  It was a good early season and I had 225 confirmed on 6/8 and am currently at 246 confirmed with expected confirmations for 250 soon.  —  Had a fun June VHF contest with my best score so far.  —  Picked up Massachusetts on 6 meters for 47 states total.  Still need ME, VT, and RI for 6 meter WAS.  Come on double hop!  —  Another fast and fun clean sweep for the 13 Colonies event, even though I was out of town for most of it.
Most Recent Updates:
02/05/2018  
CQ WPX Mixed 1800

(sticker pending)

                          12/22/2017  
ARRL DXCC Digital 200

(sticker pending)

11/02/2017  
CQ WPX Mixed 1700

(sticker pending)

10/05/2017  
ARRL VUCC 50 MHz 275

(sticker pending)

09/15/2017  
ARRL WAS 6 meters
08/18/2017  
ARRL WAS FT8

(with WSJT-X 1.8-RC1)

(certificate pending)

08/18/2017  
CQ WPX Mixed 1600
08/11/2017  
13 Colonies Clean Sweep
07/18/2017  
ARRL VUCC 50 MHz 250
06/08/2017  
ARRL VUCC 50 MHz 225
05/16/2017  
ARRL VHF June 2016 1st Place Oregon
01/19/2017  
CQ WPX Mixed 1500
08/28/2016  
ARRL VHF Sept 2015 50 MHz Oregon
08/10/2016  
ARRL VUCC 50 MHz 200
08/06/2016  
13 Colonies Clean Sweep
07/15/2016  
IARU Region 3 Gold Award
07/15/2016  
NZART Worked All Pacific
07/15/2016  
ARRL VUCC 50 MHz 175
06/30/2016  
ARRL VHF June 2015 50 MHz SOHP Oregon
06/16/2016  
ARRL DXCC Mixed 275
04/12/2016  
CQ WPX Mixed 1400
04/07/2016  
ARRL FMT (all <= 0.39 Hz)
03/09/2016  
CQ USA-CA 500
02/19/2016  
CQ WPX Mixed 1300
---
(The following certificates are all, excepting CQ USA-CA, from LoTW QSL's)
ARRL DX Century Club
ARRL Worked All States
ARRL VHF/UHF Century Club
ARRL Centennial
CQ Awards
(CQ WPX is available on LoTW,  CQ USA-CA is from eQSL credits)
CQ Worked All Zones confirmed on LoTW 02/20/2014.  Waiting (for a long time) for the award to be implemented on LoTW.
IARU Worked All Continents
(LoTW QSL's are transferred to ARRL DXCC account for use as WAC credits)
DARC Worked All Europe
(The DARC certificates are with LoTW QSL's transferred via the internet to DARC.)
DARC Miscellaneous
(The DARC certificates are with LoTW QSL's transferred via the internet to DARC.)
---
(The following certificates are from contest or other non-LoTW operating activity submissions.)
ARRL VHF Contests
Miscellaneous Certificates
---
---
---
---
Propagation Information: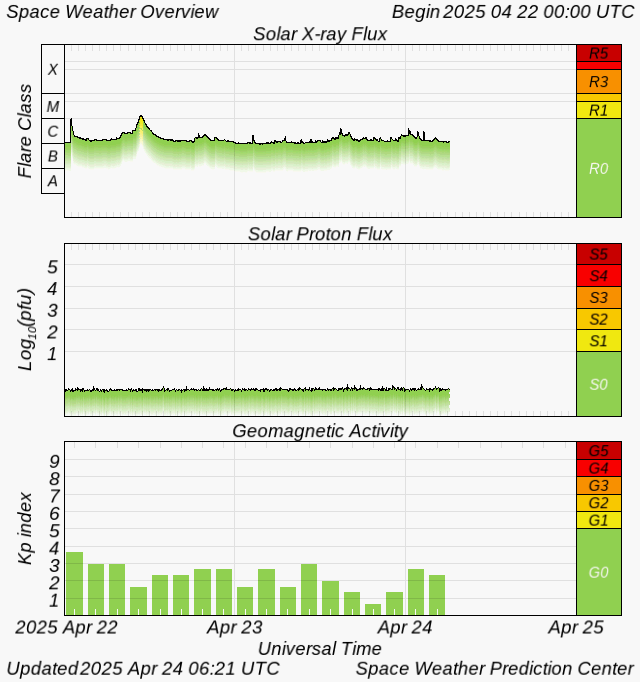 ---
Propagation and Space Weather Links:
ARRL Propagation Page (scroll down for current propagation charts)
VOACAP Online (very nice map driven predictions)
NOAA Space Weather Prediction Center
www.bidstrup.com/w7ri-hf-radio-propagation
---