Welcome to my QRZ page.  
As you can see by the picture on the right, this is a tribute to my loving brother, Bill Moore, NC1L who became a Silent Key on 10.06.16.  Bill will be surely missed within the HAM Community.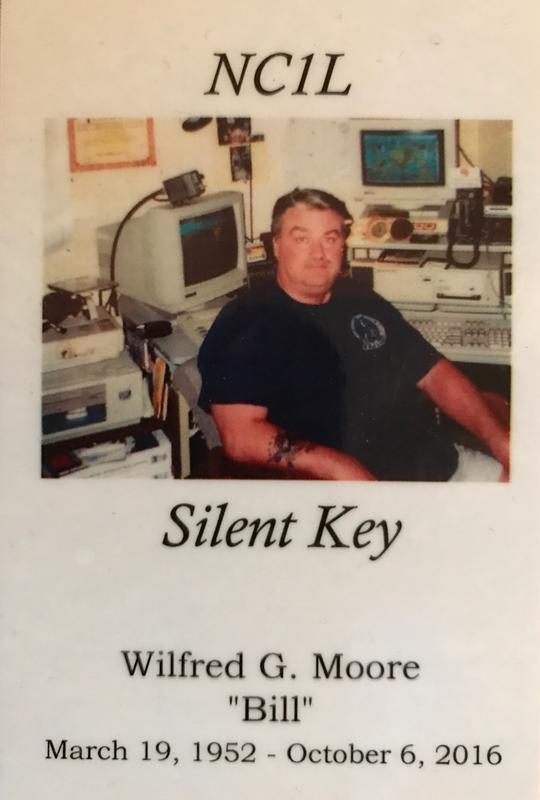 As of December 20th, I was able to secure my brothers coveted call sign, NC1L.  While I can never fill his shoes or give back what he has given, I am truly honored to have his call sign live on through me.  I am continuously shocked and amazed by the outpouring of love for my brother from HAMs throughout the world.  I know Bill was honored to serve the community and again, he will be deeply and sorely missed.
Presently, I am holding my Amateur Extra Class license.  I originally got into the hobby based upon some coaching from my brother Bill.  I used to laugh at him when I would see him with all his radios and gear.  Well low and behold; I have a plethora of toys, which keep me relatively busy.  My latest toy is a Motorola Mototrbo XPR 7550 for DMR. I also recently purchased an ICOM 7300 for HF and this is a really nice piece of equipment. While I live in an HOA, I do have an Alpha Antenna S9v31 with a somewhat massive ground radial system and I have made contacts in number of countries as well as multiple states. I also have in my shack a YAESU FTM-400D that I use for Fusion as well as 2m and 70m.  Also, I am a big proponent of DSTAR and I use an ICOM 880H both in my shack and in my truck.  In my shack, I connect through a DVAP, which gives me access to talk throughout the world.  In my truck, I connect through a Raspberry PI and a DVMEGA board. 
Through Amateur Radio, I have made numerous friends and have become a member of multiple clubs and organizations.  While I'm still a newbie, I am amazed at the endless opportunities to learn.
Hopefully, one day our paths will cross along the airwaves.
73's for now!
Gene Moore, NC1L