My name is Mal Eiselman. My call is NC4L (No Charge 4 Ladies).
I have been licensed since 1961 and have been a member of the ARRL for the past 30 years. I currently hold an extra class license. I have practiced Cardiology in Hollywood Florida for 30 years and retired in 2003.
I have always loved electronics and that probably prompted me to go into Cardiology (really neat scopes and tracings there).
My ham radio hobby led me to repairing and modifying the Yaesu FT 102. It is the only radio that I repair and have done this for the past 24 years (- since 1990).
Packing a heavy radio so it gets there safely:
I have packed over 700 Yaesu 102s over the past 24 years and have never had a unit damaged in a return trip to the owner. I have some photos to show you as well as comments regarding safe packing techniques. I think you will find these beneficial for any heavy radio.
First is a tight box. Mushy boxes are dropped and boxes that are too big also get into trouble. The Yaesu FT-102 is 14 x 14 x 5 inches and the double box shown below is 18 x 18 x 12 with the outer box being double strength. Here is what I mean by tight - I weigh 210 lb..
The second important recommendation is more cerebral than physical. Here you have to do a little psychology and that is accomplished by communication with the package handlers. These fellows may have had an argument with their wife the night before, are working late, and are hungry and hypoglycemic. If they see one more box with 20 irredescent shimmering fragile stickers they lose it and kick the box in or throw it. I can see their shoe prints on the box at the tears when the packages arrives here. So, no extra stickers and communicate directly with printing on the box. The written messages on the box (see below) means you assume that the package handlers are intelligent people who have good vision. All the handlers respect that consideration and will work harder for you even if it is not true.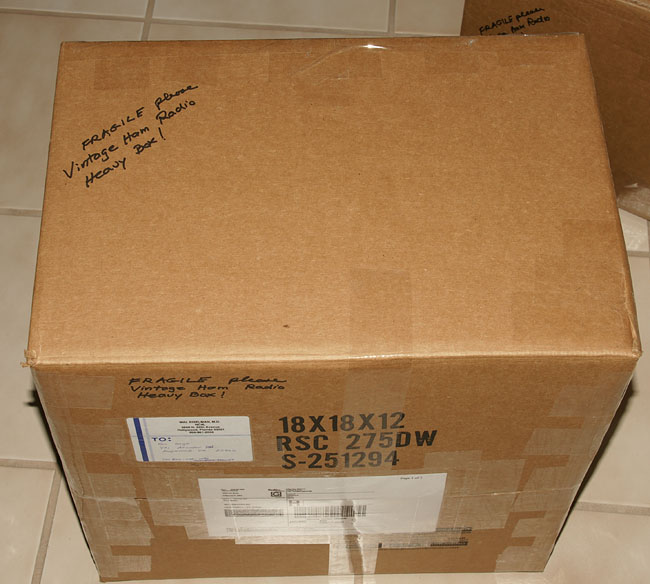 The writting should be on all 6 sides. One inch letters are OK. The first line asks, in a personal way, for their kind assistance with handling your package. The second line tells what it is. That is important because almost all the handlers at some point in their lives had some positive fascination with ham radio and are gentle with your box (but they wouldn't give a hoot about aunt Martha's precisous vase). And the third line warns them that the box is heavy which shows you are concerned about them. Anyone - even the worst sociopath would work harder for you after using this three line communication method.
Recently I have been seeing damage to the fan area where the chassis gets pushed in by the fan. So I have modified the packing instructions slightly to reinforce the area of concern. This is done by using strips of corrugated box walls that you can cut out from old boxes to be discarded rather than the newspaper. Place them just behind the fan. Try for ten individual pieces. If you can't get long sections just modify and place the pieces behind the fan in a best fit situation and use newspaper on the areas which are not covered by the corregated pieces.
I think and hope you will find these recommendations very useful in assuring your radio gets delivered safely.
ADDITIONAL In May of 2009 I wrote the lead article for "QST Magazine" which was titled "Troubleshooting Radios". It was voted the best article of the month. My purpose in submitting and writting that article was to suggest techniques and methologies that most hams could perform on their own, and with a minimum of equipment, to positively identify, locate and then eradicate intermittents in vintage or in fact any radios. If you need a copy I can send via email.
My radio interests include keeping in contact with old friends as well as making new friends on the air on a daily basis now on 7.188 LSB each evening at 10P EST. My second interest is making electronic things work better.
You can reach me at NC4LMal@aol.com or my 102 website at www.w8kvk.com/nc4l
73 de NC4L Mal