The 'shirt' is 'special' in that I got it at a 'Goodwill' store .. ;-) other than that I just liked the colors ;-)
In this 'older' photo (before I could ""hear"" to really enjoy Ham Radio) .. I show my TTY equipment (for LLtelephone) and some of the software (including 'Skimmer) .. I had learned "" how to read Morse Code by SIGHT by watching the skimmer readout ... (the 'word' deciphering part of that program and most ALL such programs is wretchedly poor but the dits and dahs were clear and totally readable) ...
.. Notice the 'cut out' section in front of my lap? That 'spot' was designed so that my CAT Smokey would be able to sleep under my arms and not interfer with station operation.
My (current) main station antenna is a 40m Inverted Vee with 'Apex' at 46' ; with the tuner and ladder line I'm Able to work eight bands from 80 to 10 meters .. I tend to 'focus' on 40-to-15 and rarely use 12 and 10 at all except during contests .. Contesting keeps the ham radio hobby ALIVE .. instead of noisy empty bands an amazing assortment of dx and stateside stations are workable .. check out the rules and "jump in" ** (A suggestion to that last sentence: If you decide to 'jump in' to a Radio contest of any sort .. try and work at least 10 stations the more the better ..... that will help the log checkers determine if a 'valid call' was logged)
 . . . The wooden 'traps' on the 2x3 lumber 'support towers' are at 20' and 26'
This setup allows a single man to push up one 4' fiberglass pole after another without difficulty. Comes down easily as well. The traps 'lock' with a simple hinged 2x2x12"piece of lumber that I can control, from the ground with a piece of cord to lock/unlock. That prevents the stack from tipping over.


The 'setup' I'm currently using;  And a ""closer up" of my Speed-X 500 bug .. Notice that Silver "knob" on the 'Dot' side of the paddle? .. that allows my thumb and forefinger to sit wider apart which seems to give the function of making the dot/dash 'swing' more smooth .... works for me anyway ;-)
         Most visible in the 'top' photo is the 'light Blue' sponge stuck into the dot 'contact' spring ..
this works to help 'quiet' down any excess vibration of the spring.
Just below is a 'small photo .. of the station latest update .. with a little homebrew cootie key (sideswiper) way over on the right
I'll have to put up a better shot of it .. really fun to use a totally MANUAL key making dots and dashes very differently.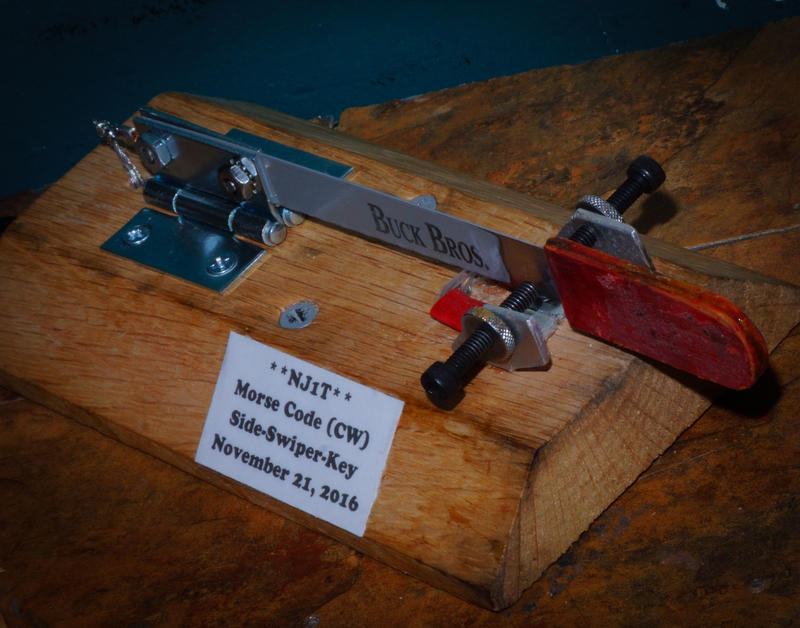 Last Year I was blessed to qualify for and receive surgery for  implanting Cochlear hearing device .. Cochlear N6 .. and ""can"" now I can 'HEAR' better in fact than many 'hearing' people can, although with a Cochlear implant (pronounced "co-clear")  the actual ear parts are NOT used at all, rather sounds are converted to electrical impulses and fed directly to the brain .. so there is a learning curve until the brain learns to decipher what each electrical impulse 'means' .. not everyone can qualify or benefit from one of these, but I am blessed to be one who can ... really really a great blessing .. the Lord has made us that we are able to learn to understand and create such wonderful technology.
Now I 'could' do SSB but very very rarely do it  .. preferring to stick to CW (first love), RTTY, PSK31 and have recently found myself attempting to work all states using JT65 .. but so far cannot seem to get a confirmation (CARD) from NH, VT, AK or HI.... I just don't have the money to automatically send a card to each contact anymore .. however I usually UPDATE my ARRL LOTW and EQSL.cc once a month or so.
    The little ICOM radio has been working surprisingly well ... I suppose I 'might' have purchased the IC-7200 and avoided having to install a filter (put in the 500hz filter and added the Crystal oven for added stability) .. I use an MFJ versa tuner II so as to use the 80 meter inverted VeeZ on all bands and in spite of the HORRENDOUS conditions I've been pretty happy with the DX that pops up now and then ..
The BUG seen in these pics is a '" Speed-X model 500 "' ..   I enjoy QRP (QRP ARCI #4654 but not an active member) .. Used to hang with the CFO (chicken fat operators) enjoying higher speed CW .. I use the Bug, the Iambic and '''IF"" I am called to send REALLY FAST then I use a keyboard, BUT .. I prefer around 27 -to-40 wpm for most operating .. Contesting sending faster generally just wastes time since more ops can't copy it the first time around especially in poor conditions .. for rag chewing and general DXing I like to base my 'speed' on conditions and RST of both stations, it just makes sense.
Recently joined SKCC (Straight Key Century Club) #15575 .. happy to be 'finally' getting some serious use out of the Speed-X Bug.

RE: QSLing
I QSL via LOTW and eQSLcc ..
Except when seeking a specific 'award certificate' or suchlike thing, I do not usually send a paper QSL.
However if you send me a QSL card .. I will send you one back by same method as it was received. I no longer send "green stamps" .. No need for SASE but will certainly use it if you send one.
The photo below is 'not' my current QSL card. 73 and DX!
My Sweet-Heart (Donna) and I have just passed our 33rd wedding Anniversary and have been blessed to find Salvation
in our Lord Jesus Christ in 2008. His promise is the only thing of truly lasting value that we know.
1Jo1:8 If we say that we have no sin, we deceive ourselves, and the truth is not in us.
1Jo1:9 If we confess our sins, he is faithful and just to forgive us our sins, and to cleanse us from all unrighteousness.
1Jo1:10 If we say that we have not sinned, we make him a liar, and his word is not in us.
John 3:16"For God so loved the world, that He gave his only begotten Son, that whosoever believeth in Him should not perish, but have everlasting life"
John 14:6"Jesus saith unto him, I am the way, the truth, and the life:
no man cometh unto the Father, but by me. 
Amen.