Isn't this a great hobby?
"Sunrise from the Shack"

A.R.S. NZ1Q is located in St Petersburg, Florida, U.S.A.
on Tampa Bay near the Gulf of Mexico
 
Amateur Radio Station NZ1Q:

Rig 1: FLEX-6500 SDR (CW, SSB, AM, Dig) 160-6m.
Rig 2: Icom IC-7100 HF, VHF, UHF
Amp: Ameritron AL-1200 Amp + ATR-15 tuner.
Antenna 1: 160m OCF dipole, 35 ft [~10.5m] high, 160-30m.
Antenna 2: Vertical 160m & 80m, 53 ft (18m) tall, 40ft (12m) from the salt water on the Bay.
Antenna 3: HEX Beam (20m-6m), 30 ft [~10m] high.
Antenna 4: Diamond X-500, 2m, 70 cm
Computer: PC with WIN 10 and SmartSDR (for FLEX).
Dig Interface:  Ethernet to Flex-6500.
Location: EL87qu on Tampa Bay near the Gulf of Mexico.
Logging: DXLab with LoTW, eQSL & ClubLog
Operator:
Name: Ed [Eddy] Erny
Age:  Operator has survived 7 Solar Cycles, while completing 70 orbits around the Solar System.
Licensed: 1961 as WV2TKE [NY], then WA2TKE, WA6YMC [CA], N1GSW [MA] and finally NZ1Q.  Moved to Florida in 2011.
Work: Electrical Engineer (BSEE), worked in semiconductor technology, digital communications, then management (MBA), now retired.
Ham Family: Father Ed Sr - N2HWI [SK]; Brother Paul - N5MAB; Best friend Mike - WA2WHI [sk - died in the north tower on 9-11-2001]
My Elmer in 1961: W2ADC John Rogers [Elmont, NY], John's former call: 2ADC.  I recall John telling me he was the 28th licensed ham in 2-land, before W's and K's were added to US calls.  John was a commercial artist and did covers for ham publications.  (see an example of 2ADC's cover art below).
QSL Cards :

- Direct [to address above]
- Bureau
- ARRL Log Book of the World [LOTW]
- eQSL.cc [AG]
- QRZ Logbook
- Countries worked: 314, Confirmed: 310
Clubs & Orgs:
St Petersburg ARC (SPARC), V.P.
   Facebook: St Petersburg Amateur Radio Club
   web site: St Pete Amateur Radio Club
White Mountain ARC
​   web site: W1MWV
Florida AM Group
   Facebook: Florida AM Group = Ham Radio
   web site: FLAM Group
ARRL, FCG Florida Contest Group
PODXS-070 #1736, EPC #22066, DMC #06703
Past Orgs:
YCCC Yankee Clipper Contest Club
BARS Billerica Amateur Radio Club
RACES Civil Defense, IDXA #3191, SETI
 

The Station is essentially computer driven.  One PC with 4 screens display the SDR radio, logging, propagation, PSK Reporter, Solar Wx, WX station, QRZ lookups, security cameras and more.
Station History Blog
since moving from Massachusetts and reestablishing the shack in Florida (2011)
Summer 2017:
Planning to work portable from FN44 at times during Jul and Aug.  Returned to St Petersburg, FL. Putting antennas back up after storing them for the summer while away. Diamond X-500, HEX beam, 80m OCF dipole, 53 ft Vertical. Station and property survived Hurricane Irma.
Winter 2016:
Added the Icom 7100 to the station as backup rig. Use the 7100 for backup on HF, VHF & UHF.  Also for D-Star on UHF.
February 2016:
New desk added to the operating position. All four monitors are driven by one pc. All audio from rigs and pc is sent through a mixer and then to powered speakers.
July - August 2015:

Operating portable from Glen, NH in Mt Washington Valley at the foot of The Presidential Range of the White Mountains, Locator FN44jd. Portable setup is a FLEX 6500 with a 40m, 20m, and 15m dipole. Operating SSB, CW, PSK, JT65, JT9, FSQ and DigitalVoice.
March 2015:
Solar/Battery power is working well. Proven in a 4 hr power outage - I was on 2m and HF working stations without a problem.
The latest project included installing a HEX beam (from K4HEX). The 2el HEX beam is up 30ft (~10m) above the waters of Tampa Bay. The antenna works well yielding about 2 S units better than the 80m OCF dipole on 20m-10m.

October 2014:
Started experimenting with solar power, mostly to understand the limitations of PV panels and batteries. Plus, I wanted to have emergency power available should we be hit by a significant storm. Currently 2 panels and 3 batteries with a charge controller provides power for the HF and 2m rigs. Recently I added a Grid Tie Inverter to put excess power into the grid.
July 2014:
Summertime in Fla - afternoon electrical storms and tropical downpours are common.  Seems I'm always reaching to pull antenna cables to avoid a catastrophe. Here is a great site I've run across to track lightning locally and worldwide: LightningMaps.org
January 2014:
Put up an 80m OCF dipole. It is at 25 ft (7.5m) high and is fed with 4:1 balun and coax. The OCF has strong lobes to Europe, Africa and South America on 20m and higher freq bands. No, the xyl didn't offer to help put up the OCF!
November 2013:
New radio arrived: FLEX-6500 Software Defined Radio (SDR). This is one out-standing radio. I still like the classical style radio with all the "bells and whistles." However, this is an amazing radio and I love using it. In A/B tests with the IC-7200, the 6500 receiver is much better.
September 2013:
Worked PSK-31 from a portable location in New Hampshire during July & August 2013. This was my first time on PSK, having done RTTY in earlier years. Now back in Florida, set up the station in St Petersburg again with PSK, CW and SSB using a 40m dipole and a 20m loop.
June 2013:

NZ1Q was put back on the air March 2013 in Florida after moving the QTH from Carlisle, MA [Massachusetts] and being off the air for 2 years during the move and search for a new QTH, finally settling in St Petersburg, FL.
March 2013:
The station was first setup in St Pete as of March 12, 2013 and consisted of an ICOM 7200 portable rig, 100w, into a 40m dipole, broadside east-west. The station was upgraded in May 2013 with an AL-1200 amp and 20m Delta Loop and HRDeluxe software.
1983-2011: The prior station in Carlisle MA was an ICOM 781, SB-220, 160m & 80m dipoles, 40m beam & 10 element Log Periodic (LPA) for 20m-10m, on an 80 ft tower (below). Gee, I miss those antennas!

Received my Novice ticket at age 13 (WV2TKE), General Lic 6 months later (WA2TKE). Went on to be an Electrical Engineer, moved several times (WA6YMC, N1GSW), picked up my Extra class (NZ1Q) and I am now retired in Florida.
73, Eddy
PS   I sort of remember starting out in Ham Radio feeling like this. Come to think of it - I still do!
Photo courtesy of FLEX Radio.

(Note: The "Solar-Terrestrial Data" chart may not update in your browser on a daily basis. Check the date in the lower right corner and reload the page if necessary)
"It is not the class of license the Amateur holds, but the class of the Amateur that holds the license."
 
Some History
Below: Antennas from the old QTH in Massachusetts (prior to 2011).
80 Ft tower T-10 (10 ele Log Periodic Array) with 2 ele 40m beam 8 ft above that.
Plus various wire antennas for the lower bands.

Starting back in 1961, I've had several "shacks" along the way. Here is the "shack" in 1989.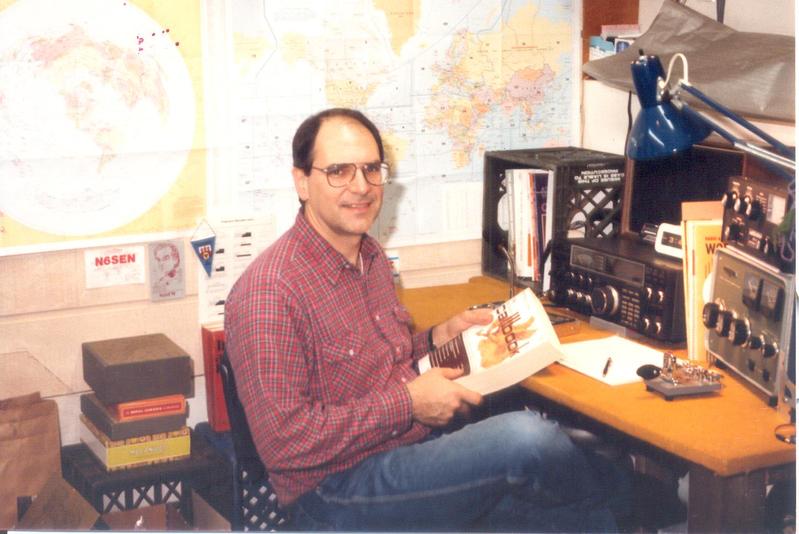 In 1983 the shack was a minimal setup on battery power as I first set up the station in Carlisle Mass.

My Elmer's commercial art.  He (W2ADC, John Rogers) created original artwork for several ham publications. I met John in 1960, Got my Novice ticket in 1961.