Hi from Lima Peru, and thank you for visiting this page. If you wish to QSL, I prefer ARRL LOTW, or Clublog, otherwise I will reply via the Bureau. I really enjoy CW, but also operate SSB, and focus on 20 and 40 meters. We have a good path to most of the world, but Lima suffers from QRN(lots of electrical noise.. sometimes as strong as S5 to S6), so weak signal QSO's are problematic. Our QTH is in the Miraflores district of Lima, and right on the cliffs above the Pacific Ocean. Other hobbies and pursiuts include skiing, sailing, and aviation (single engine pilot w/ 1200 hrs). My XYL and i enjoy travel too.
Station: Elecraft K3 Transceiver (s/n 06760) , P3 Panadaptor, and KPA500 solid state linear amplifier. The K3 is a superb rig, especially on CW.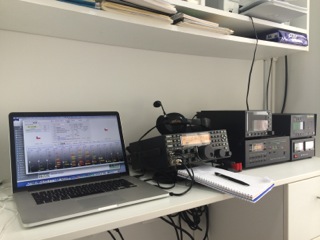 Backup rig: Icom IC-7000 and AT series tuner.  Antenna: Ultrabeam (Italy) motorized 40M-6M vertical with 6 each ground plane radials from ZeroFive Antenna of the US. The antenna is mounted on a 3 meter tower on the 7th story (top floor) of our apartment buliding. I hope to have my Optibeam OB6-M installed at some time in the future.
If you're planning a trip to Lima, make a point to stop in at the Radio Club Peruano. The RCP has a well equipped station to support all modes of operation, and also has a great restaurant right on the premises. Meetings are held on Wednesday evenings for the members, and visitors are most welcome, website: http://www.oa4o.org/
Im just starting to use Clublog, so check to see if you have a contact with me below: