Hello radioamateurs!
This is what I have been doing lately. I hope you are somewhere in there:
2012, the first months
(Left) In March 2012 OH6ECM was born with a brand new amateur licence. One month later the shack had found its forms and I was finally QRV with a Yaesu FT-1000D and a Windom wire antenna. Until September 2012 this equipment brought me around 3000 QSOs. Some old receivers were also allowed to take place on the table; NRD 525G, ICOM IC-R70, Collins 51J-4, Heatkit GR-64, Eddystone, reminding of my past as a DX-listener. For 2 meter a Yaesu FT-1900 was used with a temporary car antenna - only for reaching the local repeater.
(Right) The big project this first summer was to get a better antenna. A Hy-Gain TH7DX "Thunderbird" happened to be for sale in the neighbourhood and that was perfect. On the picture me having a morning cup of coffee with birdie.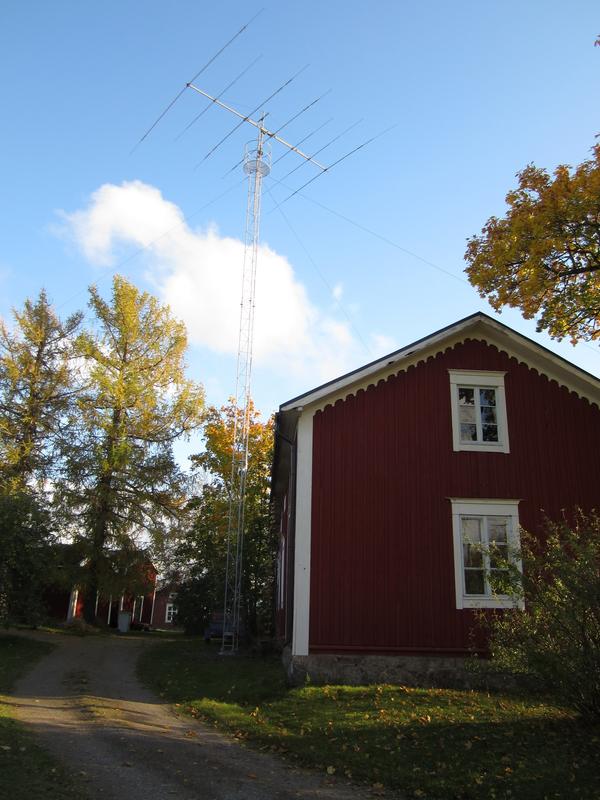 In September 2012 the Thunderbird was put up on a 20 meter high mast. It was a revolution for me on 10, 15 and 20 meter, the world came very much closer. A big thanks to the members of the amateur club OH6AG here in town, without them the beam would still be lying in the grass! The Windom remained in use for the other bands.
2013
Two new antennas were planned for this year. To put up the SF9/144 (9-el yagi for 2 meter) on a 11 meter mast and to build an Inverted V fan dipole for five bands, 160/80/40/17/12. Both projects were carried through. The VHF-antenna works well and also the dipole on 160 and 80 meters. But the old Windom beats the dipole on 40, 17 and 12 meter. The plan was to take down the Windom and keep only TH7 and the dipole, but now I think I have to keep the Windom too until I find something that beats it on those bands. I hope it is OK with my XYL. The Windom is up in the flagstaff, so the finnish flag has been down since April 2012...
In October the two most important SSB-contests for us in Scandinavia take place; The SAC and CQWW. These offered a good opportunity to test the antennas and as a novice I entered the category for rookies. The result was OK I guess, the certificates from those events here below:
I have always been a competitor, so I guess you will meet me in some contests in the future, or perhaps in a pile up when I am trying to catch a rare country or some interesting station.
But most of all, I don't take this so seriously. I just want to enjoy myself and have fun on the bands!
73
Jan