| | |
| --- | --- |
| My locator is JO22HG | On the picture above you can see me running PA6HQ in cw on 20 m during the IARU contest 2015 on July 11 |

Did get my first hamradio license in 1977 and was active on VHF as PE1CCK. From 1987 I do hold the full license and my call sign changed into PA3EQK. From beginning 1999 my callsign changed into PA5WT.
In the past I did a lot of contesting on the VHF/UHF bands privately and with my club station PI4KML. In the season 1986/1987 we, with my clubstation PI4KML, did win the VHF/UHF-championship of the Netherlands. Some members of this group : Ton PA0ASH (SK), Carlo PE1MWL, Joop PE1DOY, Jelle PE1KDA and Pieter PA3FIW.
With some friends like Theo PA1TK,  Ton PA0ASH ( SK ), Rob PA3GVI  and Gerard, PA0FRX ( SK ) I was qrv from Luxembourg several times. As LX/PA1TK/P we did join several of the major European VHF/UHF contests.
On HF I am qrv as a cw-only operator ( and some RTTY ) running a modest station with a small yagi and wire antennas. On VHF I like to do some dx-ing in cw and ssb.

WHEN SENDING QSL PLEASE NO  IRC'S  



August 2017. The antennas on the roof of my house for 20,15,10, 6 and 2 m.
In the backyard there is a GP for 40 m and a longwire for 160 and 80 m.

2017 June 17 and 18 I was qrv in the IARU 50 MHz contest from the qth of Theo PA1TK in JO22IJ.
We used a short yagi about 18 meter high that was mounted just below Theo's long yagi for 2 meter. 
I did the cw qso's and Theo was on phone.

2016 september 3 and 4.  Operated in the 2 m IARU contest with PA1TK/p from Trintelhaven in JO22QP.
From left to right : Alex PA2CV, Theo PA1TK, Eric PE1RLF and me Kees PA5WT.
With this activity we did celebrate that Theo PA1TK was active as a portable operator on VHF/UHF for 40 years !
 

June  2013  Field day with PI4KML/p,  Recreatiegebied Beeckestijn in Velsen zuid.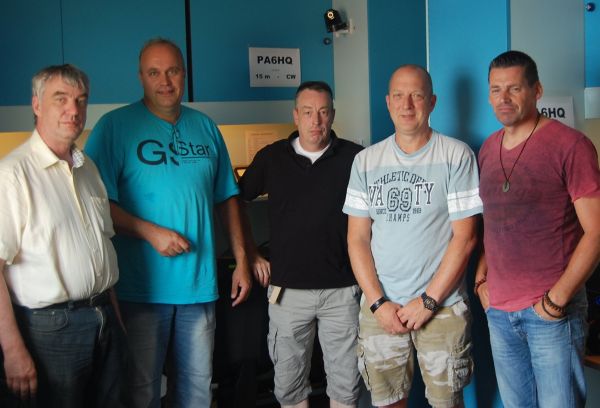 July 2014.  Operators of  PA6HQ in the IARU contest at the site of  RCK in IJmuiden.
From left to the right: Kees PA5WT,  Theo PA1CW, Jan PB2DX, Harry PB5DX and Rob PA3GVI.

November 2001  Running a cw contest on 2 m at the QTH of PA1TK in Spaardam.

June 2012 CW field day at the site of PI4W/p in Kamerik. Taking a nap after working during the night.


September 2011.  VHF contest on the island of Texel with the group of Frans PC5T.

July 2013. Running PA6HQ in CW on 15 m at the site of RCK in IJmuiden.

September 2010.  VHF contest in northern Luxembourg with the group of Theo PA1TK

October 2012     Operating special event station PH75S/J

PH75S/J was the special event station to commemorate the 5th World Scout Jamboree which was in Vogelenzang in the year 1937.

June 2011. CW field day in Kamerik.  Me operating the station PI4W/p
 

September 2008.   This year we, with our VHF contest team, went to Switzerland.
We were active as HB9/PA1TK/p from the Chasseron at 1607 m a.s.l. in JN36GU.
Our team from the left to the right: Theo PA1TK,  Hans PHoV, Gerard PE1BTX , Kees PA5WT and Rob PA3GVI.
Because of equipment failure and bad weather we had te break up early. 

September 2006.  Rob PA3GVI ( on the left ) and me running LX/PA1TK/p from JN39AX in the IARU 2 m contest.

June2009  Fieldday with my club VERON afdeling Kennemerland.    PI4KML/p.
 

June 2007.  Jaap Kroon PAoIF ( SK 2010 ) and me operating the CW field day station PI4ASV/p.
I did use the laptop for logging and generating morse code but Jaap, age 86 in 2007,  did it all by hand like a real  'old timer'  should !
 

September 2006.  In that year the LX/PA1TK/p contest team even had their own van 

.
Our team that year:  Theo PA1TK, Rob PA3GVI and me.

We operated in the contest that year as a tribute to Ton PAoASH ( SK ).
We certainly missed him especially when we did try to set up his old tent. We almost heard him laughing ! 
 
In September 2005 I was qrvi in the 2 m IARU contest from Northern Luxembourg with our contest group

September 2005.   Our guest Philipe  LX2AJ  ( in the front ) and me running our conteststation LX/PA1TK/p.

May 2003.  LX/PA1TK/p in the IARU-contest.
Team: Theo PA1TK,  Ton PAoASH ( 2005 SK ),  Gerard PAoFRX ( SK 2013 ) and me.

1992 - 2006.   Field days in June with my club, VERON afdeling Kennemerland.       PI4KML/p

June 1996. DXpedtion to Georgia. Active for two weeks in June on 6 m as 4L6PA
On the picture from left to right Omari 4L5O,  Willem PD0OHW and me setting up the 50 MHz yagi on a small rotator.
The other members of our team, Allard PE1NWL and Pim PAoTLX ( 2015 SK ),  are not on the picture but are watching those dare devils on the roof from the save ground  

.
We all hate QRM !!