My name is JOOP and my QTH is LEEUWARDEN / NETHERLANDS.
I'm a hamradio amateur since 1992 and my call PD0RKA is also from that date. In december 2006 , I upgraded my station for HF activity and since start of 2007 I'm active on HF frequencies.
My radiostation consist of:
Kenwood TS450S
Yaesu FT897D
LDG autotuner
Several VHF/UHF transceivers,some are APRS capable. A miniTrak 8000 transmitter for APRS car tracking with call PD0RKA-9
My antennas are:
Hustler 4BTV, 4 band (10; 15; 20 and 40 mtr band) vertical , using most of the time.
Homemade Halfwave Vertical Dipole for dx'ing on the 20 mtr band.
Homemade Halfwave Vertical Dipole for dx'ing on the 10 mtr band.
FD3 dipole for 10; 20 and 40 mtr band.
G5RV dipole for 10; 20 and 40 mtr band.
Diamond VHF/UHF vertical.
Flexa VHF yagi.
I'm a member of:
The Frisian Radio Amateur Group (FRAG) with call PI4FRG located in Leeuwarden / Netherlands. Member number is :FL0330
The Belgium Digital Mode club (BDM), my number is: 0704
The European PSK Club (EPC) , my member number is : 2224
The Natal Digital Group (NDG) Brasil, member number is : 1192

The Digital Mode Club (DMC) , member number is :

03184

The Croatian Digital Group (CDG), member number is :

0968

The V.E.R.O.N. , (Dutch Amateur Radio Club)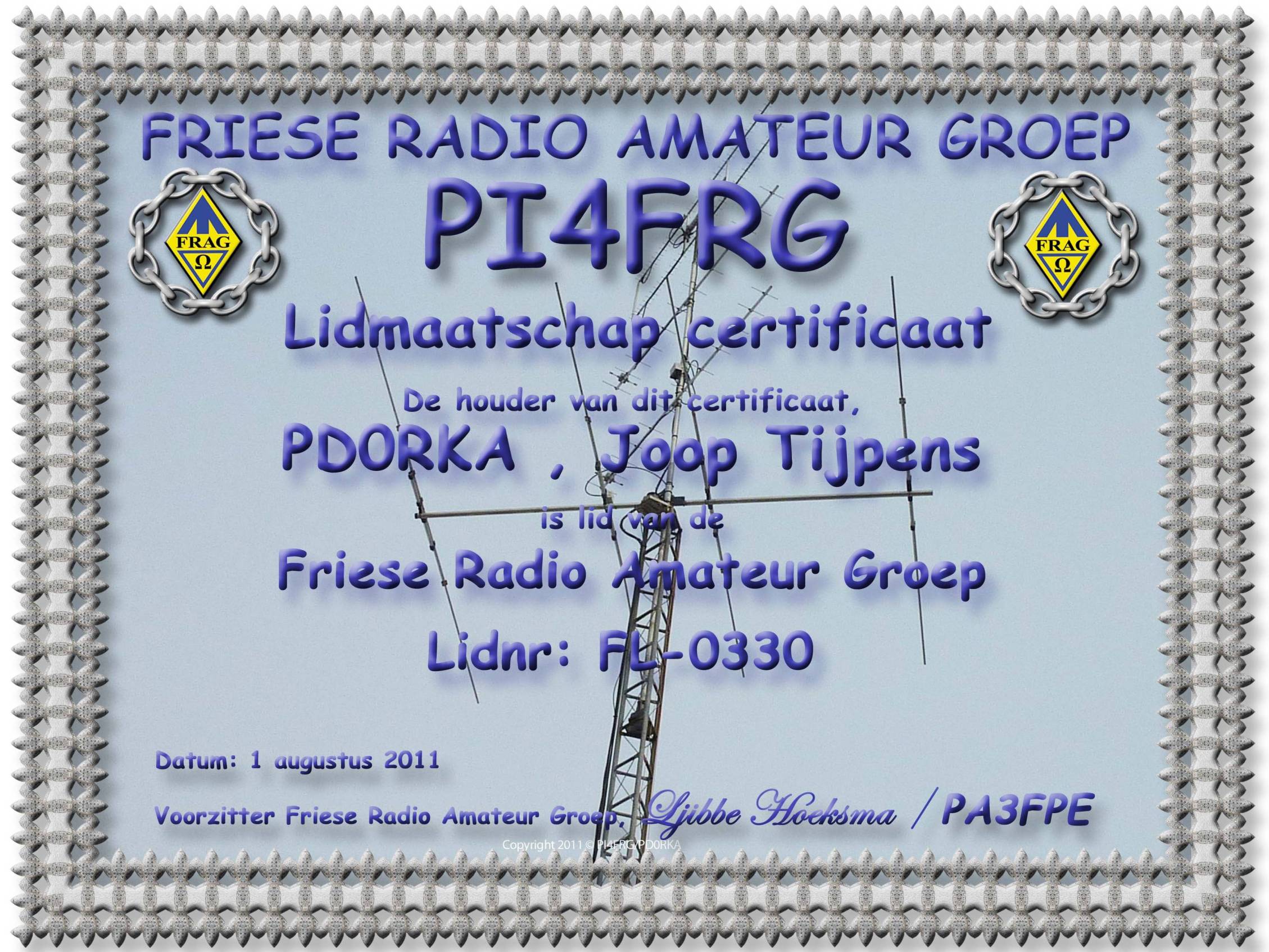 My favorite webpages:
You can check my ONLINE log at HRDLOG:
and of course I have a homepage at:
You can follow me on TWITTER:
I love digital modes very much and for that reason I do participate very often in digital mode contests.
My QSO's are logged in MixW logbook and are uploaded to the HAMLOG EU website.
You can check my log at   HAMLOG EU
QSL(s) cards are sent by:
The Dutch QSL Bureau

LotW (ARRL)

eQSL
If the other station want a paper QSL card, I always send one by the bureau!
I always QSL via ARRL's LotW logbook. If the other station is an eQSL member I also send my QSO details to eQSL.
Please send our QSO details to eQSL and / or LOTW for helping me to get hamradio awards!!!
Hope to meet you soon on the HF frequencies!!!
73,
PD0RKA / JOOP
---
SPECIAL PREFIX CALL
PD70JT
On 6 april 2013 I had my 70th birthday and to celebrate that I was planning to be on frequencies with a special PREFIX. But half february I was suffering a meningitus and was awaking on intensive care at the hospital in my hometown. The meningitus destroyed my right ear totally and my left ear down to about 30% and when awaking I couldn't walk.
So my birthday radio event in april had to be cancelled ......
After a rehabilitation period of almost 6 months walking is improving again and I left the rehabilitation centre end july and found my radio equipment all OK at home. I activated my already registrated special CALL again and will be on HF frequencies from:
2 september till 29 september 2013
I designed a special QSL card and this card will be sent by the DUTCH QSL BUREAU to everyone who makes a QSO with my special event station.
I will upload my logbook to eQSL.NET and LOTW for qsl'ing stations logged in my MIXW logbook.
I also upload my log to HAMLOG EU, so you can check if you are in my log.
The HAMLOG.EU log is on QRZ.COM and I will upload mostly everyday.
(use the link below)
Info on QRZCOM:
Hope to meet you soon on the HF frequencies!!!
73,
PD70JT / JOOP
---