Please add your call in my "Web Log" really appreciate it..Thanks.
 
---
Hello thanks for the QSO and taking the time to visit my QRZ.COM page.
 So please scroll down the page.
On this page you can see LIVE if you are in the log or not.
So send me an @mail for further info or if my QSL card is not received by you!
Member of the Logbook of the World LoTW ARRL. I upload every week my log book in to the LOTW!
---
QSO IS SHORT QSL CARDS ARE FOREVER....!
QSL-cards are normally send via the bureau.
But you can also send me a direct QSL card.
Cards which are received direct will be returned 100% direct the same day !
Cards received by the bureau, will be answered via the bureau.
---
---
The Setup here is:
Yaesu FTdx-5000MP SM-5000.
Yaesu DMU-2000 and SP-2000 with BHI NEDSP-1062-DSP.
MicroHam Micro KEYER-II for digital use.
LP-PAN Adapter & E-MU 0202 USB.
Yaesu FT-847 with MD-100 UHF/VHF.
Yaesu FT-817ND
Icom-IC-E2820
Icom-IC-E92D incl DVAP-Dongle
​​The Shack Off PD9CN
X-treme ESSB Audio FORUM
This is the place to be for info Voodoo Audio
http://wz5q.net/talkvoodoo/index.php
Voodoo Audio Rack
​All units are Voodoo Modifed By
Leo Duursma (PA0LMD)
The Spesalist for Ham Radio
​​   
---
The antenna setup here in use:
2 element SteppIR Incl 30/40mtr Trombone
Diamond V-2000 for 2m and 70cm
HyEndFed MultiBand Antenna 7/14/28Mhz 12.5 Meter Long.
Old Tower Setup 
​​New Tower Setup
New Telscopic Tower
---
I have some links with photo's of my antennas, the BHI NEDSP-1062-DSP (in front of the Yaesu SP-2000 speaker) and the shaft(axel) modification of the SteppIR motor (EHU).
 
---
Large Visitor Globe
---
SteppIR 2elm incl 30/40Meter option Trombone.
Built on the chimney whit a telescopic tower about 18mtr (55ft) high of the ground.
---
---
​Old Tower Setup
​​New Tower Setup
---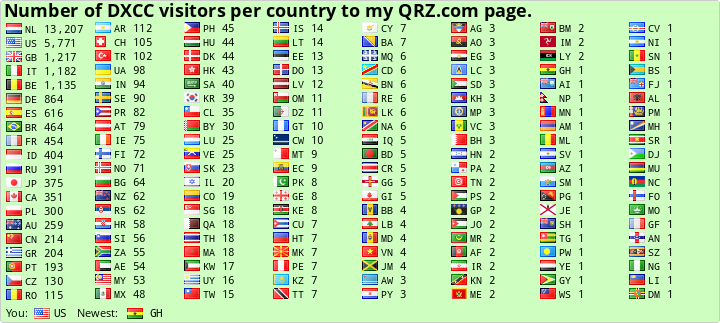 ---
---
---
Thanks and I hope to hear you soon on the air.
Cor PD9CN
---