Hello fellow ham!

 

Nice to have met you / hope to meet you (again)!

 

 

I am working portable regularly. If you hear me working /P, do check out the pictures below

to get an idea of what my set up looks like.

In 2017 I will be active from various WWFF nature reserves using a range of special calls P*44FF.
---
QSL-ing
I will reply to all paper QSLs that I receive the same way the card reaches me (bureau or direct)

.

I will QSL via eQSL and LOTW periodically

This QSL policy is also applicable to my /P operations.

I will confirm SWL reports - but only if the QSO details were not on the cluster
---
Short Bio

I started out on 11m (27.555 etc.) in the eighties working stations around the globe

Got my ham novice license (PD0RLH) in 1994 and worked some local stations on 2m FM

Inactive from 1995 - 2010

Started (again) on HF in July 2010 - on 10, 20 and 40m

Upgraded to full license in June 2011

Memberships:
---
---
Setup

Below are some pictures of my typical portable, mobile and home setup. I am continuously trying to improve on my /P set-up. More info on my gear can be found here. 

HyEndFed wire, vertically on 12m or 18m SpiderBeam pole

 

 

 

 

 

C-pole for 40m

 

 

Inverted V (for 40m or 80m)

 

 

QTH: End fed sloping from attic window into the garden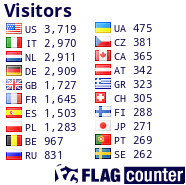 8129499 Last modified: 2017-05-31 15:16:00, 13190 bytes
Login Required

Login is required for additional detail.
You must be logged in to file a report on this page
Public Logbook data is temporarily not available for this user