HOLA QUERIDO AMIGO 
GRACIAS POR VISITAR MI PÁGINA
BIENVENIDOS A MI PÁGINA DE QRZ!
HELLO DEAR FRIEND
THANKS FOR VISITING MY PAGE
WELCOME TO MY QRZ PAGE!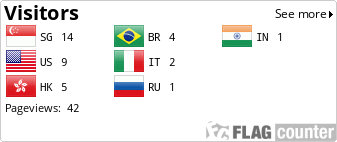 Hola me llamo Carlos∴ y gracias por visitar mi pagina
Me encanta dx
También como un buen qso con cualquier-uno en cualquier lugar y en cualquier momento
Configuración de la estación: Yaesu FT 707 - Yaesu FT 757 GXII - Antena Diapazon 80 40 12 10 m
 
Esperamos trabajar en la freq.
73 Carlos∴
Hi my name is Carlos∴ and thanks for visit my page
Love to dx 
Also like a nice qso with any-one any-where and any -time
Station setup: Yaesu FT 707 Yaesu FT 757 GXII - Antenne Diapazon 80 40 12 10 m
 
Hope to work you on the freq.
73 Carlos∴
PROYECTOS DE ANTENAS HF
HF ANTENNA PROJECTS
Antenna canna da pesca   1,8 - 30 mhz  - IZ3DVO
pdf - a vueltas con la antena windom - EA2BRN
pdf-  Antena multibanda 6-80 mts tipo W3DZZ - EA1KO
pdf - Antena "CRISE" portable multibanda para QRP - Union de ... - EA1HBX
pdf - ZS6BKW vs G5RV
pdf -Multiband Antennas - CE5PRD
pdf -Antena Yagi 3 elementos para 10 metros - PU2XEA
pdf -manual das antenas.cdr - PT9AIA
pdf - Apostila Fazendo Antenas ... - PU2SWG
Antena Vertical Multibanda 6 a 80m V350-CAMP - YouTube 
Powered by Rodrigo Gonçalves PP5BT
POR FAVOR NO MÁS QSL VIA BURO
SOLO ACEPTO RECIBIR Y ENVIAR QSL VÍA DIRECTO.
TARJETA QSL DIRECTA A MI DIRECCIÓN
  POR FAVOR CONFIRME NUESTRO QSO EN QRZ.COM LOGBOOK
GRACIAS
PLEASE NO MORE QSL VIA BURO
I ONLY ACCEPT TO RECEIVE AND SEND DIRECT QSL.
DIRECT QSL CARD AT MY ADDRESS
   PLEASE CONFIRM OUR QSO AT QRZ.COM LOGBOOK
THANK YOU