The han radio is the magic of squeezing a hand without being present,
being able to help someone without having anything in return.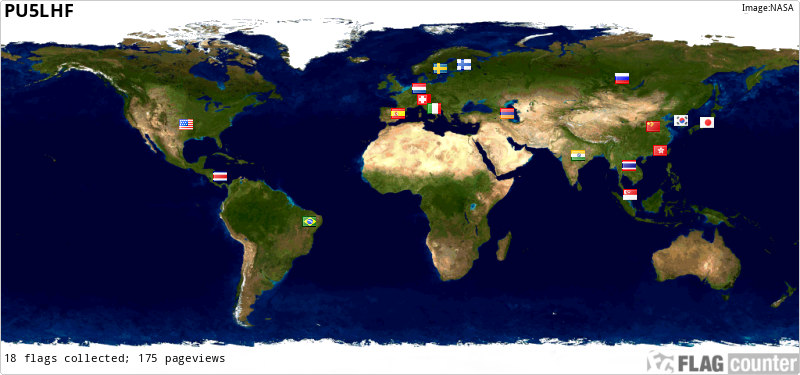 The counter of the Flag Counter visitors collected started on 2018/01/03



 city with French name and German accent

Joinville is the largest and most populated city in the state of Santa Catarina and has approximately 577,077 inhabitants, the first inhabitants of the city were the natives and the Portuguese, but then came the German, Swiss and Norwegian immigrants.
Known by many with the titles of City of Bicycles,
Flowers and Princes, Joinville stands out as a strong industrial power.
The city is also well known for holding the Feast of Flowers, a traditional festival that is celebrated annually 72 years ago and that attracts many visitors during the period of the party.
The Joinville Dance Festival also attracts many tourists to the city precisely because it is recognized as the largest of its kind in the world, it has a subsidiary of the Bolshoi Theater School, the only one outside of Russia, which stands out in the training of dancers and also a festival of instrumental music, the Joinville Jazz Festival.
Our ham radio club PP5CIT
CRAJE - Clube de Radioamadores de Joinville - YouTube
I believe in the amateur radio ethics
including courtesy - solidarity
respect and friendship
      Hello!   
Dear Ham's, 
I am Carlos∴  I love DXing, but my station is very small.
I can DX thanks to you. I appreciate all your help. 
QTH : Joinville, SC, Brazil
Continent : SA
Main Prefix : PU
Class : C 
Op : Carlos∴
Federal State : SC
Portuguese nationality
Active since : 1990
Born in : 1954
Affiliations and clubs : Craje
QSL : QRZ.com , eQSL , Direct to my address
QRV ( Mhz ) : 28.400
Mode : phone SSB DX
Active in band : 80m,12m,10m,2m
Latitude : - 26.2708333
Longitude : - 48.8750000
Locator : GG53nr
DXCC Zone : 108
ITU Zone : 12
CQ Zone : 11
E-mail : pu5lhf@hotmail.com
Thank you for visiting my QRZ.COM page.
Hope to hear you on band.
Some certificates and diplomas eQSL, QSL cards
   My radio station,simple ... like me
Maxtron PS 730 - 30 Amp.  -  YAESU FT 757 GXII  -  Notebook  HP G42
From Joinville to the world
YAESU FT 757 GXII , manufactured  Japan 1987 , discontinued
My antenna TRI DIAPAZON project PP5RSL Moraes 
amateur radio the world in your hands
A project for a multiband HF Double windom antenna 
by VE2CV and VE3KLO
PROJECTS OF ANTENNAS
FOR  RADIO-AMATEURS
Encurtadas :: PU2NOL - Wagner.'. - Webnode
HF Antenna Information - W2BLC
City-Windom Antenna History. - UA3AHM .pdf
"CRISE antenna"para QRP Proyecto antena HF/VU ... - EA1URO.pdf
a vueltas con la antena windom -EA2RCH.pdf
Windom off center fed - W8JI.com
Antena multibanda  6 – 80 mts tipo W3DZZ - EA1KO .pdf
teoría de antenas - La Salle | Campus Barcelona.pdf
[PDF] Sipder Beam - manual de construção e montagem - ARA
antena yagi de 3 elementos para 10 metros - PU2XEA.pdf 
manual das antenas.cdr -PP6PP- PT9AIA.pdf
antenas para radioamadorismo, radioescuta e faix.PU2SWG.pdf
engenharia de t engenharia de telecomunicações ...pdf - DES UFPE
[PDF]engenharia telecomunicações - Unisanta
Antenna 80 40m não precisa acoplador project PP5ND
Antenna quadra suiza project HB9CV
Cuando enseñar, no sea arrogante.
No se olvide que el aprendizaje dura toda la vida.
Y que no desprecie un buen consejo, sólo porque le llegó de labios que usted juzga menos puros.
Dios a veces se sirve de personas que no son perfectas, para darnos advertencias importantes.
When teaching, do not be arrogant.
Do not forget that learning lasts a lifetime.
And do not despise good advice, just because it came from lips that you judge less pure.
 God sometimes uses people who are not perfect, to give us important warnings.
Please confirm QRZ.com record book contacts
73 good DX