Update - March 2013
Six months after a storm brought down my old tower, I am back on the air. A new tower and the rebuilt 3 element Steppir antenna went up and life is good again.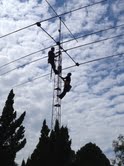 Here is a picture of the work almost finished. Above the Steppir is a M2 12 element 2m yagi, with a preamp in the mast between the antennas. I plan to put the VHF station to good use very soon.
By now I am QRV from 40 to 6m. A Sloper for 80m is ready to be deployed. I work mostly CW and RTTY, with some occasional SSB and PSK for a new one.
My all time DXCC standing is 342 confirmed entities, and I have reached Honor Roll for Mixed and CW, although I still need to submit some paper QSLs.
The 2 entities I still need are: BS7H and BV9P.
My log is frequently uploaded to the LOTW and I do not use EQSL.
Hello,
If you worked me after September 2010 I was probably operating remotely. My actual station lies about 120 km from Rio de Janeiro, and I've been experimenting for quite some time with remote control.
Since the latest antenna upgrade, december 2011, my remote station includes a TS-480, a 3 element Steppir antenna and a dipole for 80m. Everything is controlled from my home QTH, and I use the remoterig system (www.remoterig.com).
I am QRV on CW, SSB, RTTY and eventually on PSK. My logs are frequently uploaded to LOTW.
Here is my remote station: The upper shelf is the IT equipment, than comes the Steppir controller, rotator and a LP100A Wattmeter. The Radio shelf has the TS-480, a LDG antenna tuner and the remoterig, At the bottom are the DC power supplies ans the web controlled power switch.
Please check my new blog at http://py1kn.blogspot.com/
QSL'ing Update: When setting up my station for the XPX SSB Contest I had a fall and broke my left foot. Please note that QSL replies will be somewhat delayed, as a trip to the post office is currently impossible for me. I'll get rid of the crutches after May 15th.
My log is regularly uploaded to LOTW. Direct QSL is OK to this address. Please use valid 2013 (New Style - Nairobi) IRCs or green stamps. I try to answer all direct requests within 1 day. Bureau is OK, but be aware that PY bureau is sometimes very slow. I QSL selected QSOs through GlobalQSL.
My address in not up to date in some CD-Roms. Please use this address. If you sent a QSL to my old Barra da Tijuca address, more that 10 years outdated,please try again.
After a major effort on january 2008, all my bureau reply backlog was cleared via Global QSL.
Recently I´ve been having a lot of fun working the bands with a Buddipole in my balcony. The results are really amazing, and if you work me in a weekday, this was probably my setup. On contest weekends Itravel to the big station.
I am now in twitter, my id there is my callsign. You are welcome to follow me there.
Note regarding contest QSOs: Contest QSOs usuallyinvolve an exchange. If I copied your callsign but did not acknowledge the exchange you sent, you are not in the log. This is specially relevant in contests like WPX, where the serial number must be correctly logged. When I can´t copy the exchange even after many tries, I state that cleary on the air. If that happens, please do not send a QSL card, you are not in the log.
My Buddipole on my balcony