"To all stations I have had a QSO with, thanks for the contact.
For those that didn't get through the pileup: thanks for trying, better luck next time. I really do listen hard and try to work as many stations as I can."
Nice phrase from A65DR, I repeat it here with your generous permission.
                                                                     ****************************************
Hi, This is my personal information page and still under construction forever.
No, I'm not at the top of the towers but have strongly contributed with my work in assembling the station such as I show in the images below. It's my big friend Vigand-PY5QW that it leaves me gentily work this wonderful station situated near of Curitiba state of Parana, Brazil. We nicknamed it "Felpudo Paradise Radio Farm" station and really it is, The silence to hear my things, it's amazing.
In the first photo at left side there is a four elements full size Uda & Yagi at 24m (78") Now at 42M (138") High shown at the end of this page. This antenna was constructed using the DOS program QY4 developed by WA7RAI. Many thanks Chuck for this excellent job!
At the right side is a loaded two elements for 80M band, 36m tower (118"). The coil project from PY5HW-Wons.
Next photo is the wonderful KLM KT34XA triband.
Air photo showing this magnificent region by PY5CT-Peter and PU5MTS-Matias on board of PA18 airplane.
Next images are an "upgrading" station with a "new" rebuilt 42m tower (138"), all stripped and repainted with a special ink to be exposed to the weather.
Certificates presented here are my pride because I do not own HF station and this is far from my house about 18 miles (28Km).
Thanks for reading and excuse my spelling errors. Any observation, drop me a line pls.
QSLing... LoTW It's Amazing! - CLUBLOG OQRS OK - No BURO, No Way.
Aos radioamadores do Brasil: QSL diretos sem SASE = baixa prioridade no envio. SASE - Envelope já endereçado E selado.
LoTW
I do upload to LoTW within a few days after contact, if it has not been confirmed within one week please send me an E-Mail.
"Let's save our green planet - less paper to spoil!" Credit UT7E, nice words.
QSL CARD
If you want my QSL card and for some reason has no card or do not want to increase your expenses on delivery of your card, GS and waiting time, ask me via OQRS Clublog or direct via E-Mail I will have the maximum pleasure to meet your request but I need USD$2,00 by PayPal to cover my expenses. LoTW OK and is the method I prefer because it is fast & secure. The Envelope label address is obtained from the QRZ Web Site, so keep it right!! 
     No BURO or another Electronic QSL, pls.
CARD SENT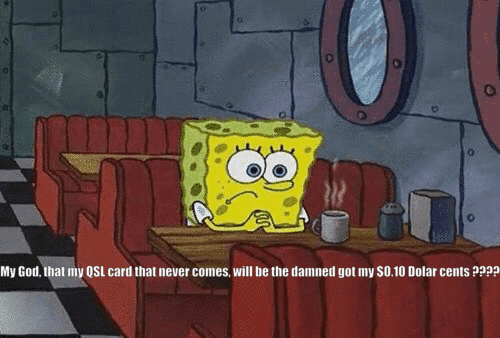 If you ever sent me a QSL Card via Bureau (I do not get QSL by the Bureau to this date) is probably lost forever. Send me the QSO data to answer if the QSO date is older than 2010.
SKED
I'm open to receive SKED request by E-Mail or Whatsapp 55 41 998 406 384 but my free days are 18Z Friday up to 20Z Saturday (Only phone).
EX Call
PY5FT (Ends at 29 Aug 1999)
First 30m (98")
Please watch my videos on youtube and join my facebook, both as "PY5AB"
                                                            Two stars and a jewel....
Actual Entity's confirmed by LoTW = 204 (Only PH)
Actual Entity's confirmed by LoTW = 272 (Only PH)