HELLO FRIENDS
MY NAME IS CLAUDIO AND I WAS BORN IN 1955.
I STARTED IN RADIO IN 1996 IN THE RADIO CITIZEN BAND (27MHZ) WITH CALL PX5C8198.
IN AMATEUR RADIO STARTED IN 1999, CLASS C (ZZ5TSC) 2001, CLASS B(PY5PDC) AND FINALLY IN 2002 CLASS A (PY5PDC).
I AM VERY ACTIVE IN DX AND CONTESTS, CURRENTLY HAVE PARTICIPATED IN ALMOST ALL CONTESTS INTERNATIONAL.
I COLLECT QSL CARDS AND ALSO I'AM HUNTER AWARDS. I HAVE APPROXIMATELY 4500 QSL CARDS ( 2001-2013).
CALLSIGN USED
ZX5PGA: SPECIAL EVENT PARANAGUÁ - 2004,2005,2007
ZW364PA: SPECIAL EVENT PARANAGUÁ - 2012
ZX10M: CONTEST CALL FOR ARRL10M CONTEST - 2012
ZX5ZZ: CONTEST CALL
CONFIRMING QSO:
BUREAU OR DIRECT
the frequency of sending lots of cards via bureau is of 3 to 5 times a year.
"sorry,sorry, but not confirm contact via eqsl, e-mail or logbook, only
confirm with qsl card, sorry. thanks for understanding."
I RECIPROCATE ALL CARDS RECEIVED , BUT IF YOU HAVE ANY PROBLEMS WITH MY QSL CARD,
PLEASE CONTACT ME , I WILL SEND YOU AGAIN.
E-MAIL: py5pdc@sul.com.br
E-MAIL: claudio.karam@hotmail.com.br
"" below relate some stations that letter i sent priority or registered with IRC'S or DOLLARS
but unfortunately so far not received qsl card and not to my outgoing e-mails answered""
TI9JJP: SENT 4 TIMES SINCE 09/10/2003.
J69B: SENT 4 TIMES SINCE 21/07/2004.
C6ALP: SENT 3 TIMES SINCE 2004.
CA8WCI/9: SENT 5TIMES SINCE 2005.
LZ1ANA: SENT 3 TIMES SINCE 19/12/2008
LT5X (MANAGER WD9EWK): SENT 3 TIMES SINCE 05/03/2011.
OC4DX # : SENT 3 TIMES SINCE 02/2011.
YW7PA: SENT 3 TIMES SINCE 11/03/2011
YV7AJ: SENT 3 TIMES SINCE11/03/2011
"" the cases cited above, reports with great sadness by the number of times i sent letters
and the importance of confirmation for DXCC credit or require some AWARD.""
LOCATION OF STATION:
QTH: GG 54 RK ( LAT:-25.556228 S LON:-48.558227)
EQUIPMENT:
TRANSCEIVER ICOM IC-718 ,HANNOVER BR9000+TRANSVERT TR500 ZAMIN ( 14MHZ-300W)
TRANSCEIVER RANGER-RCI-2990 ( 28MHZ-100W)
ZAMIN-DC35A
ANT DIPOLE 3DX1 ( 10-15-20M ) AND HDX 40.000 (40M) ELECTRIL.
AWARDS
ARRL: DXCC PHONE , DXCC 10M , WAC ( 7MHZ,14MHZ,28MHZ) , WAS PH 10M.
LABRE: DB DX , WAA , WAO.
JARL: ADXA-HALF , WASA-HF , WASA-HF ( ZX5PGA) , AJD, JCC- 100.
SPAC: SP-PX , DX-MAN 2003 , DX-MAN 2004 , DX-MAN 2011
AEI: DFB , PLCA , DRB.
DARC: DLD 100.
PZK: W-21-M , JANA PAWLA II , AC15Z , POLSKA ,EUROPEAN UNION , POLSKIE MIASTA , HUNTER PZK,
WARD 2011 AWARD , ARCTOWSKI ANTARCTIC AWARD, WARD 2012 AWARD.
RCA: CAA
A.R.I: EURA
HRS: W-9A-L
CQ: WPXSSB.
COE: EWWA
YDXC: YDXC AWARD
QSL CARD
VISITORS SINCE MAY 2012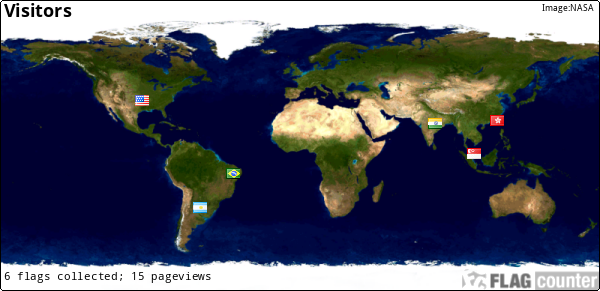 Large Visitor Globe

Large Visitor Map