Late in the 60s I usually spent time in the summer house of my grandparents in Polomoshnoe village, Altai. One day my friend's father put up in the air a huge kite (looks like a 10m qaud!) after that my friend and I started to dream to control its flight by radio. The hamradio seeds were planted into my brain. In 1970 I built my first TX (only one transistor!) for the MW band, which was heard up to 300m distance away!! My dear school-mates Alexey Zagulyaev, UA9YCW and Yuri Goncharov, UA9YCV also had a great fun having built this simplest TX themselves and the soldering iron became part of my life forever :)  My father, Nikolay Tyulyupin (photo), had some experiece in auto electric stuff and he helped me to take the first step: I built the 10m 7-tubes RX at home myself!
I made my first QSO on the 23rd of May, 1972, àt the club station UK9YAM in Barnaul, South-Western Siberia. I`m very grateful to my first HAMRADIO teacher Nikolaj Pin`kin, the head of the club station, for his deep interest in helping me to get on the air CW. For hundreds young boys and girls in Barnaul Nikolaj is the man who stired up their interest in the great world of the amateur radio. At the age of 18 I built my first transceiver by the UW3DI design. Alexander Demin, a very skilled radioexpert, helped me very much to build this radio, he shared with me very many mechanical and electrical parts for the radio, and his deep knowledge of the radio design became my real standard for many years.
In 1975, I got licensed as UA9YCN and I won the 3rd place in the world /14Mhz in CQ-M Contest. Needless to say I was hooked by this time andwas reallyhappy contesting sinse.1978, my first (comletely homemade!)3/4/5 el QUAD on 20/15/10m appeared on the roof (photo).
In 1984 I built the 3el phased-in-line antenna for 80/40m and changed the callsign to RA9YD. 1985, the 8 el (12m long each) circle array for 10m-20m was built due to UA1DZ support (photo). 1986, 5BDXCC plaque, first in Siberia, arrived in my shack.
In 1989 and 1990 I was invited by the USA hams NN7D, W7YS, NN7A, WX7E, N4CC, K9FD, K9RHY, W3UM and had very exciting journeys through 14 states together with my dear friend Yuri Retin, UA9YE. That was a great time in-deed!
Grand Canyon, AZ (L photo) and Washington DC (R photo)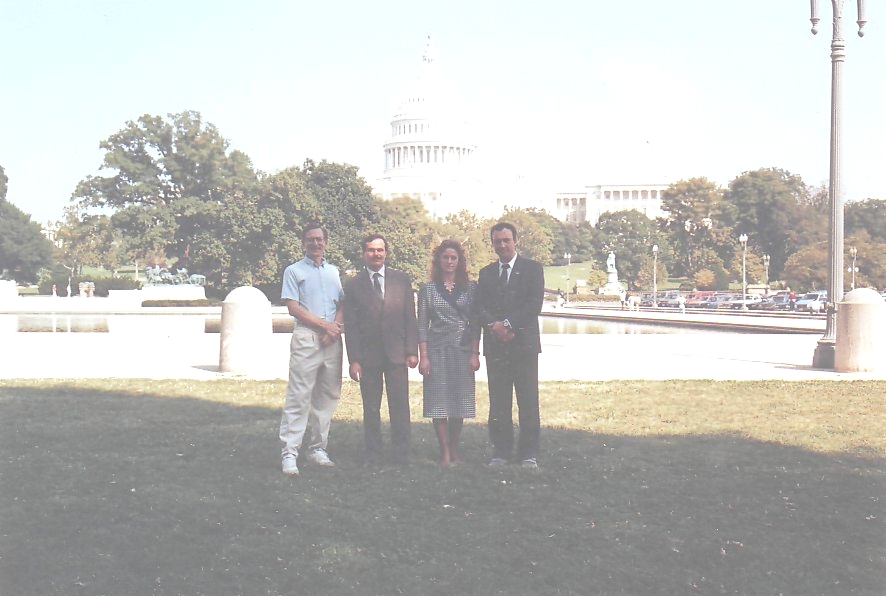 Early in 1990 I started to operate the new mode - PACKET. The old PK-232 is still alive and works (though lightning strike almost completely destroyed it, I managed to repair this one).
Because of moving with my family to Moscow I got the callsign RA3AJ in 1997
R5AJ callsign was issued to me in July 2010
My achivements in DXing and Contesting:
DXCC HONOR ROLL #1 
DXCC CHALLENGE 2500
5BWAS
5BWAZ (200)
IOTA EXCELLENCE
DXCC HONOR ROLL CW
DXCC HONOR ROLL PHONE
9 Band DXCC (10m-160m)
5BWAZ  (ex RA9YD)
5BDXCC  (ex RA9YD)
Russian DX Contest 1st place EU/RUS SOAB SSB 2005 (RA3AJ)
Russian DX Contest 1st place EU/RUS SOAB SSB 2003 (RA3AJ)
ARRL International Phone Contest 1st place SOAB, EU/RUS - 2565 QSOs, 2002 (RA3AJ) This contest is being the most remarkable for me - I had never dreamed for 30 years of contesting I would ever do the score of 1,631,340 points in this contest!
ARRL International CW Contest 1st place EU/RUS SOAB - 1800 QSOs, 2002 (RA3AJ)
WAE DX Phone Contest 1st place EU/RUS SOAB 2001 (RA3AJ)
WAE DX Phone Contest 1st place EU/RUS SOAB 1999 (RA3AJ)
10m and 80/160m DXing, contesting and antenna designing are preferable activities for me nowdays. I am happy to have the friends, who share with me this great hobby: Dima, UA3AGW,has been a devoted hamfor many years; Serge, RJ3AR, ex UA6JR, a digital modes GURU and my dear neighbor(SK) ; Vladimir, RW2A, ex UA3BS, has both huge scientific knowledge and very high achievements in the amateur radio field, a very kind man indeed; Vladimir, RZ3AM, is 24 hours a day on the air, nobody of DX has any chance to escape from him:); Victor, a R6AF, ex UA6AF,great operator, real BIG GUN!; Valery, R2DA,ex RZ6AU, UA0KK is strong as steel and abardic poetry lover, antenna GURU; Oleg, RA1AR, is always ready to help, a very good mate anda bigyoung club leader; Gene, RZ3CC, the keeper of the true hamradio spirit and a keen radioengineer, who broadened my horizon in the amateur radio hobby in the early 70ties; and many many other hams! Thanks to ALL of you for sharing the hobby and ham spirit outside hamradio!
73!
Valery, R5AJ
DXCC Card Checker (also 160, deleted)
RM5A contest team (2009-2012)