Antennas:
QUADs RQ-57L ------ 2el-40M; 2el-30M; 4el-20M; 4el-17M; 4el-15M; 3el-12M; 6el-10M
Wave INV dipole-160M & 80M
EQUIPMENT:
Tranceivers:
- ICOM IC-760PRO 100W
-SunSDR2 PRO -HF/2M - 20W
RD0L/P - IOTA AS-066, NAUMOVA ISLAND, RRA RR16-NEW ONE , RDA PK-02
QSL VIA:  BURO, OQRS, DIRECT WITH SAE 3 USD RD0L.  RV3ANZ BURO.
A team of 5 people, RD0L,RW3GW, R0LS captain of the yacht" ПЕПЕЛАЦ ", RW0LZ with his wife who cooked us delicious food ! Activated Naumova island IOTA AS-066
antenna: 2 element wire Yagi on 20m and a wire vertical on 40m. equipment: IC-760PRO, IC-746 and an amplifier FL-7000 600W. Gasoline generator 3KW.
status card: the cards are ready. The cards(ja1bpa,jl1pps,ha3hp, k1zn, ea3im, r4fan,ua9oim/ra9ofe,rx9wn,jg4oou) are sent directly, the remaining requests will be sent later, 100 percent! 73! Sergei RD0L and the team.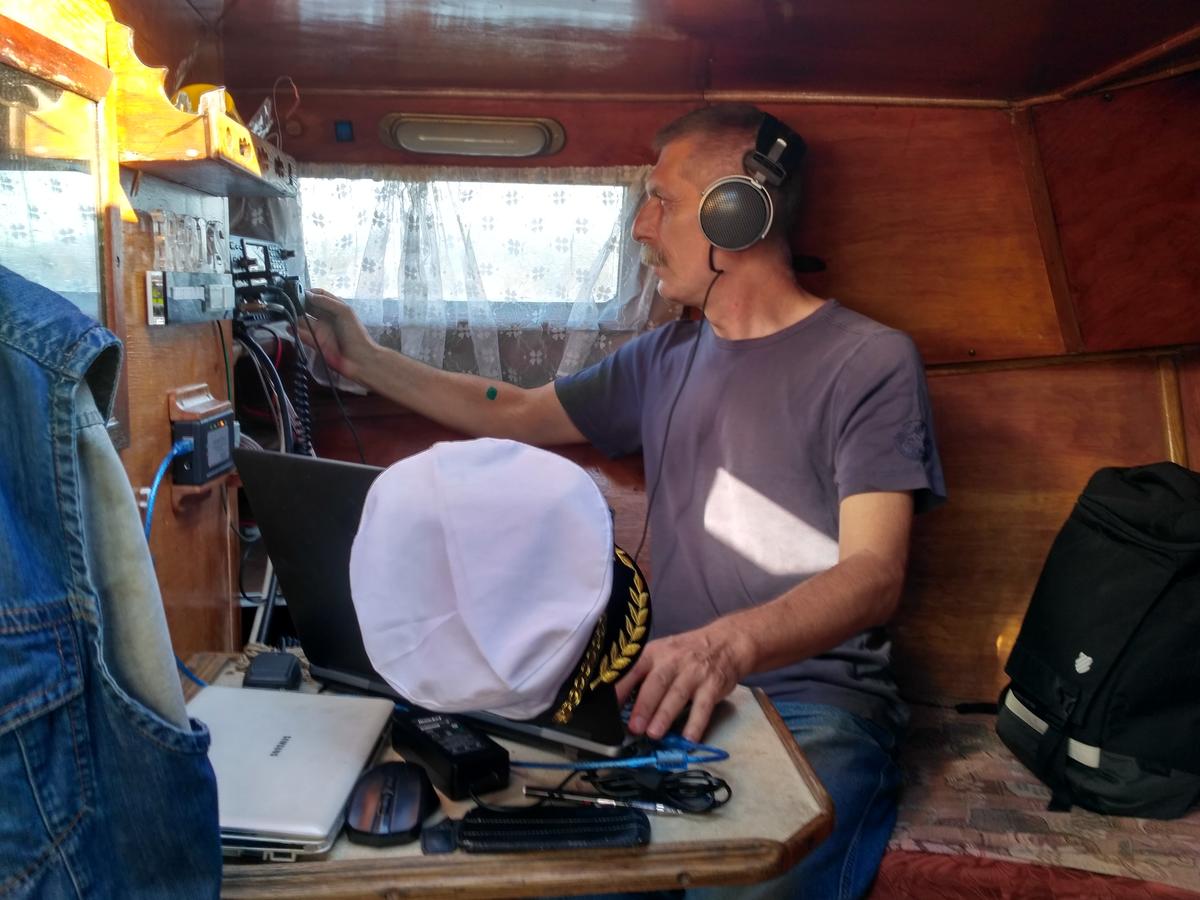 DXCC:Asiatic Russia
RD0L - QTH: Vladivostok RDA: PK-03 starting with the 28.02.2013
RD0L/0 RDA IR-11 (DATE 15.12.2013-15.01.2013) 
UA0SIK/0 - QTH: Vladivostok RDA: PK-03 starting with the 15.12.2012
UA0SIK- QTH: IRKUTSK RDA IR-03 WITH 29.01.2011
UA0SIK/0 DX PEDITION RDA: PK-39 03.11.2010-22.11.2010
UA0SIK/0 QTH: Vladivostok RDA: PK-02 LAST QSO 15.12.2012 !
UA0SIK/MM SEA OF JAPAN & BALTIC SEA
DXCC:European Russia
RD0L/3     QTH: OBNINSK  RDA KG-06 (DATE15.03.2014-15.05.2014) 
UA0SIK/1 QTH:SANKT-PETERBURG RDA SP-01 (DATE 25.06.09-16.07.09)
UA0SIK/1 QTH:SANKT-PETERBURG RDA SP-02 ICEBREAKER "KRASIN" (R1LK). (DATE 05.01.2010-7.07.2010)
UA0SIK/1 QTH: KOTLIN Is. IOTA EU-133, RR-01-06, RDA SP-09. (DATE 23.07.09-26.07.09)
DXCC:UA2 Russia
UA0SIK/2 QTH:BALTIYSK RDA KA-06 (DATE 11.08.09-17.08.09)
QSL CARDs:
REQUEST a CARD for UA0SIK/1, /2 and RD0L/3 ONLY via OQRS, YOUR CARD is not necessary !!!
FOR UA0SIK, /0 and RD0L, /0 :
#1 Via RV3ANZ buro = reply via RV3ANZ buro!
#2 Direct with saes 2$= direct reply
#3 Direct with no saes = reply via buro
#4 OQRS ALL MY CALL.
MY AWARDS
позывной

Дата отправки

Дата получения

Цена и кому

HR9/WQ7R (NA-057)

31.05.2011

17.06.2011

1 USD K5WW

CW7T

31.05.2011

17.06.2011

1 USD K5WW

P29NI (OC-257)

31.05.2011

17.06.2011

1 USD G3KHZ

T31A

02.06.2011

05.10.2011

2 USD N7CQQ

P29NI(OC-205)

02.06.2011

17.06.2011

1 USD G3KHZ

VP8LP

02.06.2011

05.10.2011

2 USD

TO2FH

02.06.2011

05.10.2011

2 USD PY2PT

FG5FR

02.06.2011

05.10.2011

2 USD

P29VCX

(OC-101,117,240,257)

02.06.2011

05.10.2011

2 USD SM6CVX

6W/RK4FF

02.06.2011

10.10.2011

0 USD RK4FF

DZ1P(OC-091)

VE7DP/7 (NA-081,118)

04.06.2011

26.08.2011

2 USD VE7DP

ZL8X

22.06.2011

26.08.2011

2 USD DJ2MX

ST0R

21.08.2011

05.11.2011

5 EUR OQRS

P29VLR (OC-231)

26.08.2011

28.09.2011

2 USD SM6CVX

MM0EAX(EU-009)

28.08.2011

26.10.2011

2 USD

EA6BB

28.08.2011

20.10.2011

2 USD

4W6A

V85/9M6XRO

GR1VDP

P29CS (OC-069)

29.09.2011

15.12.2011

3 EUR OQRS M0URX

3D2R

13.10.2011

30.07.2012

2 USD OQRS

UA0KDJ

13.10.2011

22.02.2012

0 USD RK4FF

SU9VB

13.10.2011

22.02.2012

0 USD UA4WHX

SV1EQU (EU-075)

21.10.2011

12.12.2011

2 USD

NL8F (NA-059)

25.10.2011

12.12.2011

1 USD K8NA

W6VNR

07.11.2011

07.11.2011

 

TX7M/TX3T/TX5A

16.11.2011

18.02.2012

0 USD RZ3EC

T32C

12.12.2011

14.02.2012

1IRC, 5USD FR 21 QSOs G3NUG

IC8TEM (EU-031)

12.12.2011

NO

1 USD

3D2YT

JT5DX

JT1CO

12.12.2011

27.01.2012

0 USD JT1CO

MS0WRC(EU-008)

17.01.2012

20.02.2012

2 USD

IF9ZWA (EU-054)

17.01.2012

12.03.2012

2 USD

SV8/DL8MCA (EU-072)

17.01.2012

21.03.2012

2 USD

DL5KUD (EU-057)

17.01.2012

20.02.2012

2 USD

IP1/IQ1SP (EU-083)

17.01.2012

17.02.2012

2 USD

PJ4C

28.01.2012

24.04.2012

4 USD OQRS

TU2T

28.01.2012

20.02.2012

5 USD OQRS

XF1C (NA-165)

XF1M (NA-078)

30.01.2012

18.04.2012

2 USD XE2HUQ

CU7MD

30.01.2012

29.03.2012

2 USD XE2HUQ

OG5N (EU-096)

30.01.2012

12.05.2012

2 USD OH1CQ

TM0Z (EU-105)

30.01.2012

18.04.2012

2 USD F5EOT

VP9I

06.02.2012

19.08.2012

1 USD N1HRA

HK0NA (SA-007)

08.02.2012

19.06.2012

5 USD OQRS

4W0VB (OC-148)

4W0VB/P (OC-232)

18.02.2012

12.03.2012

UA4WHX

VP6T (OC-044)

TX6T (OC-046)

TX6T/P (OC-063)

24.02.2012

18.04.2012

2 USD G3TXF

C21HA

24.02.2012

19.05.2012

5 USD OQRS

FK/F4BKV (OC-033)

E51BKV (OC-159)

08.03.2012

23.05.2012

2 EUR OQRS

TO5K (NA-107)

30.03.2012

NO

RC0F

PZ5P

30.03.2012

23.04.2012

UA4LU

6V7Z

30.03.2012

19.06.2012

RA9FW

P3N

30.03.2012

23.04.2012

RW3RN

7O6T (AF-028)

22.05.2012

27.11.2012

UA3DX

FW0NAR/P (OC-118)

22.05.2012

06.07.2012

1 IRC HA0NAR

6Y/UT5UDX

04.06.2012

02.07.2012

RA4LW

D3AA

04.06.2012

20.07.2012

UA1QV

E40VB

04.06.2012

12.09.2012

UA4WHX

H40FK (OC-100)

04.06.2012

06.07.2012

2 USD DG1FK

XX9E (AS-075)

21.06.2012

12.09.2012

4 EUR OQRS

E51M/E51N

21.06.2012

09.07.2012

4 EUR OQRS

7Z7AA (AS-191)

21.10.2012

11.12.2012

5 USD OQRS

4A4A (NA-030)

22.10.2012

18.01.2013

2 USD EB7DX

YE0M (OC-177)

YB8Y (OC-221)

23.10.2012

13.01.2013

02.05.2013

2 USD YB1GJS

T30PY

28.10.2012

31.01.2013

2 USD OQRS

YC8TXW (OC-210)

YB8XM/P

(OC-249,236,070,271)

08.11.2012

17.06.2014

3 USD YB3MM

3B9SP

08.11.2012

19.01.2015 BURO

3,5 USD OQRS

RI0K

22.10.2012

31.01.2013

1 USD OQRS

VK8MM (OC-141)

T2T

3D2T

09.11.2012

18.01.2013

5 USD OQRS

P29VCX

(OC-103,135)

09.11.2012

11.02.2013

2 USD SM6CVX

E51AIU (OC-083)

JJ8DEN/6 (AS-079)

09.11.2012

31.01.2013

2 USD OQRS

JX9JKA

09.11.2012

19.06.2013

3 USD OQRS

ZL7A

09.11.2012

27.12.2012

2 USD OQRS

3D2PT (OC-121)

09.11.2012

02.05.2013

2 USD PY2PT

TX5EG (OC-067)

09.11.2012

31.01.2013

3 USD F6BCW

C6AZZ (NA-080)

09.11.2012

18.01.2013

1 USD KQ8Z

NT5V/KP2

09.11.2012

13.12.2012

2 USD NT5V

C6AQQ (NA-001)

09.11.2012

18.01.2013

2 USD

JA1NLX/VK4

(OC-160)

09.11.2012

27.11.2012

3 USD OQRS

5X8C

23.02.2013

02.05.2013

2 EUR OQRS

XT2TT

08.03.2013

21.05.2013

5 EUR OQRS

TX5K (NA-011)

24.03.2013

09.08.2013

5 EUR OQRS

TK2INT (EU-164)

02.05.2013

NO

2 EUR OQRS

YB6N (OC-161)

05.05.2013

03.07.2013

3 USD OQRS

VK9NT (OC-005)

05.05.2013

09.08.2013

2,5 USD OQRS

VP2V/KE2VB

11.07.2013

09.08.2013

3 EUR OQRS

YB8P (OC-208)

11.07.2013

09.08.2013

3 USD OQRS

H44S (OC-285)

11.07.2013

09.08.2013

5 USD OQRS

4O3A

24.07.2013

01.10.2013

UA3DX

EJ0PL (EU-006)

29.07.2013

13.10.2013

3 EUR OQRS

3B9EME

03.10.2013

06.03.2014

3 EUR OQRS

YB3MM/*

(OC-166,217,237,245)

16.09.2013

10.10.2013

3 USD OQRS

VK5CE/P (OC-261)

17.10.2013

02.02.2014

2,6 USD OQRS

YB9Y (OC-276)

04.11.2013

28.02.2014

2 USD OQRS

K9W (OC-053)

15.11.2013

10.02.2014

10 USD OQRS

TN2MS

17.11.2013

13.01.2014

2 USD OQRS

VK5CE/4 (OC-255)

17.10.2013

04.02.2014

2,6 USD OQRS

YF1AR/*

(OC-262,275,295)

17.11.2013

29.04.2013

5 USD OQRS N2OO

YE5R (OC-108)

25.11.2013

13.01.2014

3 USD OQRS

XR0ZR (SA-005)

26.11.2013

NO

5 USD OQRS

T33A (OC-018)

26.11.2013

10.02.2014

4 USD OQRS

YB3MM/P (OC-197)

09.12.2013

13.01.2014

2 USD OQRS

YB3MM/2 (OC-186)

09.12.2013

13.01.2014

2 USD OQRS

5H3EE

09.12.2013

13.01.2014

2 USD OQRS

VK9CZ (OC-003)

09.12.2013

13.01.2014

2 USD OQRS

IA5A (EU-028)

13.12.2013

13.01.2014

3 EUR OQRS

VU7AG (AS-011)

13.12.2013

17.03.2014

3 USD OQRS

PJ7/G3TXF (NA-105)

13.12.2013

20.01.2014

3 USD OQRS

V63XG (OC-011)

13.12.2013

20.02.2014

3 USD OQRS

P29VNX (OC-008)

13.12.2013

20.01.2014

3 USD OQRS

SU9VB

13.12.2013

30.01.2014

UA4WHX

P33W

13.12.2013

30.01.2014

UA3DX

RN3QO/5B4

13.12.2013

24.01.2014

RN3QQ

YB5OUB (OC-143)

13.12.2013

19.07.2014

RX3RC

CN2AA

13.12.2013

NO

UA2FM

4O/UA3RF/P

(EU-163)

13.12.2013

13.01.2014

UA3RF

P29NI (OC-099)

GW3KHZ/P (EU-106)

14.12.2013

30.01.2014

3 USD G3KHZ

9M2SE (AS-073,074)

14.12.2013

30.07.2014

3 USD OQRS

FT5ZM

15.02.2014

05.08.2014

7 USD OQRS

9J2T

26.05.2014

19.07.2014

5 USD OQRS

S79ACR (AF-024)

18.06.2014

19.07.2014

UA3DJY

CE7/UA4WHX/P (SA-043)

CE7/UA4WHX (SA-018)

CE8/UA4WHX/P (SA-091)

18.06.2014

28.08.2014

28.08.2014

NO

UA4WHX

1A0KM

18.06.2014

28.08.2014

4 USD IK0FTA

YF1AR/5 (OC-215)

17.06.2014

02.10.2014

3 USD OQRS

YF1AR/6 (OC-270)

17.06.2014

02.10.2014

3 USD OQRS

KH8/DL2AWG (OC-077)

23.06.2014

19.07.2014

3 EUR OQRS

RT9K/P (AS-089)

23.06.2014

28.08.2014

RX9KM

YB4IR/5 (OC-107)

23.06.2014

30.07.2014

3 USD YB4IR

VK6WDI (OC-170)

12.08.2014

22.11.2014

2 USD VK6YS

9M2MI (AS-097)

12.08.2014

-

2 USD 9M2YOT

EJ0PL (EU-007)

29.08.2014

29.08.2014

3 EUR OQRS

YB4IR/8 (OC-145)

29.08.2014

12.10.2014

3 USD YB4IR

YF1AR/8 (OC-273)

29.08.2014

12.10.2014

3 USD OQRS

YF1AR/5 (OC-122)

29.08.2014

12.10.2014

3 USD OQRS

VK5CE/8 (OC-173)

04.09.2014

22.11.2014

3 USD OQRS

YB8XM/P (OC-076,224)

21.09.2014

03.12.2014

2 USD OQRS

YB8RW/P (OC-209)

21.09.2014

22.11.2014

3 USD OQRS

YB8RW/P (OC-222)

21.09.2014

22.11.2014

3 USD OQRS

TX4A (OC-218)

21.09.2014

29.08.2014

5 USD OQRS

F4FET/P (EU-058)

25.09.2014

19.01.2015

1,5 EUR OQRS

VK6ISL (OC-294)

26.09.2014

29.08.2014

5 USD OQRS

TY1AA

02.10.2014

22.11.2014

5 USD OQRS

5Z4/IZ7ATN (AF-040)

03.10.2014

02.06.2015

3 EUR OQRS

RI0X (AS-064)

05.10.2014

03.12.2014

UA3AKO

RK3DZJ/1 (EU-082)

05.10.2014

23.12.2014

RW3FS

RW3IWT/1 (EU-082)

05.10.2014

22.11.2014

RV3IB

CY0/VA1AXC (NA-063)

VK0TH (AN-005)

10.10.2014

-NO

22.11.2014

2 USD JE1LET

A43MI (AS-014)

10.10.2014

27.06.2015

2 USD A47RS

ZD9XF (AF-029)

12.10.2014

22.11.2014

3 USD OQRS

VP5/G3SWH (NA-003)

12.10.2014

03.12.2014

3 USD OQRS

VK9DLX (OC-004)

15.12.2014

02.03.2015

3 EUR OQRS

ZK3E/ZK3Q

16.12.2014

19.01.2015

3 USD OQRS

CE8/UA4WHX/P (SA-091)

18.12.2014

20.08.2015 BURO

UA4WHX

EP6T (AS-166)

31.01.2015

29.08.2014

2 GBP OQRS M0URX

3G0ZC

19.04.2015

20.08.2015

4USD oqrs

TC0A AS-099

TA0/LZ3ND AS-099

19.04.2015

20.05.2015

3 USD OQRS LZ1NK

S01WS

14.05.2015

27.06.2015

3 USD OQRS

5H1OC AF-032

14.05.2015

27.06.2015

3.5 EUR OQRS

RI1ANR

01.06.2015

27.06.2015

RK1PWA КОНВЕРТ

RI1ANT

01.06.2015

27.06.2015

RW1AI КОНВЕРТ

5Z0L

31.05.2015

11.07.2015

OQRS 5 USD

YB8RW/P OC-272

09.07.2015

24.08.2015

OQRS 3 USD

3B9FR AF-017

15m CW, 20m CW, 10m CW
DV1UD/P OC-093

DX8DX OC-188
M0OXO    

09.07.2015

04.08.2015

5 GBP OQRS M0OXO

YB3MM/8 OC-247

YB3MM/9 OC-214

 YC8UTI

10.07.2015

20.08.2015

3 USD OQRS

YB0MWM/9 OC-239

18.07.2015

24.08.2015

2 USD OQRS YB9WZJ

TA0/RM0F AS-201

18.07.2015

02.12.2015

RM0F

HC2AO/8 SA-004

18.07.2015

20.08.2015

RC5A

UA1QV/1 EU-102

18.07.2015

26.08.2015

UA1QV

RA1QQ/1 EU-102

18.07.2015

21.11.2015

RA1QQ

EG2INT (EU-134)

24.07.2015

21.11.2015

 

JW2US (EU-063)

24.07.2015

19.01.2016

2.5 USD OQRS

R3RRC/0 AS-082

04.08.2015

21.11.2015

RZ3EC

TI9/RA9USU NA-012

04.08.2015

21.11.2015

UA3DX

SQ5OVL

06.08.2015

-

SEND direct OQRS

VK2SSI OC-194

23.08.2015

21.11.2015

4.5 USD OQRS DIRECT

YB8RW/P OC-106

13.09.2015

21.11.2015

3 USD OQRS

JA1CQD

23.11.2015

-

SEND direct OQRS

VK9WA

25.11.2015

29.01.2016

4 USD OQRS DIRECT

JN1SPR

23.12.2015

05.12.2015

Cfm direct

ZL9A OC-286

12.01.2016

01.04.2016

5 USD OQRS DIRECT

K5P OC-085

27.01.2016

01.04.2016

4 USD OQRS DIRECT

EA3CJU

30.01.2016

-

SEND direct OQRS

VP8SGI AN-007

08.02.2016

23.05.2016

7 USD OQRS DIRECT

VE2BR

24.02.2016

-

SEND direct OQRS

KA6KHM

29.02.2016

-

SEND direct OQRS

VY0M NA-248

03.03.2016

01.04.2016

5 USD OQRS DIRECT

3XY1T AF-051

08.03.2016

25.04.2016

4,5 USD OQRS DIRECT

KG1V

21.03.2016

-

SEND direct

VE7ACN/7 NA-051, 091

22.03.2016

06.05.2016

SEND direct

         FT4JA AF-012

23.04.2016

03.10.2016

3 USD OQRS

VK0EK AN-003

23.04.2016

24.07.2016

5 USD OQRS DIRECT

OE3RLM

25.04.2016

-

SEND direct

CY0/VA1AXC (NA-063)

25.04.2016

2 USD direct JE1LET

GM4KGK EU-010

06.05.2016

30.05.2016

2 USD OQRS

VK6NAX/P OC-164

07.05.2016

30.05.2016

30 RUB OQRS RV9CX

RT92KA AS-092

10.05.2016

05.08.2016

UA3AKO

R3CA/* AS-070,104,163,164

13.06.2016

11.01.2017

UA9OBA

B7/BD7IHN AS-129/AS-131

01.08.2016

 

1 USD BD7IHN

VK5CE/6,VK5MAV/6 OC-243

28.08.2016

07.11.2016

 

VK5CE/P OC-228

28.08.2016

11.01.2017

3 USD OQRS DIRECT

VI6DH400 OC-206

29.10.2016

13.02.2017

35 RUB OQRS RV9CX

RA9DW

09.11.2016

07.11.2016

SEND direct

VK5MAV/6 OC-266

20.11.2016

17.02.2017 via BURO

3 USD OQRS DIRECT

KD6WW/VY0 NA-159

20.11.2016

25.01.2017

5 USD OQRS DIRECT

R23RRC

20.11.2016

11.01.2017

R7AL

VE3LYC/KL7 NA-172

18.12.2016

13.02.2017

5 USD OQRS DIRECT

K6VVA

16.01.2017

16.01.2017

SEND direct OQRS

VK5CE/3 OC-196

03.02.2017

27.05.2017

3 USD OQRS DIRECT

9A4T

18.02.2017

-

SEND direct OQRS

XX9D AS-075(21qso)

27.02.2017

11.05.2017

3 EURO OQRS DIRECT

SP9FMP

01.03.2017

 

SEND direct OQRS

NS6C

01.03.2017

 

SEND direct OQRS

5U5R

25.03.2017

27.05.2017

4 EURO OQRS DIRECT

9G5X

25.03.2017

 

3 USD OQRS DIRECT

4S7VBG/P AS-171

17.07.2017

 

SEND direct UA4WHX

R71RRC AS-071

17.07.2017

 

SEND direct UA3AKO

KL7/VE7ACN NA-041

25.07.2017

 

3 USD OQRS DIRECT