THE DAYS OF ACTIVITY DEDICATED TO THE 80th
ANNIVERSARY OF THE TAMBOV REGION
 Start: 21:00 UTC - 19 sep 2017
 Finish: 21:00 UTC - 10 oct 2017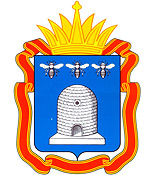 Tambov oblast, Russia (Tambovskaya)​
Tambov oblast (Tambovskaya) is a federal subject of Russia located in the southern part of the East European plain, in the central part of the Oka-Don plain, part of the Central Federal District. Tambov is the capital city of the region.
The population of Tambov oblast is about 1,040,000 (2015), the area - 34,462 sq. km.
Tambov region history
The oldest known population of the Tambov region, the Mordovians-Moksha, formed as a nation of local ethnic groups from the 6th century. The first Russian settlers arrived in the pre-Mongol period, but the final settlement occurred in the 17th century. To protect the southern borders of Russia from the raids of the Tatars and the further development of the Black Soil region, the Russian government built the walled cities of Kozlov (1635) and Tambov (1636). The cities protected the main path of nomad raids on Russian land and paved the way for a quick settlement of the region.
Kozlovsky Uyezd originally existed in the Tambov area. In the course of the administrative reforms of Peter the Great in 1708 and 1719, it became part of Azov Governorate. New administrative divisions established the Tambov Viceroyalty in 1779 and from 1796 Tambov Governorate, with an area of 66.5 thousand km2 divided into 12 uyezds. With almost no change to its boundaries, the Governorate remained in existence until 1928.
Tambov Oblast was finally created from the Voronezh and Samara Oblasts on September 27, 1937.
Diploma program.
1. Full-color jubilee electronic diploma will be issued to all participants of the days of activity that have fulfilled the following requirements: from 19.09.2017 to 10.10.2017 it is necessary to collect 80 points and more, for radio communications with the jubilee radio station RU80TO on various amateur bands, various of MODE CW, SSB, DIGITAL, FM. Kind of  MODE DIGITAL - each digital form of  MODE on each BAND is counted.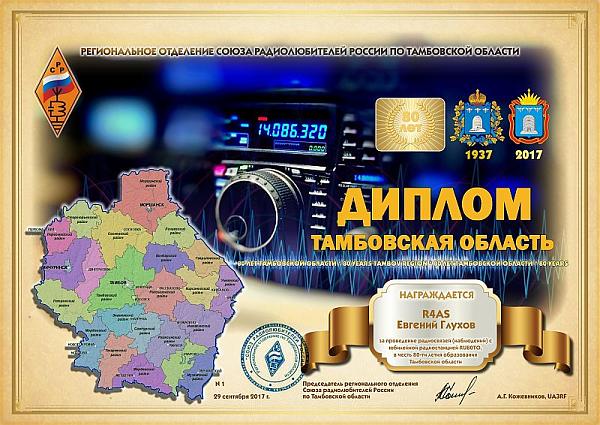 Scoring:
- for each radio communication on the bands of 160 meters, 2 meters, 70 centimeters are credited 40 points;
- for each radio communication on the bands 80 - 10 meters, 20 points are charged.
Repeated radio communications are counted on each BAND, by different types of MODE.
The cost of an electronic diploma is free.
LOGBOOK of the jubilee radio station, QSL card in electronic form, scoring and issuing an electronic diploma on the site http://r3r.hamlog.ru/
SWL the diploma is issued on similar terms, please sent an application for e-mail: r70raa@yandex.ru