My name is Volker, first licenced 1994 as DG7UAF and from 1997 to 2006 as DH7UAF and still enjoying the hobby. I live in Finspång which is a small town about 40 km from Norrköping in the middle of Sweden. I am married to a wonderful woman Silvia DO2SJ and two spoiled cats. I prefer exotic kinds of digimodes as MT63, MFSK and Hellschreiben. However I am still learning CW so if you hear me please be patient as I am still learning and up to now I have had a few QSO'S on CW.

I like homebrewing, repairing old tube radios, the maintance of computers, digimodes and rag chewing with the keyboard. I can type with all ten fingers. This goes fast, much faster than CW. I like courios hams which are interested in tecnical stuff. There is allways something new to learn. And last but not least I like Sweden. I think it is one of the best places in the world.
I am not amused about dxpeditions and the big amount of contests every weekend, because it has nothing to do with real communication between hams in my opinion. I don´t collect paper qsl-cards. However I prefer www.eqsl.cc, because it is smart and I don´t have to waste my time with paperwork.
My working conditions here are a Yaesu FT-747GX modified by myself for the use of digimodes and DRM-reception, a homemade interface with optocoupler and a power supply, which was a former 200 Watt pc power supply. My antenna is up to no a full size multiband dipole for 80-, 40-, 20- and 15 m hanging between some birch trees.

My 20 years old Yaesu FT-747GX with homemade power supply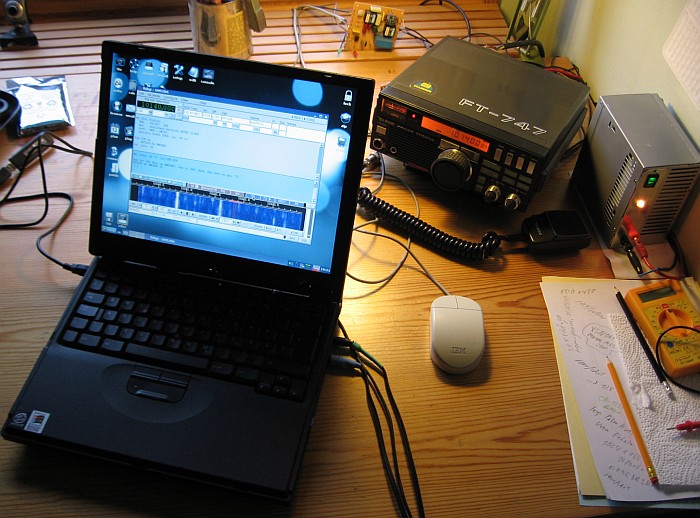 My Station with my newest toy: An old IBM Thinkpad 390e with 300 MHz CPU, operating system Linux Wary Puppy with Fldigi for digimodes.

This is my shack. You don´t need very much equipment in order to be on air.

I use Fldigi for digimodes. On http://pskreporter.info/pskmap?SM5ZBS you can see the stations I received and worked in the last hours.

This is my old stuff for RTTY and Amtor. In the background you see the homemade HamComm interface. On the old 386er notebook (20 MHz-CPU, 2 MB RAM) is DOS 5.0 and HamComm 3.1 in use. The box on the right side is the homebrewed power supply, which converts 13,8 V to 7,2 V for the notebook. I modified my FT-747GX in order to use the build in CW filter for Amtor and RTTY. If you like to make an Amtor-QSO please contact me by e-mail.
Always interested to hear from other amateurs via my email address in german, swedish or english.
Other hobbies and interests include hiking in the scandinavian mountains ( http://www.janson-soft.de/w2003/start.htm ), love really good music such as cool jazz or jazz of Benny Goodman, Tommy Dorsey, Duke Ellington and sometimes classic.
Professionaly, I am an instructor for analog circuit simulation and author of educational software.
My working conditions on shortwave:
Antenna: homemade multiband-dipole for 80m to 15m, hight 12m above ground hanging between two birch trees.
Transceiver: Yaesu FT-747GX, modified for DRM-reception, homemade power supply and homemade interface.
Software for digimodes: Fldigi, Winmor Express
So 73s to you see you on the bands
Volker SM5ZBS
Some pictures of my antenna and the surroundings:

My antenna in wintertime

Frozen antenna

One of the countless lakes around Finspång in Östergötland.

Sunset at midsummer in Finspong

The pitoresque Brevens Bruk in the sunset looks like a dream for many tourists.
HF Conditions: