About Me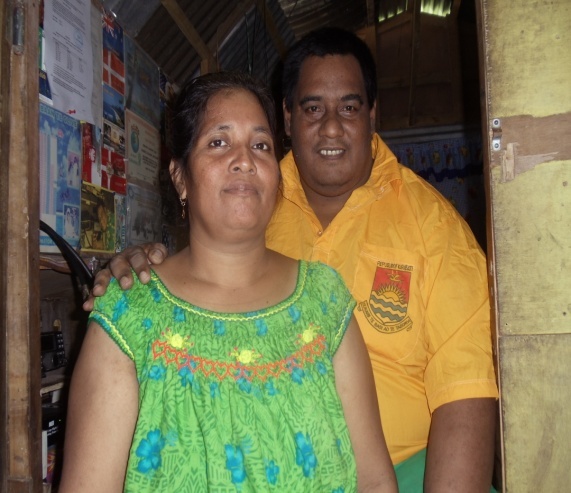 This is my very beautifulXYL Tetaarai and I in my Shack.
My name is Taketi Teriaki (Jake) born 8 Jan 1973. My first experience with radio was in 1999 I got a 40 channel Uniden Grant XL CB Radio. My CB radio modified and it can reach 27.555 MHZ. I joined a DX Club in the 11mtr band here and had a great time with the DX. After learning more about radio and the other bands available I decided to get my Amateur License. I was granted a license in September of 2010. It took me a while to acquire a rig other then my 11 meter setup. In 2012 I was able to acquire my Yaesu FT-450D I made my first Amateur radio contacts with my new friends on the ANZA DX net. The stations on the ANZA net treated me well and helped me as a new ham. I had issues with my license here in Kiribati. With the help Col VK4CC, Lyn VK4SWE,Peter VK4BT,David W7DN and my QSL Manager Brian W7JET. This group of hams were able to get my license straightened out so I could confirm your DXCC contact with Western Kiribati. I am very blessed to have met such wonderful people. Ham radio is a wonderful hobby to make friends around the world.
I am here on the beach near my QTH with a Frigate Bird
My working conditions
Rig Yaesu FT-450D
Antennas Dipole on 20 meters, Dipole on 40 meters, and vertical for 11 and 10 Meters
Thanks for visiting my page please sign my web contact log
QSL instructions.
T30TT QSL CARDS
I enter my paper log into QRZ when I am able to get on a computer with internetthis usually happens each day. Then my QSL manager will download the log and upload it to Clublog, LOTW and eQSL.
DO NOT SEND CARDS FOR T30TT TO THE W7 BUREAU DIRECT TO MY MANAGER ONLY NO BUREAU
Please use my club log verification before sending QSL cards.
If you use LoTW please do not send a QSL card.
LOTW is the primary and preferred method for confirmation by T30TT if you do not receive a confirmation in LOTW and the qso is in my clublog please e-mail my QSL manager with the time you have of the QSO so he can correct it in the log.
For contacts who are unable to unwilling to use LoTW follow the instructions below
CONTACTS IN USA 1 SASE CONTACTS OUTSIDE USA 1 NEW IRC or 2 GREEN STAMPS WITH SAE
Send requests to:
Brian C Betz, W7JET
1506 N 107th Pl
Mesa, AZ 85207
USA
See if you are in my log
T30TT QSL info updated September 27, 2012
---

---