Hello All,
Departure to Palau was about 1 week more.
We are now packing of equipments and many foods for survival vacation at Typhoon shelter.
Preparations are working well for the moment.
T8EM(PJ77hq) will be operated on 144.114MHz+-QRM/QRN always 1st sequence for our CQ from MR at the local time on Oct. 11 to MS on Oct.16.
Please allow us not to type "73" at the end of QSO so that a lot of stations can contact with us.
Equipments are followings.
   Exciter :  FT991 / FT817
   PA      :  ITB Phoenix-1000A (Output:800w)
   LNA     :  KAWAGOE (Gain: 30dB)
   Antenna :  homemade 2x9elements LFA(Gain: abt 17dBi by MMANA estimation )
   Mode    :  JT65B only
   PC      :  Lenovo X230
   
As we can't access N0UK chat board in real time due to no internet environment at shack, We will follow the QSO log on T8EM column MMMonVHF ASAP.
We are looking forward to seeing you from T8.
Good luck to you and very best 73!
                                             Kay  JH3AZC / T88CX / T8EM
                                             Taka JP3EXR / T88DG / T8EM
ps. T88CU( Taki/JH3QFL ) is ambitious for QRV on both satellite and HF top band.
    Also I will operate HF low band for many mode(incl. FT8/JT65A)
   
Flwgs are moon window from T8 calculated by PE1L Rene.
Tnx Rene!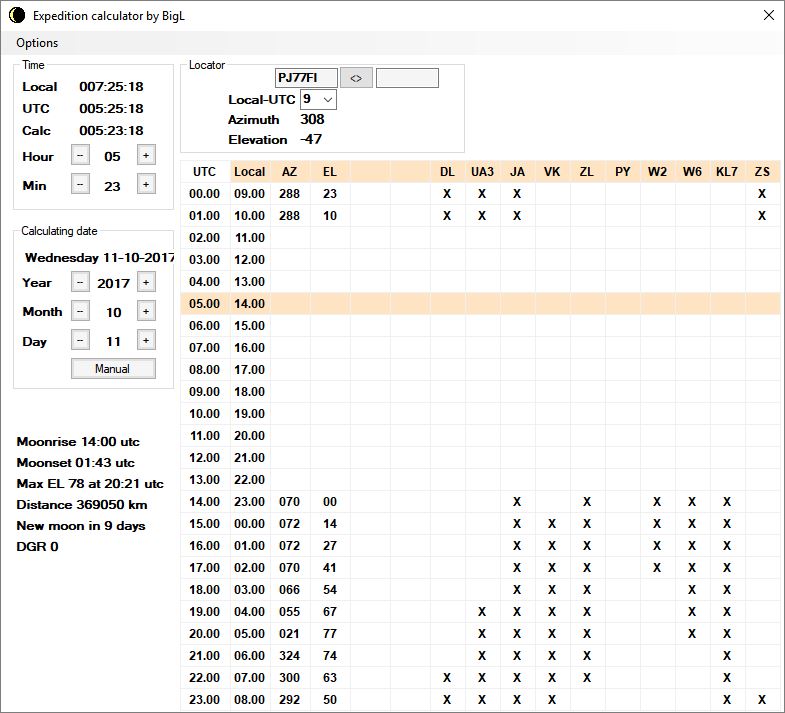 8369798 Last modified: 2017-10-05 03:51:41, 2030 bytes
Login Required

Login is required for additional detail.
You must be logged in to file a report on this page
Public Logbook data is temporarily not available for this user