TM1CEZ
IOTA EU-157 Cezembre island
 valid for WFF: FFF-071 & DIFM (coastal islands): MA-008
Team: F4FET Gil, F5RAB Antoine, F5JTV Alain & Mr Jean Claude 
Dates:  from the 26th of December at 14h until 28th at 13h gmt 
3 stations QRV from 15 to 80m SSB-CW
LOG on : http://www.m0oxo.com/oqrs/logsearch.php
4500 QSO were made. propagation was not as expected but we logged some west coast US, JA, VK, ZL,...
After TM0CEZ in summer 2012 with 2400 QSO, F4FET/P for IOTA CONTEST 2013 with 750 QSO, F4FET/P & F4HAU/P in December 2013 with 800 QSO, we put our foot again on this lovely island. We bring all equipment (radio equipment, food, water, electricity, tents).
We focused on DX stations. plan was to use verticale antennas close to the sea on the north side of the island in order to get maximum gain to NA & Asia. This island still dangerous since 2nd world war. As a result of a intense allied bombardment (20000 bombs include napalm), Cézembre's landscape is barren and pitted, although natural vegetation is returning. The island has not yet been completely demined, and for this reason most of the island other than the beach constitutes a "zone interdite" (prohibited zone), with a barbed-wire fence and warning notices. Most of past activations were made from the beach in south. Path to NA & Asia were limited cause of hills of the island. So we have bring 600 meters of coaxial cable to put antennas to north side. The 20, 30 & 40m bands were our main target, looking at propagation forecasts.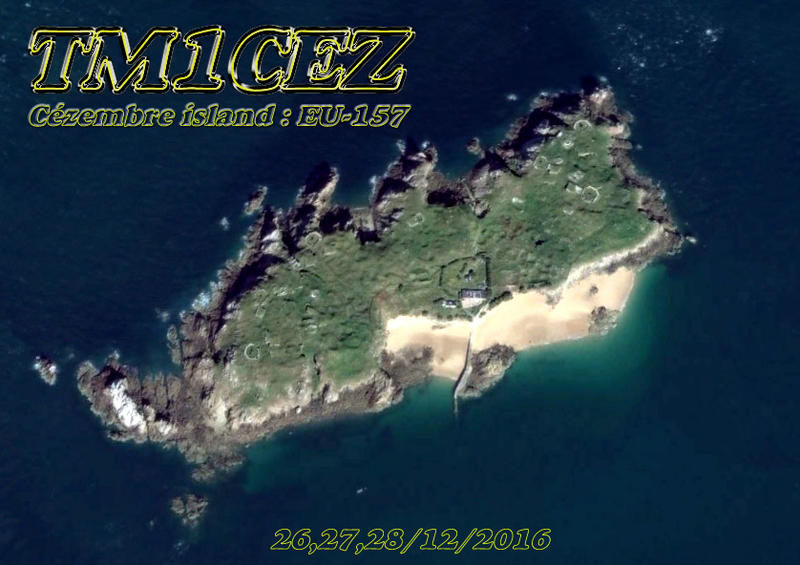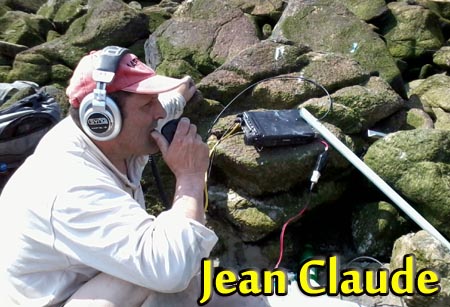 Team:
F5RAB with : TM77C, 7P8C, 3G0ZC, EJ1Y, EJ0PL, TM0SM, F6KOP/P, and some IOTA (EU095, EU156, EU010, EU107,...), contests as TM1A
F5JTV with: 7P8C, 3G0ZC, TM77C, contests as TM1A
Jean Claude (natural reserve guardian) who already helped on many IOTA-ARLHS expeds (EU156 - EU157,...) and who already take the mic.
F4FET with: FT4JA, FT4TA, FH/F4FET, FR/F4FET, 3A/F4FET, LX/F4FET, MJ/F4FET & 32 IOTA like EU058,081,156,108,107,...), contests as TM1A, ED3V
Radio:
TS570 - IC706MKIIG - IC7000
2 x ACOM1010 - Ameritron ALS500
dipole 80 - GP40 - GP30 - GP20 - verticale dipole 17+15 
2 x generators Honda EU20i 2kW + 70 liters gazoline
band pass filters - 3 pc - wintest - 600 meters of coaxial - 3 USB microHAM - 3 tents 
Old EU-157 expeditions:
​  
History of Cezembre island during 2°WW