TM77A DXpedition

to IN77

(2m and 6m)
2 - 14 June 2013
| | |
| --- | --- |
| Operators: | |
| | HB9CYY - HB9CYF - HB9HFM - HB9SLU |
Setup
50 MHz
Yaesu FT-897D

MicroHam MK-2

5 el LFA Innovantennas

Diamond V-2000 Vertical

RG-213U coax

Notebook NC-8000
144 MHz
IC-275H

Yaesu FT-897D

MicroHam MK-2

LNA SSB HP145 Preamp

8 x 3el LFA Innovantennas

16 el LFA Innovantennas

Commander II Linear

BEKO HLV-1000

Ecoflex 15+ coax

Notebook NC-8000

Dell Latitude D630
QSL infos
QSL 100% via HB9SLU (buro or direct with SAE including 2$)
All QSLs have been sent and are on their way to you either direct or via buro.
Tnx again for fun and hope cuagn !
Regards and Vy 73 to all,
The TM77A DXpedition Team
The story


Initiated in fall 2012 during a portable operation by Domi, HB9CYY and Ben HB9SLU, the idea to activate a rare VHF gridsquare quickly materialized around IN77. In fact consulting the list of the most wanted VHF squares, IN77 proved to be one of the last few squares of the Old Continent to keep a real attraction for DX hunters.

After having approached a few friends to complete the team, the first phase consisted in choosing and testing the provided equipment, including our 8x3 elements 144MHz LFA stack during the 2013 IARU March contest. The results were conclusive beyond our expectations. This system, advised by G0KSC has the great advantage of having a relatively large opening lobe (-3dB at 60 deg) with a significant gain of approx. 15dBd. Therefore quite suitable for tropo and MS modes. An 16EL. LFA ant for the weak and EME signals complemented our equipment on 2m.
On 6m. a 5 elements LFA yagi, itself complemented by a GroundPlane antenna, seemed to be the ideal solution that we were looking for our operation.
On transceiver's side , the choice focused on Yaesu FT-897D transceivers, themselves interfaced to a local network consisting of several NC6800 via microHAM MK-2s. We also took a HF station (FT1000 and wire antenna) and a 70cm rig for pilot and local QSOs.
.
To be underlined, very little concern was raised on the necessary paperwork, as much to get our special callsign of TM77A than for the customs to get our material in and out.

Departure date approaching, eyes were already glued to the weather forecast of this early June. As rotten spring reigned continuously on Europe, hope was keen to finally find anticyclonic conditions and a better propagation period. While better weather seemed effectively to be back on West, rain still posed serious problems for Europe farther east populations. Though the antenna farm was raised in sunlight and the TM77A project finally was ready for concretisation.
Extract from TM77A diary
2.06.2013
Hi Everybody! Arrived at our DXpedition QTH. FB situation. Antennas are set up! And trafic has begun.
Domi, HB9CYY on 50 MHz (also little HF on 20m in the late evening).
Ben, HB9SLU on 144Mhz.
and Dan, HB9HFM keeping Mr Murphy away from site
HB9CYF will complete the team at end of the week.
The antenna farm
3.06.2013
Huge pile-up sunday evening and monday on 144MHz MS . Was impressive! Many stones also so we could complete a good number and make some happier ;) ! Was fun for us. On 50MHz propagation was unequal but Domi worked hard on CW and was pretty successful. Dan always hunting Mr Murphy, had time to make some promo on HF with PSK31 !!!
CU on air
Team flag on the 5el LFA
4.06.2013
Tuesday: Lean day on 2m. High pressure above us but no Es for us, poor tropo and less bursts on MS. More, mechanical problem on a rotator showed return of Mr Murphy (rapidely swept away by our Merlin, Dan).
Fortunately good pile-ups on 50MHz gave an average aspect to the this sunny day.
Sympathic visit on site by F4GWG
Federer lost
Mr Murphy's rotator
5.06.2013
Wednesday was devoted to traffic automation through the available MK-IIs and saw Mister Dan back to front to solve the various problems. I think he deserves the Nobel Award of the handyman. No problem can stand him! By the way, coached by Ben, he made his first QSOs in MS. I think he will rapidely become an enthusiastic fan. More, he found time to capture some beautiful SSTV images out of rubbish cables. For us in Brittany, he is Merlin the Magician.

Still very little tropo on 2m. Fortunately Domi handles pile-ups on 50MHz (SM / DL / OE / I). But not very long ones though. To be noticed also various 4X, FM5, LU.

Better could be done !? With a little help of ...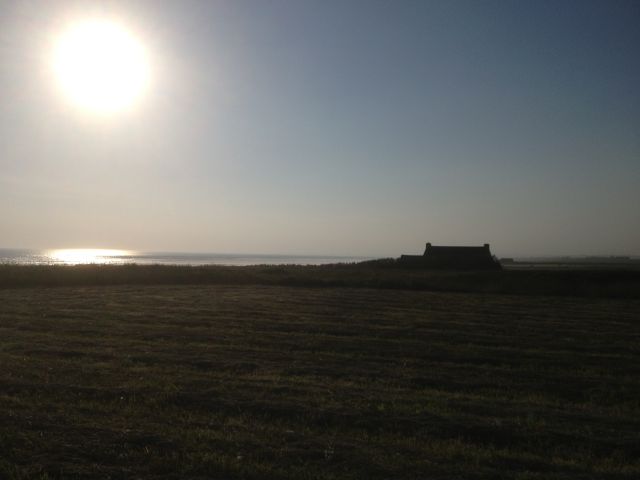 Sunset on IN77
6.06.2013
Today first EME tests. This updated some stability problems with one of our transceiver and created little excitement in the shack because of the small pile-up which was already at the door. Time passes quickly in this kind of situation and only two QSOs have been made that first morning on moonbounce. UT5DL and JH8CMZ. New challenges coming for our Merlin and the crew.

The weather is becoming stormy and does not help to install the beautiful tropo expected to justify our trip to IN77.
Dominique logs his pile-up QSOs at the slightest opening on Six!
MS reflections seem fewer and QSOs take longer to complete on 144MHz.
Moonrise on EME operation
7.06.2013
Follow-up of our concerns on the EME station. The frequency drift problems were added this morning with reception problems due to faulty LNA. This forced us to bring the 16el antenna down to perform emergency repairs. Persistent drift problems forces us to work with only one station for 50 MHz and EME but yet we hope to complete a maximum of QSOs from tomorrow on .

This day also saw the visit of F1AKK from F6KHM Club Station, our neighbours from Brest. A friendly and successful experience sharing.
The evening was completed by the "usual" pile-ups on 50MHz mastered by Domi. This puts a smile on everyone's face.
Future looks bright!
8.06.2013
Things resume and we are enjoying the few degrees available at sunrise and moonset to make some QSOs on EME. We are impressed by the pileup generated. Unfortunately no elevation for our 16 elements and inevitably a lot of frustration.

Patience needed also on VHF where conditions are far from being ideal. Dan took over on 6m. In addition, around noon violent storms forced us to stop the traffic for a few hours.

The visit of neighbour OMs coincides with the return of the sun and we spend a nice time of ham friendship with F5MUX and F4GGQ.
The activity of that day ends a little earlier than usual. Tomorrow awaits us. Still another week to try to maximize this DXpedition for all of you.
EME
9.06.2013
Particular Sunday in Plovan. It started in the morning with a compelling return on the moon with 6 QSOs logged during the short window available. (We are working without elevation). Dan then made contact on HF with our friends of the USKA Fribourg who meet weekly in the "QSO des armaillis".
The afternoon looked promising with an intense Es activity on 50MHz. But again, a little disappointment on 144Mhz where we have been marginalized in the beautiful opening on Europe. Fortunately MS demonstrated once again its effectiveness with an impressive return of stones, attended by F6DZD, renowned telegraphist visiting us in our QTH in Plovan and who showed up much interest in this mode and our facilities.
Unfortunate…?
10.06.2013
Despite far from optimal conditions, two things make us a special pleasure: to hear "Tnx fer QSO and new #" and to see that two of our visitors are back on VHF and already in action in MS. It comforts us to leave before the very good opening that Hepburn announces for next weekend.
It was a good part of the job.

Our experience on EME is enriched by ground gain lobe measures, that our favorite Merlin rapidly documents. Interesting. Due to lack of activity, Dan has found a new challenge: to contact space station ISS. Done. His QSOs are already spotted.
HB9CYF has arrived and completes the team for the few days left.
Domi, mastering the pile-up.
11.06.2013
Successful day started with some "big guns" on EME (not many, don't fear!!). and many European stations waiting at the door, some only heard through MS bursts. So little frustration again not being able to contact more because of no elevation on our 16el.
On 144 MHz, trying to force the tropo conditions using special modes (for example JT65A with Mario, I3MEK). Nothing to do.

Then suddenly at the end of the afternoon we complete the first three QSOs on 2m Es (very thin, but ). Operating roles are exchanged, Dom takes over on 2m with Nick, and Ben tastes the pile on 6m.

So to mention: VK3AXH (overall best DX), KB8RQ, IT9 on 2m KP4, 4X4 on 6m. and of course all of you that we contacted!!
Merlin the Magician (Dan) with a visiting ham fellow.
12.06.2013
We could call this day Nick's Day. HB9CYF who joined us earlier this week, highly motivated to contribute to TM77A's job, enjoyed an exceptionnal Es day on 50MHz. The band stayed open almost all day until midnight. Either on CW or SSB, the pile-up was still impressive.

On the 144MHz side, tropo is still delayed to future and this time MS is experiencing fewer bursts. Little consolation came on side of sporadic. After an encouraging opening to Scandinavia, while the northern hams were also granted with an exceptional opening to 7X, we could complete one of our best distances in FSK441 mode with UR5BFX (about 2200km), taking advantage of the same Es reflections.

To complement this positive assessment, in the evening, new contacts with US stations have been added to the JA and other stations of our morning EME transmissions.
Nick's Day
13.06.2013
The surprise of the 12th did not renew today and propagation is recalled into negative mode. The nearing end of the expedition puts a little more tension on the member's faces, because our desire to give you an opportunity to contact this rare gridsquare is not yet fully satisfied and we work hard to get through but.
144 MS frequencies, now deserted, are only busy with sigs coming from the usual lighthouses of the band which have all already contacted TM77A since a good while. The early morning EME QSOs (among which VK5, OH4) are already the last and the 16el is the first to get back to the ground. Six meter also gains an unusual quietness and the few tens of QSOs do not weight heavily on the evening backup
Hard work on both ends don't beat lack of conditions, he said.
14.06.2013
Last day of attendance in Plovan. Dissassembly and removal of the station has already begun. Happily weather is beautiful. The sea salt sticks on the masts and antennas and gives extra work. For once, we enjoy the renewed lack of propagation to package everything calmly but Domi insists and works hard with the only vertical that his buddys leave him and at leats can enjoy a last Es opening on the "magic band" to complete the utlime QSOs.

The story of the last QSO pretty much sums up this adventure and the globally encountered conditions. For some time, we heard a weak sig on the band without being able to copy. After a QSY on CW for tens of minutes to suit swings of propagation, we returned to phone and suddenly find DG0FE patiently waiting to work us. This persistence and patience on both ends was the key of many successful contacts and the real basis for our efforts to activate IN77 with finally sometimes poor conditions.
Overall poor conditions

Few or poor tropo – the really expected good openings to ON / PA / D / G / EA were conspicuous by their absence - very few QSOs to Scandinavia and Sicily stolen from Sporadic E, the 144MHz traffic was mostly a success by the numerous QSOs made in MS. The Arietids and ζ-Perseids were at the height of their reputation and led to some beautiful distances, materialized by many "Tnx fer new square". Maximum of Arietids, announced on the 7th, came a bit earlier as we truly have benefited of huge pile-ups on the 3rd and the 4th of June.
EME traffic was also a matter of satisfaction (especially for us?) and despite some technical or software problems (WSJT did not accept our 2 digit call ...), we maximized the short windows available at sunrise and moonset and were able to complete 32 QSOs (including 14 DXCC among which JA, VK, W, of course some russian big guns, and several German and Italian stations). Our experience in this mode was finally enriched with interesting conclusions on groundgain and the differences obtained with take offs over land or sea.

On 50 MHz, except on the 12th where the band was open nearly all day, the Es opening periods were generally short. Despite this, propagation was much less fluctuant and untrusty than on 2m and Domi enjoyed pile-ups ranging from 30 minutes to 3 hours. To be noticed that stations were globally disciplined allowing to keep a good QSO rate during openings and among transcontinental contacts LU, FM, and KP4, some W3 also heard.
Statistics

2283 QSOs

6m
1654 QSOs among witch 799 in CW
285 locators
Best DX LU5FF Loc: FF99rf

2m
291 QSOs among witch 129 MeteorScatter, 32 EME (14 DXCC) and 15 E-sporadic
133 locators
Best DX UR5BFX (without EME), KN29tn
70cm
5 QSOs
5 locators
Best DX F4CWN, JN03kn
Station and operating

On 2 m. our 8x3el has fulfilled all our expectations. We worked without rotor on two preferred directions: towards NE and SE which allowed us to cover about 240°, which was almost enough for the geographical position we occupied on the western edge of Brittany. A modification of guying system would even improve the useable angle. Sometimes we used our 16 elements for weaker signals, but this antenna was mainly used for EME where performances have only been limited by the fact that we did not have elevation.

The deliberate choice to work on random frequencies was planned to maximize traffic. Some things could still work better on each side. MS in particular: to deal with situations of heavy traffic, or pile up, it is important that, if we are heard on a burst, stations immediately give a report which shortens the exchange and leaves supplemental for QSOs with more stations at favorable times.
Another delicate point was to manage the duration of a QSO. Our decision to limit it to one hour was broad enough to give everyone a chance to complete the contact. But we also found out that some stations unfortunately abandoned the QSO while we still tried to give them a chance, while others were waiting at the door.

On 6m, the complementarity between the 5 elements and the vertical was often demonstrated in situations of short skip or pile-up. On 50 MHz also we were surprised by the large amount of stations contacted in CW. This was often the case in early Es opening. Once the conditions established, it became faster and more efficient to come to SSB. For us who are for the most recent 6m fans, we have always been surprised how the "magic band" did open suddenly, as if someone had turned on the switch and off again.
Using our MK-2 in connection with N1MM proved to be decisive in many situations and the automation systems developed by Dan HB9HFM saved time and stress to operators that were often more than 18 hours on the go.
Regular HF contact with our Hamclub fellows also confirmed the enthusiasm and interest created by our DXepedition and many could get into the log with a QSO on 6m. In this regard we thank HB9HFL and HB9ACA who were in charge of managing the QSOs during skeds.

An everlasting lesson of humility and ham friendship.

As we have often said, it is not enough to build a station in the middle of nowhere to automatically log QSOs. Despite the attractivity of the choosen gridsquare that we activated for a short fortnight, a minimum of positive conditions must be gathered to make contacts possible. With few lightning exceptions these were not fulfilled to enable us to be more successful in the challenge we set up.

Among the positive results , there was the actually very pleasant traffic that reflected a high level of ham spirit. In the pile-up we were far from certain rat races that we can live on HF. This has certainly contributed to maximize the potential QSOs during the short openings available.

On the other hand, and this is THE positive point of this Dxpedition, the hospitality and enthusiasm shown during our VHF traffic demos by the local hams we met, makes us certify: "Mission is accomplished, IN77 will no more be a rare locator ".
The TM77A Dxpedition Team