We already sent all QSL cards (OQRS/SASE) of V6J. Please let me know it, if you could not get it within few months. 
73/88 Mami JP3AYQ/V6J team
QSL Manager is JP3AYQ. OQRS (recommended) or SASE. 
 If you are not in the log, just contact our QSL Manager.
Note: No Buro, No LOTW please
We will send you eQSL after few months.
JA各局さまへ 82円切手を貼ったSAEをJP3AYQ宛によろしくお願いします。
(今回はダイレクトのみです。Buroの取り扱いはありません。OQRSでBUROを選択されても発送はされません。)
Your donation will be greatly appreciated.  Thanks for your help.
PayPal address:  jp3ayq@jarl.com
Please do not forget to put your call sign and the IOTA number (OC-226) when you make 
donation through PayPal.
日本語バージョンはこちら↓
We sincerely appreciate the support form the following associations and individuals.
 https://www.qrz.com/db/jk3zxk
  Radio Parts Japan Co.,Ltd.
 http://www.spiderbeam.com/
  http://www.gdxf.de/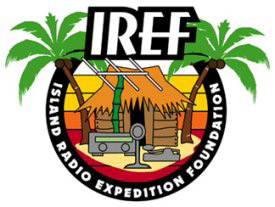 http://www.islandradio.org/index.html
AC0A CT1BXX DJ3XG DK1FW DK5WL DK6NJ DL3JON DL5BUT DL5MX DL6DQW DL8FL DL8MLD DL9MS F4WBN F5CQ F5PAC F6AJA F6GCP F9GL G0JHC G3HTA G3LAS G3RTE G3UAS GI3OQR HA0IH HA1RW HA5DA HB9BGV HB9CEX HB9DKZ HB9DPZ HS0ZIV I5HOR IK8CNT IT9FXY IZ2AMW JA0RQV JA1BPA JA1JCF JA1NLX JA1SKE JA2AH JA2AYP JA2FGL JA2IHL JA2NSH JA3AER JA3JND JA6CBG JA6EXO JA6FIO JA6TMU JA7DOT JA8AZN JA8COE JA9GPG JA9IFF JA9TWN JE1QYI JE2VFX JE3GRQ JE6HID JG1TGQ JG1UKW JG4OOU JG8IBY JH1FSB JH2XQY JH3AZC JH3GFA JH4IFF JI3DST JI3MJK JJ3WXF JJ8DEN JK1KSB JK1TCV JN1RFY JN3ONX JN3SAC JN6RZM JO1CRA JP1KOA  JQ3MWA K0AP K1PX K3EST K3NR K5MK K6VVA K6PJ K7ACZ K9RHY KJ6P KM4HI LX1NO N0CWR N3NT N4II N6NO N7BT NN7A OE3EVA OE3RPB OE6IMD OE6IMD OH2BF OM3XX ON4CD ON4IZ OM3DX OR1R OZ1BUR RJ3AA RY7G S57L S58N SM3DMP SM3EVR SM4CJM SM5BFJ SM5CBM SM5DJZ SM5LNE SM6CMU SM6DHU SM7NGH SP5APW SP6CIK UA0CID UA6EX VE3EXY VE3VHB VE7DP VE7SA W1JR W2YC W3AG W3BS W5PF W5VFO W5WP W6OU W6RLL W8JRK WA6SWM WB2YQH WD8PKF ZS1XG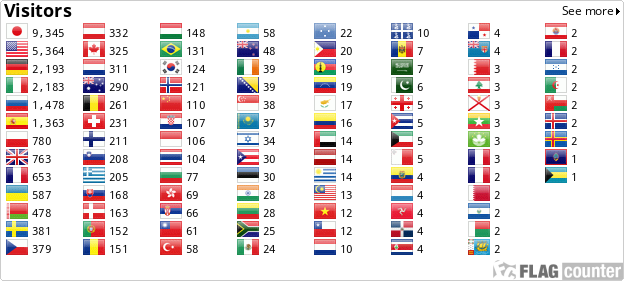 We came back Japan safely. Thanks for nice many QSOs. See you next year!  
73/88 V6J Team Jul 10 2017
QSO numbers by region
     JA          1352     41%
     EU         1140     34%
     NA           585     18%
     Others     234       7%
     -----------------  
    Total       3311
If you are not in the log, please send your QSO data to Mami, JP3AYQ. Mami will do her best to find your callsign by all means.
So please do not give up until the last moment.
Mami won't return to Japan until July 10th mid night. So please be patient for a while for her answer with regards to NIL or busted callsign correction request.
Who posted  inappropriate  comments from EU to the DX cluster saying V6J members are sleeping during the best opening time for EU?  The numbers always tell the truth. Before blaming V6J three members, you should take a look at the level of your rig and antennas. You would be better off having an exquisite line of antenna and rig to contact rare DX. V6J made as many as 1101 QSOs with EU this time. Who could blame V6J members with this result? The QSO with EU represents 34% of the total QSO number. It is one third of the total QSO!
Joe Aoki
JJ3PRT    
Some photos of V6J
Video of Mokil island taken by a drone. But the drone was lost after taking some videos,such as the antennas and the operation site. These videos were gone with the lost drone.
July 6, 2017 21 GMT
V6J has just gone QRT. Thanks for your cooperation all the time.
Please check your QSO with club log tomorrow around 15GMT.
Best regards
Joe Aoki
JJ3PRT
July 6, 2017 03GMT
Here is a today's update of V6J.
1. Activities of July 5th
1) Although V6J was working EU on 30m until 13GMT, the band faded out suddenly. After 30m faded out, V6J kept calling
CQ EU on 20m until 18GMT, but no signal from EU was heard. Some poeple posted very impolite and inappropriate  comments on V6J operation to the DX cluster. However, please understand that all the operators are working around the clock to work stations in the world as many as possible from the very rare island to hit your funny bone. Could you please stop 
posting the comments telling us as if they were cigarette butts? They are not cigarette butts at all. On the contrary, they are doing an unmatched job by giving you a new IOTA for the first time in 14 years. When you don't hear the V6J signal, it is because the band propagation is not good and that it is not the operators' fault. Aspirat primo Fortuna labori.
2) V6J made as many as 400 QSOs with JT-65 as of 3 GMT today.
3) Although Mami tried SSB operation, she just worked 100 stations on 20m. 90% of them are QSO with JA.
2. Today's schedule
1) Since today is the last day for V6J, all the operators will work around the clock. V6J will work on 20m until 16GMT.Then V6J will go to 30m and work either JT-65 or CW until the band fades out.
2) Mami will try SSB operation again from 06GMT on 20m.
3) V6J will cease the operation at 20-21GMT and members will head to Phonpei island.
3. Log upload
V6J log will be uploaded at Phonpei island around 15GMT on July 7th.  Just in case you were not in the log, please send an e-mail to Mami, JP3AYQ with your QSO data.
Good luck
Joe Aoki
JJ3PRT
Le 6, juillet 2017 3GMT
Voici mise à jour aujourd'hui de V6J.
1. Activités du 5 juillet
1) Bien que V6J travaillât EU sur 30 m jusqu'à 13GMT, la bande s'est éstomée tout d'un coup. Après avoir 30m estompé, V6J appelaient CQ EU sur 20m jusqu'au 18GMT, mais aucun signal de l'UE a été entendu. Certaines personnes ont posté des commentaires très impolis et inappropriés sur opération V6J au cluster DX. Toutefois comprenez SVP que tous les opérateurs travaillent pendant vingt-quatre heurs pour travailler les stations dans le monde autant que possible depuis l'île très rare de vous faire drôle. Pourriez vous arrêter poster des commentaires en nous disant comme s'ils étaient des mégots de cigarettes ? Ils ne sont pas du tout les mégots de cigarette. Au contraire, ils font un travail remarquable en vous donnant un IOTA de nouveau pour la première fois en 14 ans. Lorsque vous n'entendez pas le signal V6J, c'est parce que la propagation de la bande n'est pas bonne et qu'il n'est pas une faute d'opérateurs. Aspirat primo Fortuna labori.
2) V6J a fait jusqu'à 400 QSO avec JT-65 à 3 GMT aujourd'hui.
 3) Bien que Mami ait essayé opération SSB, elle a juste travaillé 100 stations sur 20 m. 90 % d'entre eux sont des QSO avec JA.
2. Horaire d'aujourd'hui
1) Comme aujourd'hui est le dernier jour pour V6J, tous les opérateurs travaillent pour vingt-quatre heures . V6J travaillera sur 20m jusqu'au 16GMT. Puis V6J iront à 30m et travailler JT-65 ou CW jusqu'à ce que la bande s'éstompée.
2) Mami essaiera opération SSB encore une fois à partir de 06GMT sur 20 m.
3) V6J cessera l'opération à 20-21GMT et les membres se rendront à l'île de Phonpei.
3. Télécharger log
V6J log sera téléchargé à l'île de Phonpei vers 15GMT le 7 juillet.  Juste en cas vous n'êtes pas dans le log, envoyez un courriel à Mami, JP3AYQ avec les données de votre QSO.
Bonne chance
Joe Aoki
JJ3PRT
July 5, 2017 03GMT
Here is un update of V6J .
1. General
1) V6J made as many as 2200 QSOs as of 3GMT July 5th. The 60% of the QSO are with JAs. Since V6J has been giving the first priority to NA and EU since a several days ago , the QSO number in these area keeps increasing. However, V6J still faces heavy pile ups from NA and EU every day.
2) Sorry to say, but many dupes are seen every day. We understand your concern of NIL situation very much, but if you are almost sure of your QSO with V6J,  you would be better off not making dupes. Since the V6J signal seems to be very weak in NA and EU, V6J will send your callsign twice so that you can get it surely. Please follow the instrucion of V6J all the time. When V6J sends QRZ EA and CT, please do not call V6J, if you are not stations from EA and CT.
3) Thanks to your great help, V6J worked some stations in EA, CT and G.
4) V6J will go QRT around 20-21 GMT on July 6th.
2. Activities of July 4th
1) The 20m band propagation was very good towards NA and EU between 05GMT and 13GMT. But the band faded out suddenly after 13GMT.
2) V6J worked many stations on 30m with JT-65 and CW.  V6J worked as many as 100 stations on 30m until the band faded out at 16 GMT.
3. Today's activities
1) Mami, JP3AYQ, will start the SSB operation of V6J from 8GMT on 14260. Please keep a close watch.
2) V6J will stick to 30m band today.
Good luck
Joe Aoki
JJ3PRT
Le 5 juillet 3GMT
1. Generalités
1) V6J a fait presque 2200 QSOs en date du 5 juillet 3GMT. Les 60 % des QSOs sont avec JAs. Puisque V6J donne la première priorité à NA et EU depuis il y a quelques jours, le nombre QSO dans ces zone continue d'augmenter. Cependant, V6J est toujours confrontée à lourde pile ups de NA et de EU tous les jours.
2) Désolé de vous dire, mais beaucoup de dupes sont vus chaque jour. Nous comprenons votre souci de NIL situation très bien, mais si vous êtes presque certain de votre QSO avec V6J, vous seriez mieux de ne pas faire de dupes. Étant donné que le signal V6J semble être très faible en NA et EU, V6J enverra votre indicatif deux fois afin que vous puissiez l'obtenir sûrement. Suivez l'instrucion de V6J tout le temps, SVP. Lorsque V6J envoie QRZ EA et CT, n'appelez pas V6J, si vous n'êtes pas les stations de EA et CT.
3) Grâce à votre aide précieuse, V6J a travaillé certaines stations en EA, CT et G.
4) V6J ira QRT vers 20-21 GMT le 6 juillet.
2. Activités du 4 juillet
1) La propagation de bande 20 m a été très bonne envers NA et EU entre 05GMT et 13GMT. Mais la bande s'est estompée soudainement après 13GMT.
2) V6J a travaillé nombreuses stations sur 30 m avec JT-65 et CW.  V6J a travaillé autant que 100 stations sur 30m jusqu'à ce que la bande s'est estompée à 16 GMT.
3. activités d'aujourd'hui
1) Mami, JP3AYQ, commencera l'opération SSB de V6J 8GMT sur 14260. Surveillez de près.
2) V6J collera à bande 30 m aujourd'hui
Bonne chance
Joe Aoki
JJ3PRT
Julho 5 , 2017 03:00 UTC
Actaulização sobre V6J
1) V6J fez cerca de  2200 QSOs até às  3:00 UTC de 5 de Julho. 60% destes foram com JAs, e como V6J dá prioridade a QSOs com NA e EU desde há vários dias, o numero de QSOs com estas zonas tem vindo a aumentar. De qualquer modo , V6J continua a ter grandes pile-ups de NA e EU diariamente.
 2) Desculpem dizer-vos mas o numero de dupes tem vindo a aumentar todos os dias. Compreendemos bem a preocupação do NIL , mas se estiverem seguros do vosso QSO  com V6J, por favor não chamem de novo.  Dado que os sinais de V6J são muito fracos em NA e EU, V6J envia sempre o vosso indicativo duas vezes de modo a que possam ficar com a garantia de que o QSO é válido. Por favor sigam sempre as instrucções de V6J. Quando V6J faz QRZ CT e EA, por favor não chamem se não estiverem localizados nestas zonas.
3) Obrigado pela vossa colaboração, deste modo V6J trabalhou já várias estações de CT e EA.
4) V6J passará a QRT á volta das 20-21 UTC de 6 de Julho.
2. Actividades no dia  4 de Julho.
1) A propagação nos 20 m estava muito boa para NA e EU entre as 05 e 13:00 UTC , colapsando logo a seguir.
2) V6J trabalhou bastantes estações nos 30 M  em JT-65 e CW. Cerca de 100 estações em 30 M até que a banda fechou cerca das 16:00 UTC.
3. Actividade para hoje:
1) Mami, JP3AYQ, iniciará actividade em SSB desde as 08:00 UTC em 14.260 MHz. Mantenham-se atentos.
2) V6J manter-se-á em 30 m também.
Joe Aoki
JJ3PRT
El 5 de julio 3GMT
1. General
1) V6J hizo mas o menos 2200 QSOs del 5 de julio 3GMT. El 60% de los QSOs son con JAs. V6J está dando la máxima prioridad a NA y EU desde hace varios días, sigue aumentando el número QSO en estas áreas. Sin embargo, V6J aún enfrenta pesada pile ups de NA y EU cada día.
2) Lo siento decirlo, pero hay muchos duplicados se ven todos los días. Entendemos mucho su preocupación de la situación NIL, pero si estás casi seguro de su QSO con V6J, sería mejor no hacer duplicados. Puesto que la señal V6J parece que esté muy débil en NA y UE, V6J enviará su indicativo dos veces para que usted pueda obtenerlo seguro. Por favor, siga el instrucción de V6J todo el tiempo. Cuando V6J envía QRZ EA y CT, por favor no llame V6J, si no es un estacion de EA y CT.
3) Gracias a su gran ayuda, V6J trabajó algunas estaciones en EA, CT y G.
4) V6J irá QRT alrededor de 20-21 GMT del 6 de julio.
 2.Actividades del 4 de julio
1) La propagación de la banda de 20 m estaba muy amable hacia NA y EU entre 05GMT y 13GMT. Pero la banda se descoloró fuera pronto después de 13GMT.
2) V6J trabajó muchas estaciones en 30 m con JT-65 y CW.  V6J trabajó hasta 100 estaciones en 30m hasta que la banda se descoloró fuera a las 16 GMT.
3. Actividades de hoy
1) Mami, JP3AYQ, salira la operación SSB de V6J desde 8GMT en 14260. Por favor, mantenga una estrecha vigilancia.
2) V6J pegará hoy a 30 m banda.
Buena suerte
Joe Aoki
JJ3PRT
July 4, 2017 03GMT
I would like to give you updated V6J information as follows.
1. Operation of July 3
V6J kept calling CQ EU on 20m until 17GMT, however no signal from EU was heard. The 20m band started to open suddenly at 19:30 GMT and V6J worked many EUs on 20m with CW mode. So please be noted that V6J members were not sleeping at all during the best conditon time towards EU. When you were listening to 20m CW around 18 GMT, you were unable to hear V6J signal due to the bad conditon on 20m. They don't go to bed with owls.
40m was almost dead all night.
2. Today's schedule
1) 30m
40m GP was changed to 30m GP. V6J will make CQ NA call on 30m from 8GMT. Big concerns are a high level local noise and JA.
JAの皆さん、今晩30mはNAに集中しますので、NA指定の際はコールはお控えください。
2) 20m
V6J will make CQ EU call on 20m from 14GMT. Sometimes V6J will make CQ EA and CT call just for some minutes. Because it seems to be extremely difficult for the stations in western part of the EU to contact V6J. During CQ EA and call,  other EU stations, please stand by. Since V6J's signal has not been heard strongly in EU, V6J will repeat your callsign twice so that you can get it more easily.
3) SSB operation
Since V6J will concentrate the contacts with EU on 20m CW today, V6J will start the SSB operation from July 5th around 18GMT.
I am exteremly pleased to have received many e-mails from NA and EU, telling me of good success to contact V6J last night and this morning.
Good luck.
Joe Aoki
JJ3PRT
Le 4 juillet 3GMT
Je voudrais vous informer sur V6J comme suit.
1. Opération du 3 juillet
V6J appelaient CQ EU sur 20m jusqu'au 17GMT, mais aucun signal depuis EU a été entendu. La bande de 20m a commencé à ouvrir tout d'un coup à 19 h 30 GMT et V6J a fait beaucoup de contact avec EUs sur 20m avec la mode CW. V6J membres ne dormaient pas du tout pendant la meilleure période de le conditon pour EU. Quand que vous avez écouté 20m CW autour de 18 GMT, vous étiez incapable d'entendre V6J signal dues à la mauvaise condition sur 20m. Ils ne vont pas au lit avec chouettes.
40m était presque morte toute la nuit.
2. Horaire d'aujourd'hui
1) 30 m
40m GP a été changée à 30m GP. V6J fera CQ NA appels sur 30m de 8GMT. Grandes préoccupations sont d'un niveau élevé de bruit local et JA.
2) 20 m
V6J fera CQ EU appels sur 20m depuis 14GMT. Parfois V6J fera CQ EA et CT appel juste pour quelques minutes. Parce qu'il semble extrêmement difficile pour les stations dans la partie ouest de l'UE à contacter V6J. Au cours de la CQ EA et CT appel, autres stations EU, QRX SVP. Étant donné que le signal de V6J n'a pas été entendu fortement dans EU, V6J répète deux fois votre indicatif afin que vous puissiez l'entendre plus facilement.
 3) Opération SSB
Puisque V6J concentrera les contacts avec EU sur 20m CW aujourd'hui, V6J commencera l'opération SSB du 5 juillet autour de 18GMT.
Je suis heureux d'avoir reçu des nombreux courriels de NA et de EU en me disant de bon succès à contacter V6J hier soir et ce matin.
Bonne chance.
Joe Aoki
JJ3PRT
El 4 de julio 3 GMT
Me gustaría informarles sobre V6J como sigue.
1. operación del 3 de julio
V6J mantuvo llamando CQ EU en 20m hasta 17GMT, sin embargo ninguna señal de UE se escuchó. La banda de 20m empezó a abrir de repente a las 19:30 GMT y V6J contactó muchos EUs en 20m con mode CW. Miembros V6J no durmieron en absoluto durante la mejor época de condición hacia EU. Cuando ustedes estaban escuchando 20m CW alrededor 18 GMT, no pudiste escuchar V6J señal debido a la mala condición en 20m. Les miembros no van a la cama con búhos.
40m estaba casi muerta toda la noche.
2. Horario de hoy
1) 30 m
40m GP fue cambiado a 30m GP. V6J llamará CQ NA en 30 metros desde 8GMT. Grandes preocupaciones son un alto ruido local y JA.
2) 20 m
V6J llamará CQ EU en 20 m desde 14GMT. A veces, V6J llamará CQ EA y CT sólo durante algunos minutos. Ya que parece sea muy difícil para las estaciones en la parte oeste de la UE a contactar V6J. Durante CQ EA y CT, otras estaciones de EU, por favor, QRX. Puesto que la señal de V6J no está escuchado fuertemente en UE, V6J repetirá su indicativo dos veces para que usted pueda obtenerlo más fácilmente.
3) Operación SSB
V6J concentrará hoy los contactos con UE en 20m con CW, V6J comenzará la operación SSB desde el 5 de julio alrededor 18GMT.
Estoy extremado contento de haber recibido muchos e-mails de NA y de la UE, diciéndome de buen éxito para contactar V6J anoche y esta mañana.
Buena suerte.
Joe Aoki
JJ3PRT
July 3, 2017 08GMT
I have just talked to Tosy, JA3FGJ one of the V6J operators over the radio. According to him, tonight's gas shortage problem has been solved. So they have an intention of working 40m all night. They will focus on EU and NA tonight. Although I received many requests from EU to ask V6J to work on 30m, it is impossible to change the 40m GP to 30m GP now, because it is already dark outside in Mokil island. They will change the 40m GP to 30m GP tomorrow.    
As for SSB operation, Mami will start the SSB operation from tomorrow on 20m.
So please watch 40m tonight by all means.
Good luck.
Joe Aoki
JJ3PRT
Le 3 juillet 2017
J'ai juste parlé à Tosy, JA3FGJ un des opérateurs V6J via la radio. Selon de lui, le problème de pénurie de gaz de ce soir a été résolu. Donc, ils ont envie de travailler 40m toute la nuit. Ils se concentreront sur EU et NA ce soir. Bien que j'aie reçu de nombreuses demandes de EU à demander à V6J de travailler sur 30m, il est impossible de changer le GP de 40m à 30m GP maintenant, car il est déjà sombre à l'extérieur en Mokil île. Ils changeront le GP de 40m à 30m GP demain.   
En ce qui concerne l'opération de SSB, Mami commencera l'opération SSB depuis demain sur 20 m.
Cherchez V6J sur 40m ce soir par tous les moyens.
Bonne chance.
Joe Aoki
JJ3PRT
JAの皆さん、
まだV6JとQSOできていないEUとNAが沢山いますので、既にどこかのバンドでV6JとQSOされた方は今晩の40mの
V6JとのQSOはお控えください。
青木
JJ3PRT
July 3, 2017
I'm Joe Aoki, JJ3PRT. I'm the pilot for V6J this time. Since some distorted pieces of information about V6J operation have been spreading, I would like to give you accurate pieces of information about V6J operation as follows.
1. V6J started the operation on 20m CW around 03GMT on July 1st  and made 1200 QSOs as of 03GMT July 3rd. 70% of the QSO are with JAs. Since V6J worked many JAs so far, V6J will focus on EU and NA from now on. V6J will continue the operation until 20 GMT July 6th.  The members are supposed to leave for Phonpei around 05GMT on July 7th.
2. The members installed the following antennas.
         17m   2 element VDA
         20m   2 element VDA
         40m   GP
The 40m GP could be changed to 30m GP. Since the band propagation on 40m has been good, the antenna has not been changed. If there was a big demand for 30m, the antenna would be changed to 30m.
3. Operation time
You may have already noticed that V6J stops the operation around 14 GMT every day. This is due to the gas shortage problem. The V6J members purchased 200 litter of gasoline at Phonpei and their gasoline drum is stored at the warehouse of the Mokil city municipal government. This warehouse is severely controlled by the staffs of the city municipal government and is locked. So when V6J members need the gasoline, they have to ask the city staff that he or she open the warehouse. The problems are that V6J members have just a small 18 litter bottle and that this amount of gasoline lets the V6J operate just for six hours. The warehouse is completely closed before the sunset. So V6J members go to the warehouse to get the gasoline just before sunset. However, it gives them only six hours operation at night. As a result, six hours later, they encounter the out of gas problem. Although the members are trying to cope with this problem anyhow, I suggested to Mami that she not work many JAs in the evening in order to save the gas.
4. Opeation
V6J members brought two linear amplifiers. But they can use only one amplifier now due to the interference problem. Although they are running two stations simultaneously, please be noted that one station is only a barefoot station.
Mokil city municipal government has raido communication with some ships at 07 GMT and 21GMT every day. Due to some interference concern, V6J ceases the operation just for thirty minutes twice a day.
According to the V6J members, many dupes have been seen. Although the QSO data won't be uploaded to the Club Log until the members return to Japan, please do not make dupe QSOs. Some seem to have made three QSOs in a same band. We understand your concern very much. But your cooperation will be greatly appreciated in this issue.
5.Operation site
The members have been operating from the city municipal government building. Of course no utility is available there. No electricity, no water. This building is located about 200m to the south of the sea shore in the north of Mokil island.
6. Others
Since I have a regular schedule with V6J every day, please do not hesitate to ask me any requests about V6J.
I hope you will work V6J soon.
Best regards
Joe Aoki                                                                                                                                                                                         
JJ3PRT 
V6J pilot
日本の皆さんへ、
V6JはIOTAペディションですので、可能な限りワンQSOでお願いいたします。中には3バンドでQSOされた方もおられますが、EUやNAの局にQSOするチャンスをできるだけ差し上げたいと思いますので、ご協力願います。
青木
JJ3PRT
June 29,2017
You must be sick and tired of listening to another delay news. The ship will be delayed again. We would arrive at Mokil island on July 2nd, if the ship sales out on July 1st.
  
The procedures here in Southern islands are not swift at all, slower than Molasses in January. We don't think you could guess it.
If everything goes well, we would start our operation on July 2nd and end the operation on July 6th. We rescheduled our returning day to Japan. Since we will be operating for full four days, the chances of working you will increase, as well. 
We are looking forward to working you on the bands.
V6J Team
The ship is delayed again from leaving for Mokil island due to the goods unloading and loading problem at the small Pohpei port. We will arrive at Mokil island on June 30th. We will begin our operation around 9GMT on June 30th and finish our operation around 1GMT on July 2nd. Since our operation time is quite limited, we will be operating around the clock to work IOTA chasers in the world as many as possible. We would be whipped puppies, but we will do our best. We will keep our fingers crossed that everything would be all right. No more nasty problems.
Thanks for waiting for the fixed schedule information about our V6J DXpedition to Mokil island OC-226.
We will fly to Pohnpei from Japan on June 20th. Then, we will stay there until the ship sails out. The ship will leave port on June 23th and we will arrive at Mokil Island OC-226 on June 24th. We are going to stay in Mokil island for 6 days. Then we will go back to Japan via Pohnpei and Guam. We will try to upload our LOG to the Clublog in Pohnpei and Guam, but the internet connection in Pohnpei and Guam is not so good. If you need to contact us, please contact Joe, JJ3PRT who is our pilot. We have schedule with him everyday on the radio. We are looking forward to finding your callsign in our log. See you soon on the air.