DECEMBER 2017
STANDBY AS I FINISH GATHERING AND EDITING COPIOUS NOTES ON THE NEWLY PHASED  80M 7 ELEMENTS WIRE VEE BEAM 
IT'S BEEN QUITE A CHALLENGE, BUT IS NOW COMPLETED.
THE 7 ELEMENT WIRE VEE BEAM LAYOUT, AIMING TO JA/VK LANDS.
                           -----------------------------                         ------------------------------------                               ------------------------------------
    - 17Z - 18Z 80M DXING FROM NORTH AMERICA?
     - MY SIGNAL REPORTS TOO HIGH?        THE FOLLOWING PICTURE IS WORTH A 1000 WORDS!
NOV 2

016 80M ADDITION OF A 4 ELEMENT WIRE VEE BEAM TO JA/VK LANDS
              JA/VK SSB 80M 4 element phased wire Vee beam layout.
   Actual layout (left)                   Top view showing elements offset, to accommodate trees/tower supports
                                 VA2GU PAGE LAYOUT MENU (click to jump to your selection)
- 10 STEPS TO DESIGN YOUR PHASED ARRAY
- 80M 5 PHASED LOOPS DEVELOPMENT
- 80M 4 ELEMENTS V BEAM TO JA/VK LANDS
- NEW FOR 2017 80M 7 ELEMENTS V BEAM TO JA/VK LANDS  (YET TO BE EDITED, AUG. '17)
- 80M LOW ANT HEIGHT DX ARRAY DESIGN
- NO RADIALS PHASED VERTICAL ARRAY(CVA), BEATS 4 SQUARE
The phasing data and programs are now available on my web site

HRLABS.NET

(7 March 2011).
 WANT EASY DX, BUT CANT STAND ALL THOSE RADIALS LAYOUT?
USE A BOBTAIL CURTAIN, SHORT OUT ITS VERTICALS BOTTOMS AND TUNE WITH SIMPLE ANTENNA ANALYZER (NO PHASING BOX) FOR 50 OHMS (YES NOT 2000 OHMS OF BOBTAILS)
LOOK BELOW AND ON MY WEBSITE HRLABS.NET
....AND NO, I'M NOT SELLING ANYTHING.
*************************
*   NEWS FLASH!  *
*************************
80M DX ROUND THE CLOCK? DONE!
ONE OF MY OBJECTIVES IN MOVING TO THIS HILL TOP, WAS TO MAKE 80M DX ROUND THE CLOCK;  I KNOW IT'S BEEN DONE BEFORE (VE1ZZ AND OTHERS SURELY).
But been getting mails, saying i was dreaming! That was enough for me to push through....and succeed! Realities start with a dream.
Past week and weekend made my day, week, year!!! There were enough stations on the air to see that dx is coming through all day on 80m, even at full sunshine noon local time (16-17Z); it's just that usually no one is there to be heard!
If you search the cluster, you will see some of the several stations i copied and spotted, between those hours and after.
Personally, OK2RZ and SM3NXS made it for me on Friday 21 Nov.  2014.
JIRI OK2RZ WITH HIS SUPERB STATION EXCHANGED SIGS REPORTS AT 1600Z WITH 54/79s AND 45/69r.
AND STEN, SM3NXS AT ALSO A GREAT QTH/STATION, EXCHANGED SIGS REPORTS AT 1710Z WITH 569s AND 559r.
DXing after 18Z has been fairly commonplace; so less of a challenge there.
So what's your excuse? Cannot be done? "PAS CAPABLE, PAS FRANCAIS" (a french saying: "not able, are not french words").
DX, cu on the air when you get back from work, AT ANY TIME OF THE DAY OR NIGHT!
13JAN 2017, 14 JAN 2017
DONE IT AGAIN. THIS TIME WITH RICK GM3PPG AT 1652Z; HIS SUPERB LOCATION DID MOST OF THE WORK. TKS RICK
QSL CARDS CHANGE OF POLICY
First let it be known that i do not want, nor collect QSL cards from anywhere. I do not have any neighbours, friends or wife to impress.
My only pleasure in ham radio is continuously improve the antennas, to make contacts and rag chew (of course all on cw!).
With this in mind, i will be pleased to answer a received QSL IF AND ONLY IF you send a self addressed and properly stamped (or equivalent fund) envelope (it now costs $2.50 Can for overseas); NO EQSL, NO LOTW, NO BUREAU; DIRECT EXCLUSIVELY..
ONE MORE THING, i send qsl back only twice a year. Once in June and once in November. If you cannot wait, dont send me any card.
ANTENNA COMPLEMENT

160M



- 2 PHASED INVERTED SLOPING VEES TO JA/VK (CW) UP 30M

, 1/2W and 1W fed via HB open wire line. Hoping for rag chew to Europe :-). Quiet band in summer so far! (2014)
    Originally taken down for lack of rag chewers. (2009)

80M
-

4 ELEMENTS WIRE VEE BEAM

TO JA/VK SOUTH EAST (SSB) up 30m.
-

PHASED ARRAY 5 DELTA LOOPS

TO NORTH EAST (CW) up 25m (see calculations for your own phasing below)
- 2 PHASED INVERTED DELTA LOOPS (BASE UP) TO EUROPE (CW) up 30m.
-

6 ELEMENTS VERTICAL CVA

TO JA/VK SOUTH EAST (CW) up 25m.
-

2 PHASED DIPOLES

TO JA/VK (reference array) (SSB) up 10m.

40M
- 4 ELEMENT CVA UP 20M FOR JA/VK CW.
30M

- 2 PHASED DIPOLES TO EUROPE




BEYOND 30M



lack of personal interest; dx not enough challenge
have put up a TH6 for 2 weeks at begin of Sept '13; worked all the dx i wanted in a few hours; took it down mid September of same year! The 80m inv. vees work as well if not better......besides, the TH6 could not widtstand the fierce winds/ice conditions up here; have enough maintenance as it is with the over one mile of wires, plus all the support ropes and guy lines.

RECEIVING ONLY:
 
- BEVERAGE 1200FT/350M SLOPING 19 DEGREES EAST TO SEA WATER AND GOOD ONLY FOR BEYOND 10000MI/16000KM DX;
(closer DX have better S/N from the phased arrays)

RECEIVING NOISE LEVELS on 80M FOR ALL ANTENNAS:

-

147dbm TO -150dbm

using Signal Hound  signal analyzer

1HZ RBW
NOTE: 
All antennas are used for receiving; usually the loops do a better s/n job than the bev. due to the very low ambient noise (and yes i must use a 10db preamp ahead of the rig for all antennas, to make the mid day dx signals audible). The K2 is much quieter than the K3, probably because of its lower AF gain; beleive me, i've tried all the adjustments possible for that K3; K2 from stock beats K3 hands down BUT ONLY FOR CW.  K3 is the best for SSB.
back to top


===========================================
                           80m 4 ELEMENTS V BEAM TO JA/VK
                            
The following picture 4PHalltop9440.jpg shows the relative phase and magnitude relationship for the 80M, 4 elements VEE BEAM set up at VA2GU during the summer of 2016.
The calculated values were obtained using the VA2GU SPREADSHEETS the 10 steps method shown below, the LAWLUM.XLS (using non-forcing current calculations) and ON4UN's software "CURRENT, VOLTAGES AND PHASE FOR REAL FEEDLINES".
These calculated values showed the phasing elements' L and C required to obtain the phases and current magnitudes desired to produce the maximum gain at 3785 (i dont care for F/B at this QTH!).
These values were originally modeled using K6STI's NW, AO AND TA programs (and yes I, unlike so many others, do own the original floppies from K6STI, purchased in 1995).

THE VALUES WERE:                              CALCULATED/MODELED             MEASURED
DRIVEN ELEMENT 1 (DR1):                      1.0A AT  +90 DEGREES     0.75A AT +86  DEGREES
DRIVEN ELEMENT 2 (DR2, ref el.):            1.5A AT    0 DEGREES       1.5A AT    0  DEGREES
DRIVEN ELEMENT 3 (DR3):                      1.5A AT -120 DEGREES     1.64A AT -133 DEGREES
DIRECTOR              (DIR):                       1.0A AT -240 DEGREES     0.87A AT -256 DEGREES
The picture above shows a very close relationship to the desired values, much as was obtained in 2010, phasing the 80M 5 PHASED DELTA LOOPS FOR CW  (still in operation).
During the setup of these 4 elements this summer, i accumulated several important notes to help you, when you first attempt to phase a simple 2 dipoles array (see also below "80M LOW HEIGHT DX ARRAY DESIGN"), but get frustrated when it does not work. This will speed up your phasing expertise. These notes will equally be of help if you decide to go full bore, with a 5 element array!. They are noted after some of the 10 steps below.
It should be noted that these elements can be any variety of verticals and horizontals, using solid or wire elements.
My next project for summer of 2017, is to phase 3 additional VEE elements, with a spacing of 1 wavelength (80M) from these original 4 and phasing the 2 arrays in a colinear fashion (zero degree phasing). The resulting 7 elements VEE beam should produce a gain of more than 10 dbd (over a simple dipole element), with a beamwidth of 40 degrees, beaming straight to the JA and VK lands, long path.
Some will say that the 10db is unrealistic, but the additional gain provided by VA2GU -19degrees slope, close to 16 miles of sea water, is very significant; it has been shown in ON4UN'S LOW BAND DXING HANDBOOK and has also been verified with VA2GU past 10 years and ongoing operations, that a minimum of 5db and up to 3 to 4 S units advantage over flat terrain is obtained from sloping terrain in proximity to sea water; these large gain excursions are due to the takeoff angle varying from 1 through 40 degrees, working nearby Europe, JA/VK and 9M lands.
I have scaled and modeled this qth to seawater and used K6STI's TA, N6VB's ARRL and other similar slope programs; they all show correlation to my experiences at working DX; the below JPGs show what seems almost unbelievable, until you actually live the qth!
VA2GU's qth characteristics are 1000 feet rocky hilltop, sloping on averge 19 degrees to the south east and hitting 16 miles of sea water, 2300 feet away (that's 10 wavelength of sloping terrain for 80m!); the advantages of this slope, with and without sea water considerations, have been characterized by ON4UN and VA2GU and summarized below for the 80m band.

- HORIZONTAL POLARIZATION HAS A 3 OR 4 S UNITS ADVANTAGE OF A 12* SLOPE OVER FLAT TERRAIN (ON4UN VS YT6A 12*SLOPE DATA)
- HORIZONTAL POLARIZATION HAS A 5 TO 6 db ADVANTAGE OVER VERTICAL POLARIZATION ON DX FROM 8* SLOPING DIRECTION
- HORIZONTAL POLARIZATION GIVES 14db/18* OVER FLAT WEST, VS 8db/18* FOR VERTICAL POLAR, AGAIN FROM 8* SLOPE
- AT 10 DEGREES, HORIZONTAL POLAR GIVES 6db OVER OVER FLAT WEST VS 1.5db FOR VERTICAL POLAR ON AN 8* SLOPE OVER FLAT LAND
THE ADVANTAGES OF THIS QTH WITH SLOPING TERRAIN AND PROXIMITY TO SEA WATER, ARE EVEN MORE DRAMATIC FOR 160 METERS, AS SEEN BELOW FROM K6STI'S TA PROGRAM.
   160M PHASED SLOPING VEES MODELING PERFORMANCE ON VA2GU SLOPING HILL
References:
ON4UN LOW BAND DXING MANUAL PG5-6 ON4UN 4TH EDITION; CHAPTER 5 ANTENNAS, GENERAL K6STI'S NW AND TA PROGRAMS as shown on the above 2 JPGs.
=====================================================================================
TWO HILL TOPS
Aerial view; the two x are the top of the two hills on the farm,           Showing almost half of the wires, after ice storm at sunset.
holding the 1/4 mile long support rope for future 160m
3 element CVA vert. array. Below the right X, you can see
the red top of the log house, some of the towers
and where the one mile road ends.
------------------------------------------------------------------------------------------------------------------------------------------------------------------------------------
VA2GU QTH VIEWED FROM ACROSS THE RIVER                               1 MILE ROAD IN THE MAKING
 X marks the spot on top of the Laurentians, .             The valley about midway to the top; solid granit;           Half way down; main highway in center 
 25km away.                                                           small brook between the two hills, buried with               back of pix.                               
                                                                             large rocks under road. 3 months jack hammer.
----------------------------------------------------------------------------------------------------------------------------------------------------------------------------------
SNOW TO ROOF OF SHACK
Okay, so there is a little bit more snow now (dec'17)                     -This is halfway down, part of my private 1mile       -Same road in summer
than in the main pix (12 feet fallen; more where wind blown;          "highway" leading to the main local road;               (note moose in middle of road)
beverage under snow). Last year, snow was even with roof.
----------------------------------------------------------------------------------------------------------------------------------------------------------------------------------
         VIEW TO EUROPE                                           VIEW TO JAPAN/AUSTRALIA                                HOUSING UNITS
                                                                                                                                                   HOUSE BUILT BY ONE PERSON (ME...)
 --------------------------------------------------------------------------------------------------------------------------------------------------------------------------
                                           WINTER 2017 (SO FAR....)
------------------------------------------------------------------------------------------------------------------------------------------------------------------------------
       WINTER 2014                                                                                   Half way up; St Lawrence river in center pix
                                               Snowshoes for winter travel up/down hill       This is my motor (Captain); a pyrenee
------------------------------------------------------------------------------------------------------------------------------------------------
One reason i dont get out in winter!!! bottom
of the hill, near highway.                                      BEFORE LOG HOUSE 2007                  KUBOTA LOADED WITH STEEL ROOFING      
                                                                   Kubota machine used to carry all stock (towers, housing material) to the top.
-----------------------------------------------------------------------------------------------------------------------------------------------------------------
                   BEAR ATTACK
Never gets dull up here; the bears were taken care by "Captain" bear chaser. Now i can eat my blueberries in quiet fashion!
 ANTENNA ADDITIONS TO OCTOBER 2011
==============================================

-SIX ELEMENTS 80M VERTICAL CVA ARRAY TO INDONESIA, JA, VK/ZL CW BAND.
-2 EL 80M PHASED DIPOLES FOR JA, VK/ZL & CUT FOR 3790 (my first array on phone band ever!)

Just finished tuning up the CVA array. When you compare this to phasing a 5 el 80M delta loops, the CVA is relatively easy to do. It is an intuitive array to tune.
You have more than 50 ohms? Cut the verticals; you have X positive? shorten the horizontals. Got myself an Autek VA1 (dont know why i bought the RF1 before; works great but the VA1 gives you direct sign of X), and along with the Array Solution VNA2180 vector analyzer it's been a breeze.

Already seeing big rx sig. difference over the phased dipoles all without the dipoles noise. The extremely low rad. angle of the CVAs makes for almost nil NA local QRM.

Naturally, the CVA has no need for radials; imagine six verticals without ground wires.....

The Aussies, New Zealanders, Japaneses all come in already and the coming cold weather will bring me in to make some noise!
Already working on the next project: an 80M corner reflector, with a six element CVA at its focus. The two 1000ft hilltops on the property have a natural sloping corner to sea water. It starts at 800 feet wide and opens up 5000 feet away at the salt water river to over two miles wide. It should actually be better than a regular corner reflector, being on a slope in the desired direction.
When in VE7 land, i put up a corner reflector but not of this size and with only 3 el CVA over a swampy area. Worked great, but quite a job to erect! That will be nothing compared to the magnitude of this coming corner reflector. Having learned from that set up, should save me big labor.
This setup will not be quite obvious and I will surely get shares in Wireman or other cu wire supplier in the building process! If you have done work with such an array, I'd like to exchange notes.
But for now, watch for my signals at the bottom end of 80M CW, early afternoons! (1700Z on)
VA2GU ARRAY PHASING
================================
This text file is a companion to the ARRAY PHASING program developped by VA2GU; you will find below the 10 steps used in the design of your multi element dream array.

The 6 programs referred to in this article are: (these programs can be accessed via HRLABS.NET website)

1. VA2GU ARRAY PHASING1.XLS
is a spreadsheet file that will give you the driving impedances of each element in an array of up to 5 elements.
In the process, it will also produce the mutual impedances of pairs of elements, using two independent methods.
The inputs required are the self impedance of each element, the coupled impedances of pairs of elements and the design current magnitude and phase of each element, that you obtained from modeling the array.

2. VA2GU ARRAY PHASING2.XLS
is a spreadsheet file that will convert polar (46.8, -27.2*) values to/from cartesian (rectangular 41.6-j23.4) values. These values may be for impedance, voltage, current or what have you.
This file will also calculate the parallel equivalent of two imaginary numbers (like 2 parallel complex impedances).

3. VA2GU ARRAY PHASING.XLS
is a spreadsheet integrating VA2GU ARRAY PHASING1 and 2.

4. PHASE MUTUAL Zij.TIF
is a tag image file that you find in all litterature including ON4UN and ARRL Antenna books. It gives you on the Y axis, the mutual impedance value AND SIGN of two elements, when spaced by the value on the X axis.This is what you use to chose the sign of the mutual impedances obtained from the spreadsheet above.

5. LAWLUM.XLS
is a spreadsheet program developped by Robye Lawlum W1MK and is used to find the L network components required to match all the elements' feedlines ends; these components give you a same voltage value at those points allowing you to "short" out all those ends to connect a single feeder. Rob has generously provided his program to John ON4UN and is provided as part of ON4UN LOW BAND DXING CD-ROM software. This program is not available on this site for obvious reasons.

6. TLCALC1.xls
TRANSMISSION LINE CALCULATOR is a spreadsheet that calculates virtually all transmissions lines parameters. It is being used here to find stub lengths for L and C in our array phasing components; it is a relatively inexpensive and very available component replacements for actual L and C. The link to get that program:
AA3RL/TLCALC
This page is published by Mike Banz, AA3RL as a service to the Amateur Radio community and makes it available freely.

=================================================

All my research has pointed to the absence of practical information and programs for generalized horizontal array phasing.Almost all of the published works, articles and programs available are for nearly idealized array of elements having the same self impedance and are directed in majority to vertical arrays.My 20 degree sloping location 1200 feet from sea water, required the use of horizontal arrays because it provides lower radiation angles than vertical arrays; but this takes exception from my CVA closed vertical array, requiring no radials..
The VA2GU ARRAY PHASING SPREADSHEET CAN BE USED FOR horizontal, vertical OR any phased ARRAYS, USING NON-IDENTICAL ELEMENTS' SELF IMPEDANCES, as well as for those "idealized" arrays,

The ARRAY PHASING spreadsheets are automating the calculation of the driving impedances and network components required, when phasing up to 5 elements of any vertical, horizontal or any other types of arrays that can be put up with or without artificial ground.

In addition, ARRAY PHASING provides 2 methods of proofing your phasing measurements and calculations, gives the parallel value of 2 complex numbers (2 parallel impedances) and provides conversions of polar to/from cartesian (rectangular) values. This information will also be used in the design of your array.

You can appreciate the power of such a spreadsheet program if you ever had to find the square root of imaginary numbers (never mind squaring, multiplying or dividing them) and having to convert cartesian to/from polar values.
It's fine to manually do it once or twice (I had to do it to proof my spreadsheet formulas) and you probably can find one or two sets of values per day, hoping not to make a math error in the manual calculations.
But imagine phasing 2, 3, 4 or even 5 elements and having to do the math a dozen times every day for a week or three, while erecting/phasing the array!!! The spreadsheet does it without error, in the time it takes to input the raw data.

This spreadsheet was not invented by VA2GU, but has been derived from a considerable research on array phasing matters, including but not limited to the theoretical works, papers and proceedings of Dr. John Krauss W8JI (sk), Balanis and several other authors on array phasing.

References, manuals, software programs, practical results and spreadsheet program from W1MK (Robye Lawlum), ON4UN Low Band DXing, ARRL Antenna Book, N6BV writing for the ARRL, AA3RL Transmission Line Calculator, Seeds Solutions Coax Matching and Logisoft Advanced Calculator were consulted and some are being used; I must also mention the invaluable practical articles from Forrest Gehrke K2BT.

Many other hams web sites were visited and their published articles in Ham Radio, QST, Antennex and other periodicals were read to make sense of the electromagnetic theory available to date.It has not always been "friendly" readings and many publications have very limited practical applications; so you have to know enough not to use some of those articles in a general approach to array phasing.But in the end, the final results have made those many research hours well worth the efforts. Have fun and see you on the air, mostly CW naturally.
+++++++++++++++++++++++++++++++++++++++++++++++++++++++++++++++++++++++++++++++
10 STEPS FOR THE DESIGN OF ANY 1 TO 5 ELEMENTS PHASED ARRAY (with notes added in oct 2016 after phasing an 80m 4el vee beam to JA)
The Referered to .xls programs below can be accessed via my website HRLABS.NET 
   
1. SELECT YOUR DESIRED BEAM DIRECTION, ARRAY GAIN AND FRONT TO REAR GAIN FOR THE PHYSICAL ANTENNA LOCATION SELECTED.
2. SELECT THE ARRAY THAT WILL PROVIDE THOSE CHARACTERISTICS, C/W A FIRST CUT ELEMENTS DIMENSIONS AND SPACINGS.
3. ESTIMATE THE HEIGHT OF YOUR ARRAY OVER actual GROUND.

   NOTES:
   If an artificial ground, such as ground screen, ground plane or radials is used, be aware that your actual antenna height will be different in winter/summer (wet/dry ground). In my case, the array is located on top of a hill peak with practically no soil (max 12" in some locations) and granite rock forming the actual ground. Winter to summer electromagnetic ground varies by over 20 feet; the antennas here are higher in summer by that amount with the result that i have to provide two sets of phasing network components for the phased arrays erected.
4. MODEL THE ARRAY FOR CURRENT MAGNITUDE AND PHASE, ELEMENTS DIMENSIONS AND SPACINGS.
5. ERECT EACH ARRAY ELEMENT AND USING A VNA, precisely MEASURE THE SELF IMPEDANCES TO CONFIRM THE MODEL RESULTS.
Rerun the model if necessary with new ground heights and other "estimated inputs" to reflect your actual array.
The precision of these initial readings are necessary, if you are to get the correct values of network that will give you the desired current mag. and phase (and produce the designed gain and directivity pattern).
   NOTES:
 Autek's RF1 and MFJ cannot be used since they lack the precision in R AND Xj values.
I must say that Autek's VA1 is as close as you can get, without going to a VNA.
   I use my Autek to get me in the ball park and to regularly make a rough check of where i am when running the VNA program, but is useless in providing the precise data required in the spreadsheets. I know of the MFJ and it suffers the same limitations (I'D SAY EVEN WORSE THAN AUTEK'S VA1, CUZ IT DOES NOT SHOW SIGN OF X). The VNA I use, is from Array Solutions, model nr 2180; the AIM 4170 would also do.
http://aim4150.proboards.com/index.cgi?board=analyzer

 Other VNA's I'm aware of,  would probably do the job, but i do not have personal experience and cannot vouch for them.
    When putting up multi elements, the self impedance of each element must be mesured without any other element "present", or up. You can actually open the base of other verticals and/or open circuit the center feed point of dipoles or loops (but without coax connected to that feed point, because that coax may convert an open end to other than open circuit at the antenna). Best is to lay other elements flat on the ground, if practical.
6. ERECT 2 ELEMENTS AND MEASURE THE COUPLED IMPEDANCE FOR EACH PAIR OF ELEMENTS IN THE ARRAY, WITH OTHER ELEMENTS "NOT PRESENT". See notes on the spreadsheet "VA2GU ARRAY PHASING1" accessed via HRLABS.NET  website. Note that the reactance value of a given element will always get larger as it is coupled to another element (becomes more inductive).
7. FROM "VA2GU ARRAY PHASING1" SPREADSHEET, SELECT THE MUTUAL IMPEDANCES (M12....M54) SIGNS AND VALUES PER "PHASE MUTUAL Zij.TIF" FILE (see notes below), REINPUT IT IN THE PROPER SPACE ON THE SPREADSHEET AND USE THE RESULTING DRIVE IMPEDANCES.
These values will be used in the next 2 steps to calculate the phasing network components that will produce the designed current magnitudes and phases in each element of your array.
   NOTES:
   If you have less than 5 elements in the array, you must input values for the mutual values of the missing elements; use a very large value say 100000 for the R in the selected missing mutual impedance and 0 for the X. Otherwise you get a divide by zero calculation for the drive impedance calculations and erroneous drive impedance values.
ARRAY PHASING spreadsheet provides several ways to confirm that your measurements were accurate and were inputted correctly.
Mutual impedance sign + or -? Since we have to extract the square root of a complex number, the result is either positive or negative. You have to select the proper sign, from the mutual phasing curves (PHASE MUTUAL Zij.TIF) that have been derived mathematically in the litterature.
The curves are two damped sinus integral curve, where  both the real and imag. parts (resistance and reactance) go through the zero axis, as a factor of spacing in wavelength between pairs of elements. It extends to infinity, but practically past a half wave spacing, the coupling becomes very small; BUT IT IS VERY IMPORTANT THAT YOU SELECT THE PROPER SIGN, IN ACCORDANCE WITH THE CURVES TO OBTAIN THE PROPER VALUE OF DRIVING IMPEDANCE FROM THE SPREADSHEET. THE SPREADSHEET WILL NOT DO THAT FOR YOU.
This coupled impedance is a key factor in obtaining the proper mutual impedance and as a derivative, the correct drive impedance.
So listen well here: past a half wave spacing, and even at half wave spacing, the coupling becomes very small. But the coupling will always be inductive, i.e. the proximity of another element will always add to the inductance of the element studied.
IMPORTANT NOTES:
           A. For mutual coupling between two elements, first we must measure the effect of that coupling from only one element at a time "in the circuit", with other elements open. We must repeat this coupled measurement with each other element coupled, one at a time.
EXAMPLE: We measure Z12, Z13, Z14 AND Z15 for element one. Repeat this for all elements, up to the last element Z51, Z52.....Z54.
           B. Be very precise here, as this will be used to calculate the MUTUAL COUPLING of all elements coupled to each element in turn. This is what is called M12, M13....M53, M54 on the spreadsheet. This magnetic coupling from all elements to one element cannot be measured easily, so must be calculated. These Mxx calculations are the ones where you use the "PHASE MUTUAL Zij.TIF" curves graph, nothing the sign of R and X in relation to the elements' spacings, in your choice of the proper mutual calculations.
           C. You will probably note that if you run a recycle of a given "COUPLED" measurement and it is windy, it will not be rock steady and the X may swing from -29 to -69 easily; expect some variation also on the R readings. I've found out it is best to look at it for a number of cycles and use the average of what you have observed.
           D. You may have to practice a bit in taking all those readings, so you are more efficient (faster), because it is preferable to make the self Z and coupled Z readings within the same day. Different days, may have some moisture or snow on the ground, which will surely change your readings.
           E. My elements measurement points are all high up a tree or tower. So i have calibrated pieces of 1W coax to the frequency of interest, from each element's feedpoint to a central location on the ground. When the F/l is open, the length of coax does not affect the other measurements and it can be shorted right at the F/L end point for coupled measurements.
These 1W pieces of feedline when properly calibrated, can be used to put your current measurement toroids there for phase and magnitude readings, after phasing the elements.
           F. I actually originally made these 1W F/L the ones I would use for final drive feedlines and cut them all to resonate at 3785kc, where I wanted the array to resonate. After phasing was completed, I was able to use self Z and mutual Z readings taken at the ends of those F/L and put my current toroids there, to measure the phases/magnitudes.
Those toroids readings are fairly accurate vs the actual elements' readings, if you calibrated your lines 1W long. My measurements showed worse case of 5 degrees phasing errors and less than 5% magnitude error, between top and bottom F/L readings. If you want to be more precise, you can put a toroid in each antenna element and another one at the end of each F/L to verify the accuracy of the bottom F/L readings.
           G. If within the positive and negative square root calculations of the mutual couplings (M12, M13, etc) you do not see a value with the signs required by the .TIF curves for the spacing, you may have to adjust the particular X reading you measured for that coupled reading; example, if Z22 was 108-22.5j, and the measured Z25 was 106-22.8j, make it 106-22.4j (i.e. swing the X value of Z25 to the other side of the Z22 X reading of -22.5j). Remember how those readings were swinging as you took a stab at it? This may occur with the wider spacings, since the coupling is very loose (low).
 8. WITH THE RESULTING DRIVE IMPEDANCE OF EACH ELEMENT IN YOUR ARRAY YOU GOT IN THE PREVIOUS STEP, FIND THE VOLTAGE MAGNITUDE/PHASE AT THE PHASING BOX END OF THE COAX FEEDING EACH ELEMENT. THESE VOLTAGE VALUES MUST BE MADE IDENTICAL TO THE REFERENCE ELEMENT VOLTAGE AND PHASE, SO WE CAN CONNECT THEM TOGETHER. These converted values will be obtained by the LC network components calculated in the next step. The phasing box feedline end voltage/phase of each element will be obtained with a program bundled with ON4UN book.
    NOTES:
          Use ON4UN's "COAX XFO/SMITH CHART OPTION#2: CABLE PROGRAM C/W CABLE LOSS" or ON4UN's "IMPEDANCES, CURRENTS AND VOLTAGES ALONG FEEDLINES" OPTION #2 for real cables to find the I or V at the phasing box end of feedlines, by plugging in the coax characteristics (i.e. F/L db loss, VF, length and impedance); if you dont know these feedlines characteristics and own a VNA2180 or AIM4170 from Array Solutions, use the "REFER TO ANT" option; this option allows you to obtain your f/l characteristics by making some assumptions of your feedline.
         Your elements are going to be fed with lengths of coax, long enough to reach the phasing box. Those lengths of coax and their Z can be anything you want; but you have to find out what the current (or voltage) and phase will be at the end of each of those lengths, in the phasing box. These values are required to find the LC phasing components required for each element to produce a common current (or voltages)/phases equal to those of the reference element's feedline. For the reasons mentioned above, I prefer to use all 1/2W or 1W feedlines to each element.
9. USING W1MK's lawlum.xls SPREADSHEET FOUND ON CD-ROM BUNDLED WITH ON4UN LOW BAND DXING BOOK, FIND THE ACTUAL PHASING LC NETWORK VALUES.
These LC components are used to match the voltagess/phases obtained in the previous step, to the voltage/phase of the element with zero phase angle (the one you selected as the reference element); this will allow you to physically connect all these elements' ends in the phasing box. This program will also give you the end impedance at the output of the network components of each element at this common point.
    NOTES:
         This reference element can be any one in the beam; your shack may be physically closer to the first, middle or 5th element. Take any one for reference to calculate your LC components of the other elements, allowing you to tie those same voltage/phase ends in your phasing box. The resulting combined impedance will be the value of combining up to five impedances in parallel (if you have a 5 el. array).
         You might have to select another element for reference (the zero degree ref. element), if you find that the resulting LC values are impractical. You may also find out that reversing the polarity of one element vs the others, may also help in getting more practical LC phasing components values (this actually gives you an instant 180* phase shift in that element, in addition to the shift provided by the LC phasing components of that element).
10. NOW FIND THE PARALLEL EQUIVALENT Z OF ALL THOSE IMPEDANCES, USING THE "VA2GU ARRAY PHASING2" SPREADSHEET PROGRAM AND FIND THE LC COMPONENTS REQUIRED TO CONVERT THAT EQUIVALENT Z TO THE Z OF YOUR COMMON FEEDLINE TO THE TX, USING "LAWLUM.XLS" SPREADSHEET.
    NOTES:
         For caps and inductances, you can replace actual components with suitable length of coax (stubs) having open or closed ends, (and even wind simple coils), to prove your design. It's cheaper and easier to get another piece of coax when your calculations show you need different values of L/C.  This is where I use the TLCALC1.xls spreadsheet.
After your design is stable, go ahead and spend the money if you want and get "neat" and "real" components. This is liable to impress your wife or ham friends (if you need that kind of encouragement..... :).
Now, you're going to want to measure the magnitude and phase in the elements of your array. A simple circuit using a ferrite core, will show you those values at the other end of a length of coax on a multi trace scope.
Such a circuit is shown in ON4UN's book; i have used a mat'l 43 core, with 3/8" dia. hole. I wind ten turns of small gauge wire and run the antenna wire through the doughnut hole, for the primary. I made all lengths of coax equal to or multiples of one wave, so I dont have to worry about coax phasing errors.
I have terminated both ends of the coax with the characteristic Z of the coax. I used 100 ohms coax RG62, but terminated it with 75 ohms non inductive R. Calibration of all core/coax circuits were done by putting all the cores through the same element and looking at all the scope channels for the same readings. If you are not inclined to climb back up to the center of each of those elements, you can use the method described in note E of step 7 above.
============================================================
NOW FOR THE 5-80M LOOP ARRAY PHASING UPDATE (10 DEC 2010)
Now that the snow covers the rocky top, the impedances of the 5 loops are back to what they were last winter. Phasing of those 5 loops has now been completed (Jan 2011) and below is a retouched jpeg of what it would look like if one could see all the wires.
10 MAY 2010
It's been a very QRL past two months, every time the wx was clement enough to permit outside work.The five loops are up and already been tested with 1 inch radial ice and 100km winds even before they were ready to take those elements.The ice broke a 5/16" bolt holding one end of the rope supporting the array. The 1/4" poly rope came to a rest on top of the tower, bending one steel top tower leg....
You can see the rope through the ice. The loops wires looked just like that.This was not a pretty sight. The loops have been designed to melt the ice before it builds up, but the circuits were not connected yet. I will pass 20 amp. ac in each loop, hoping that the 1200 watts will be enough to keep the ice from forming; this has to be proven yet.
The phasing is quite a challenge in itself. The first self and coupled impedances values were taken in February, with over 6 feet of snow on the rocky top.Now without snow, my antennas are looking to be over 25 feet higher!!!This changes all the LC phasing network values and the frequency of resonance. As a consequence, it looks like i will have to design two phasing networks; one for summer "high" loops and one for the "winter impedances".
The standard litterature from ON4UN, ARRL ANTENNA HDBK and 99% of the other phasing information, gears to the "standard" arrays of verticals with a mesh (a mess??) of ground radials or for wire beams, applies to elements that have the same self impedance and "curve standard" mutual impedance.
If you want to maximize your array performance in practical applications,you cannot use that information other than just as a starting point to get to your results.
So, for this 5 element delta loop wire array, I had to become a little phasing smarter. I wrote EXCEL programs accounting for all non standard variables and to automate the complex numbers calculations that gives you the elements' drive impedance.The formulas and tables thus generated can be used for any practical, non-idealized array of verticals or horizontals from 2 to 5 elements. I have also assembled 3 independant methods to verify that the measurements are accurate and that the values you have selected for mutual impedance, are the correct ones.
Later this summer i will post on my web site (hrlabs.net) the programs, developments and a summary of all my research/readings, used for calculating/designing my array.
So i started with phasing only three of the five loops (o/c the others)
- modeled the array to get phasing and drive Z values;
- measured constantly changing loops' self and coupled Z using a dual port VNA2180 from Array Solutions (a great toy!)
- calculated the phasing components,
- wound the phasing coils;
- cut capacitive reactance stubs (saves using actual expensive HV caps),
- built loop drive current sensors for the 4 channel scope and
....guess what? Yesterday (9 may), the scope readings showed me this:
2212First cut, got the calculated phase and current ratios!
Beginners' luck.Was strange to see the traces dancing around with the strong blowing winds yesterday,
With these positive results, phasing horizontal beams for JA, VK/ZL will become a little routine and finishing tuning the 5 loops will be less nerve racking now that i have corrected most mistakes.
If you intend to try your hand at it, drop me a note; will try and help as my qrl summer season develops.
 =====================================
2010
Okay, a brief update today 28 March. The five 80m loops are up, hanging between the two 85' towers and tuning is underway with VNA2180 and 4-ch + 2-ch scopes.
This rope supporting loops replaced the 160m OCF dipole.
I'm becoming disenchanted with that band and dont know if i will ever hang something up for it; i like ragchew and could care less if i can beat the other guy 599/73's with a big signal.
I took pix ot the array, but since the wire is bare 14ga copperweld (to minimize wind drag), you see nothing but landscape. I even had trouble seeing the elements to verify apex angles and individual loop orientation. The five elements cover 300 feet from loop1 to loop5 and the base in the woods (14ga flexweave insulated) spread 130 feet.
It has already widthstood my average wind storms and the design i made to hold the apex, seem to be okay so far. Hate to have to take this down in the woods.
I'll post details later as i get time.
Okay, a few pix showing the way i got to this point on my antenna farm.
+++++++++++++++++++++++++++++++++++++++++++++++++++++++++++++++
OCTOBER 2009 UPDATE:
Have now finished the log house exterior and inside infrastructure.
But most important is that there are now three towers erected and decorating this 1000 foot hill. Two 80ft, one 65ft and several pine trees are now supporting an array of wires (about 1/2mile of wire so far):
160m OCF 1/2 wave dipole E/W, 80m 1/2wave dipole N/S, 2 horizontal 1/2 wave wire phased dipoles E/W, 80m 3 element E/W vertical array CVA (NO ground wire or GP required!!! see my web site hrlabs.net), 40m 5 element E/W vertical array CVA and 1200ft E/W dual wire beverage.
The 2 phased dipoles are the first instalment to a full 4 phased element dipoles, phased to maximize the gain in both direction and not necessarily max f/b; started experimenting with wire yagis, but due to the terrain ground (granite) and varying heights, it was soon realized that forcing the phase and currents were going to be more efficient and easier. Using the new VNA 2180 dual port vector network analyzer from Array Solutions, gave me the flexibility to play with the phasing from inside the shack, as if i actually am at the antenna junction.
The best performer so far is the 1/2 wave 80m N/S dipole. For some reason it outperforms all other antennas in any direction, except for the low angles dx, JA, VK types. I explain this because it actually shoots directly into the gulf of St Lawrence river (N-N/E direction), some 3000 feet away; it is salt water here, all the way to the European continent.
Also, the CVA vertical array is the quiestest of all, even beating the beverage. This is due to its short circuit arrangement, using horizontal phasing wires across the vertical tops and bottoms .
Have so far beaten my last year best of early dx by two hours, standing so far at 1820Z; and dx season has not started yet.....
A problem exists when dxing this early. There are no NA stations getting into Europe at these hours, so my call is confused with VU2GU or UA2GU!!!!!
I now own a mike :( and have put in the SSB adapter in the K2. This was done to chat with my non cw close neighbour!
Stay tuned, more u/d and pix later.
++++++++++++++++++++++++++++++++++++++++++++
ORIGINAL TEXT FROM 2005
Have moved from BC last April (2005) and now operating sandwiched between three 1000 ft hills, but from the bottom. This summer, the operations will continue but from the top of one of those, overlooking the St. Lawrence river, near Tadoussac. My previous call was VE7SW and my hobby site has been updated to show recent happenings. Hobby site is on hrlabs.net; it reports the various experiments i made while operating in BC using wire arrays (CVA, Closed Vertical Arrays, similar to bobtail, but different feed system).
Take a look at it, uses wires only for verticals, needing no radials or phasing to operate; no special feed system like the bobtail; only needs your 50 ohm coax. Generates extremely low angles for dx, using low antenna elevations. Have made considerable AO/NEC simulations and at one time, have had over 10,000 feet in copper wire in the douglas fir trees.
Once on top of that hill, my signal should improve. The reception from the bottom is great, even better than from the hills of BC.
2007/2008 UPDATE:
VA2GU is now partly operational from the top, with limited antenna capability (80m dipole hung up between two pines at 8m above the rocky top). Signals are just ..... what they should be, that is you hear everything and the noise is nil (S4 with almost 90db of TR switch and K2 preamps.
Have already worked JA, VK, 9V1, etc on 80m CW, both LP and SP. (I do not own a mike and the K2 does not have the SSB option).
My main objective in moving from VE7 land was to work DX 24-7, 365 days of the year. LET ME REPHRASE THAT: WORKING DX ON 80M 24/7 365 DAYS OF THE YEAR.
Some (or all?) of you will laugh, but that wont deter my resolve.
Signals have started coming in ON 80M at 11AM local time since I started listening, begin Nov. 2007 and I have been able to work EU ON 80M from noon on, since then. The days i dont hear signals seem to be more due to the lack of stations rather than signals not coming through.
I have strung a 2000 foot poly line between the two 300m tops on the property. This hangs an average of 275 ft above the valley below. Pix above is the view from the site through the antenna, aiming 120 degrees (vk-zl LP direction).
Am in the process of running the 1500ft of HB open wire line to the valley and will hang a 3el phased 80m CVA from it this winter-spring.
Next summer will also see finishing the hb log house (now closed for winter) and erecting two 80ft towers. These will have 275ft separation and will support a 3 el phased CVA for 80m and a half wave 160m dipole. This 3 el CVA will be phased with another 3 el CVA, 55ft away and hung low between trees for an extra 3db gain at 120-300 degrees. Handy that CVAs do not need radials.
Up here the winds are fierce and trees all slope to the NE and have very few branches on the SW sides!!!!
125 year old pines are 35 ft tall and have a trunk dia of less than 12 inches. VE7 trees are correspondingly 150 feet tall and 36in dia..... or more.
I like to operate cw at a good clip and prefer to rag chew rather than rst-73-cul.
(ZL4GU where are you?) If you call CQ on 80m at 1800Z or before, beam NA; chances are I'm answering.
CU on the air, CW exclusively.
++++++++++++++++++++++++++++++++++++++++++++++++++++++++++++++++++++++++++++
80M LOW WIRE ANTENNAS FOR DXING
This section will show you can also dx, by merely using 20ft high trees/poles for supports.
Also below, i will show you how to use your 4 vert supports of a 4 square to get greater gain and lower angles than a 4 square; all this:
without radials
without phasing Comtek box
without special lengths coax

80M DX WITH "LOW" WIRE ANTENNAS (LOW MEANING 7M/20FT HIGH)
=============================================================

So what is your excuse for not doing dx on 80m?
If you only have low trees that will be just fine!
A simple dipole will just warm up the clouds, but phasing two of them will get you a lot of dx; i mean over 4000 miles/6500km.

PHASING IS NOT MAGIC AND VERY EASY TO IMPLEMENT. NO FORMULAS TO CALCULATE AND NO PHASING NETWORKS REQUIRED. YOU ONLY REQUIRE A TOTAL OF ABOUT ONE WAVE (260FT/80M) ANTENNA WIRE AND 1 1/4 WAVE (325FT/100M)COAX.

1. SELECT 4 TREES/SUPPORTS (20FT/7M WILL DO NICELY) TO PUT UP TWO HALF WAVE DIPOLES
(note: if your wires will be rubbing on tree branches, use Flexweave or other insulated stranded wires; if you use copperweld
DO NOT USE THE STRANDED TYPE; THE INDIVIDUAL STRANDS WILL RUB ON EACH OTHER IN THE WIND, AND TAKE OFF THE LITTLE COPPER COATING THERE IS; CONDUCTIVITY WILL GO BAD, IT WILL THEN RUST AND BREAK).

2. SEPARATE THE TWO DIPOLES BY MINIMUM 35FT(11M), MAXIMUM 70 FEET(20M). (note: this will affect only the f/b mostly. Max gain is at the higher separation, max f/b at the min.)

3. TRY TO TUNE EACH DIPOLE alone TO RESONATE AT THE QRG YOU WANT.

4. USE A CURRENT CHOKE AT THE ANTENNA, (you can make one by winding 8 to 10 turns of coax 8 inches(20cm) in diameter)

5. FEED EACH DIPOLE TO THE SHACK USING 1/2 WAVE OR MULTIPLES OF 1/2 WAVE COAX: about 90 to 110 ft depending on the VF of your coax (this includes the coax you use to make that current choke)

6. IN THE SHACK, JOIN THOSE TWO COAX ENDS WITH A SIMPLE "T" FITTING; BUT.....

7. NOW THE TRICK IS TO PHASE THOSE TWO DIPOLES; SIMPLE. CUT A LENGTH OF COAX ABOUT 130DEGREES (70FT) AND INSERT THAT COAX PIECE IN SERIES BETWEEN THE "T" AND THE COAX GOING TO THE ANTENNA WHICH IS CLOSER TO THE DX YOU WANT TO WORK.
note: this coax phasing line should theoretically be 90 degrees; but i find 120-130 degrees gives me max. gain, but not necessarily max F/B. Also be aware that the calculated length of degrees c/w velocity factor considered, may not give you that phase angle; this will happen if your antenna impedances are not the same impedance as your F/L; in this case, you may want to use a scope to verify your phase, or experiment with different lengths noting signals or noise.

8. NOW IF YOU WANT TO REVERSE DIRECTION, SWITCH THAT PHASING LINE TO INSERT IT IN THE OTHER END OF THE "T" GOING TO THE OTHER ANTENNA.
(note: i use a cheap knife switch to change directions fast and check f/b easily)

Here below are the AZIMUTH/ELEVATION graphs showing the differences in the gain and elevation angles between your cloud warmer (simple dipole) and the phased array (phased array may sound like impressive words; but they only mean two pieces of wires (antenna) connected by 2 different lengths of coax...)

You can see a 5 db difference FROM 2.5 DEGREES TO 30 DEGREES (YES I MEAN 2.5 DEGREES!) ; this may not get you a booming sigs in JA/VK, but sure to get you strong rx dx sigs and be heard by those your hear.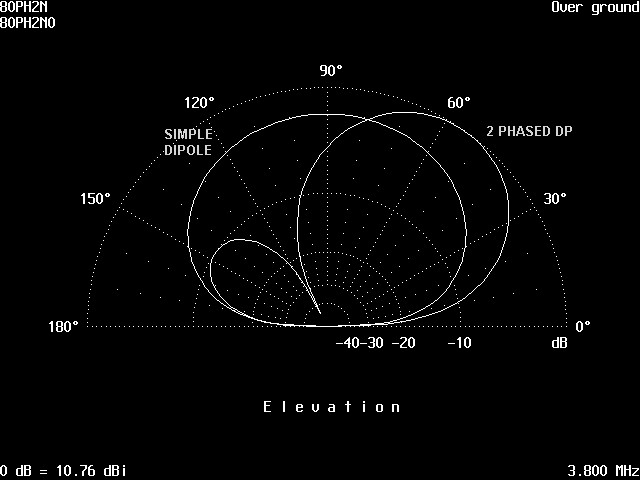 CVA BETTER THAN A 4 SQUARE WITHOUT RADIALS, COMTEK PHASING BOX,.....;.


4 SQUARE ARRAYS I SAY: "...BURIED WIRES DO NOT RADIATE VERY EFFICIENTLY; BETTER PUT THEM UP IN THE AIR!!..."

...but you can use those 4 nice towers (from your 4 square!) as supports for an array of 6 verticals with gain and elevation angles superior to the 4 square; AND I AM TALKING ABOUT 80M AND 160M FOR OPENERS. Other bands get even easier.

BESIDES, guess what?

-NO RADIALS REQUIRED ANYWHERE (the wife will like that!)
-NO COMTEK BOX OR OTHER PHASING NETWORKS ($$$$)
-NOT EVEN ANY PHASING COAXIAL CABLES

----AND MOST IMPORTANT
1. YOU CAN FEED THE ARRAY anywhere! TOP, BOTTOM, MIDDLE OF any OF THE VERTICALS.

2. TUNING IS NOTHING COMPARED TO TUNING YOUR 4 VERTICALS TO BE IDENTICAL AND
3. YOU WONT HAVE TO SCRATCH YOUR HEAD TO FIND OUT WHY THERE IS SO MUCH "Z" VARIATION THROUGH THE SEASONS.

I call the array a CVA (Closed Vertical Array), sort of a shorted bottoms bobtail BUT WITH 50 OHMS IMPEDANCE.
The CVA has all the advantages without the negatives of a bobtail (like 2000 ohms Z).

It works I know, for having used it since the early 1990's in my VE7 days and still using it up on this hill.

I wont go into great details since you can find all design data on my web page
http://www.hrlabs.net

If you want to try it and have any problem, drop me a note; i'll be glad to help.

But just to whet your appetite, i've run an overlaid plot of a 4 square and the CVA array for elevation and azimuth, in both rectangular(cartesian) and polar plots.

Notice the 10 degree elevation gain of 2 db over the 4 square.