Le CRAQ et son histoire
Par François VA2RC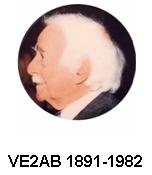 Bonjour à tous! Vous trouverez ici un texte qui résume l'histoire du CRAQ, qui a maintenant 90 ans. Ce document saura sûrement vous apprendre une facette plus ou moins connue de notre club. De plus, vous trouverez des informations sur le fonds d'archives de votre club, que vous pouvez consulter aux Archives de la Ville de Québec.

Alexandre Larivière, ingénieur de profession et l'un des fondateurs du Club Automobile de Québec, et un groupe d'employés civils, créent, le 23 mars 1926, le Radio Club de Québec, incorporé en vertu de la Loi des clubs de récréation (S.R.Q. 1925, c. 2570) sous le nom de " Radio Club de Québec et Radio Club of Québec ". Il sera rebaptisé, le 18 décembre 1978, Club Radio Amateur de Québec inc. (C.R.A.Q.).

L'objectif principal, mis de l'avant par les fondateurs, est de promouvoir les intérêts des amateurs de radio de la cité et du district de Québec. Notons aussi que le Club a pour mandat de travailler au développement de la science de la radiophonie. Comme la radiodiffusion en est à ses débuts, les membres font face à des problèmes de réception tels des interférences et des bruits parasites. Ayant son siège social dans le district de Québec, le Club comptait déjà 300 membres en 1928 et tenait ses assemblées à la salle du Recorder de l'Hôtel de Ville de Québec. C'est dans cette même salle que l'on fêtera, 60 ans plus tard, l'anniversaire de la fondation du Club. Pour répondre aux besoins de ses membres, le Radio Club de Québec demande, dans les années 1930, la nomination d'un inspecteur de radio à Québec. Il participe aussi à la Commission Royale d'enquête sur les modes de contrôle et d'opération des stations de radiodiffusion du Canada.

Avec l'arrivée sur le marché de récepteurs plus modernes et l'établissement de services d'entretien et de réparation par les vendeurs, le rôle du Club tend à diminuer, de même que l'intérêt de ses membres. C'est à ce moment que le Radio Club de Québec change un peu de vocation. On retrouve dans ses rangs un nouveau type de membres : des amateurs licenciés possédant des stations expérimentales. De ce fait, la mission du Club est modifiée. Il s'agit maintenant de regrouper les amateurs de la radio, de promouvoir et propager leurs intérêts tout en favorisant leur habilité technique et leur culture. Pour ce faire, le Club aide ses membres dans la construction, l'entretien et la mise en fonction d'appareils expérimentaux. C'est aussi le rôle du C.R.A.Q. de tenir les membres informés sur les nouvelles technologies. Ceci est vrai sauf pour ce qui est de la période de 1939 à 1945, où le Club cessa pratiquement toutes activités en raison de la guerre.

Outre l'importance de faire avancer la radio amateur, le Club tient des conférences, produit un journal d'information (CIRCUIT), de même qu'un répertoire des radioamateurs (bottin). Membre de Radio Amateur du Québec inc. (R.A.Q.I.), l'association officielle des radioamateurs du Québec, le Club offre annuellement le trophée-mérite Alexandre-Larivière en l'honneur de celui ou celle ayant le plus fait avancer la radio amateur et le Club. En plus, de multiples activités, comme les réseaux quotidiens, le " Fielday " annuel et le " Jamboree Scout ", le C.R.A.Q. prête ses services à des organismes tels que le Carnaval de Québec ou l'Opération Nez-Rouge, et à des causes communautaires ou des événements importants comme la visite du Pape ou Québec 1534-1984. Lié par protocole au réseau de la Protection civile de Québec, le C.R.A.Q. rend d'énormes services lors de désastres (inondations, incendies, ouragans, etc.) en mettant à contribution les services d'opérateurs radio compétents. Ce fut le cas, entre autres, en 1950, lors des incendies de Rimouski et de Cabano, où les amateurs ont assuré le maintien des communications en partie détruites par le feu.

En terminant, ajoutons que c'est le ministère de l'Industrie qui est l'organisme gouvernemental responsable du service radio amateur au Canada. Il voit à la bonne marche du dit service, gère le spectre radio-fréquence et alloue les fréquences et les licences d'opération. Ainsi, les aspirants radioamateurs doivent passer des examens avant de recevoir leur certificat de compétence en radio amateur, d'où le sérieux entourant ce service.

Ces informations historiques ont été fournies par le Club Radio Amateur de Québec inc. et certains passages sont tirés d'un texte de Bertrand Leblond (VA2BL) sur la radio amateur et le Club Radio Amateur de Québec inc.

Les documents qui composent le fonds d'archives du C.R.A.Q. ont été conservés dans les locaux du C.R.A.Q. jusqu'en 1988. Le 11 octobre 1988, le Conseil d'administration du Club autorise la donation du fonds d'archives aux Archives de la Ville de Québec et délègue Bertrand Leblond (VA2BL), agissant alors comme gardien des documents, à signer la convention de donation et à représenter le Club dans ce dossier auprès de la Ville. Ce contrat, officialisé le 17 mars 1989, prévoit la cession de l'ensemble des archives de toutes natures produites et reçues par le Club depuis sa création et les droits d'auteur qu'il détient sur ces documents. Par ailleurs, le Comité exécutif de la Ville de Québec, composé du maire et du greffier de la Ville, autorise à procéder à cette acquisition par la résolution no CE-88-7439 en date du 16 novembre 1988; ce fonds d'archives répondant aux critères de sélection de la politique d'acquisition d'archives privées de la Ville de Québec.

Du fait qu'il s'agit d'un fonds ouvert, des entrées aux registres des acquisitions ont été enregistrées en 1988 lors du transfert initial de 7 cm linéaires de documents textuels, d'une trentaine de photographies et de deux documents sonores. En 1993, on note un ajout supplémentaire de 58 cm linéaires d'archives textuelles, complètes en 1995 par 43 cm d'archives de même nature.

Le titre du fonds est basé sur l'entité créatrice des documents. Un premier plan de classement et une description partielle des documents furent élaborés en 1992 par Caroline Lévesque, stagiaire au certificat en archivistique de l'Université Laval. Compte tenu de l'état très incomplet du fonds et de notre désir de se conformer aux nouvelles règles canadiennes de description des documents d'archives (R.D.D.A.), ce plan a été revu et corrigé en 1995. Le nouveau plan de classement a été fait selon les grandes fonctions du Club, sauf pour ce qui est des documents architecturaux, iconographiques et audiovisuels, qui sont classés par nature de documents et ce, afin de facilité l'accès aux chercheurs. Pour les mêmes raisons, l'ordre initial a été revu pour les coupures de presse et le secrétariat général.

Vous en savez maintenant davantage sur l'histoire de notre Club.
Club Radio Amateur de Québec inc.
www.craq.club/
Hi everybody!
Here is a text that summarizes the history of CRAQ, since 1926. This document will certainly learn you more insides of our club. In addition, you can consult the archives of Quebec City for finding more details about our activities.

Alexandre Larivière was an engineer by profession and a cofounder of the Automobile Club of Quebec. On March 23 1926, with a group of civilian employees, he created, the Radio Club of Quebec inc. under the Amusement Clubs Act ( RSQ 1925, c. 2570), the name was "Radio Club Radio Club of Quebec and Quebec." It was renamed on December 18th 1978, as we know today "Club Radio Amateur de Québec inc." (C.R.A.Q.).

The main goal, put forth by the founders, was to promote the interests of radiohams in the Quebec City area. Also, the Club had a mandate to work on developing the science of radio phony.  As broadcasting was in its infancy, members were facing some receiving problems such interference and noise. Headquartered in the district of Quebec, the Club already had 300 members in 1928 and held its meetings at the hall of the Recorder of the City Hall of Quebec. It was in this same room that we celebrated, 60 years later, the anniversary of the founding of the Club. To meet the needs of its members, the Radio Club of Quebec demand, in 1930, asked for a radio inspector in Quebec City. They also participated in the Royal Commission of Inquiry into the modes of control and operation of broadcasting stations in Canada.

With the arrival on the market of most modern receivers and commercials maintenance services and repairs, the role of the club decreased, as well as the interests of its members. The Radio Club of Quebec realizes this fact and modified gently his vocation. At this time, a new type of membership arrived: radioham with licenses for experimental stations. As a result, the Club's mission was changed to group the amateur radioham's together, to promote and propagate their interests while promoting their technical ability and culture. To do this, the Club helped its members in the construction, maintenance and implementation based on the experimental devises. The role of C.R.A.Q. also is to keep members informed about new technologies.  Unfortunately, during the war (1939 -1945) the Club ceased virtually all operations.

The Club continuous to hold conferences, produces a news bulletin (CIRCUIT), and a directory of radio amateurs. The Club is a Member of Radio Amateur du Québec inc. (R.A.Q.I.), the provincial association of amateur radio. In addition, the Club offers an annual Lariviere Alexander's trophy in honor of the man or woman who makes advances for radiohams and the Club. In addition, there are many activities, such as daily local net,  'Fieldays' and the annual "Jamboree".  Also, the C.R.A.Q. provides services to organizations such as the "Carnaval de Québec", "Operation nez rouge", as well as community causes or events such as the Pope's visit (Quebec,1984). Officially linked to the Civil protection, C.R.A.Q. provides important services in disasters (floods, fires, hurricanes, etc.) by involving the services of skilled radio operators. This was the case, among others, in 1950, with major fires to Cabano and Rimouski, where radiohams ensured communications and information flow that had been temporally destroyed by fire.

The Ministry of Industry is the government agency responsible for the oversight and regulation of amateur radio service in Canada. The Ministry oversees the smooth running of the radio services and manages the spectrum of radio frequency, allocating frequencies, and licenses for radio operations. Therefore, aspiring amateurs must pass examinations before receiving the Certificate of Proficiency in Amateur Radio, to demonstrate their skills and commitment to become a radioham.

Historical information has been provided by the "Club Radio Amateur de Québec inc." and some passages are taken from a text by Bertrand Leblond (VA2BL) on Amateur Radio and the "Club Radio Amateur de Québec inc".

Documents that make up the archives of C.R.A.Q. were kept to the CRAQ's local until 1988. On 11th October 1988, the Board authorized the donation of the Club archives in the Archives of Quebec City and delegates Bertrand Leblond (VA2BL), then acting as protector of documents, to sign the donation agreement and represent the Club in this process with the City. This agreement, made official on March 17, 1989, authorized the transfer of all records generated and received by the Club since its inception thus the copyrights held by him on these documents. In addition, the Executive Committee of the City of Quebec, consisting of the Mayor and City Registrar, passed Resolution No. EC-88-7439 dated November 16, 1988, to allow official archiving of radioham records and established a fund for ongoing preservation.

This is an open fund and the entries in the registers of acquisitions were recorded in 1988 during the initial transfer of 7 cm linear of textual records, thirty pictures and two sound files. In 1993, another 58 cm of linear textual archives were added, followed by another with 43 cm in 1995 of the same kind of record.

The fund's title is based on the creative entity documents. A first classification plan and a partial description of the documents were developed in 1992 by Caroline Lévesque, Certified Internal Archivist from Laval University. Because the very incomplete state of the fund and our desire to comply with new Canadian rules for describing archival documents (R.D.D.A.), this plan was revised and corrected in 1995. The new classification scheme has been done according to the major functions of the Club, except in the case of architectural documents, pictures and audio, which are classified by nature of the documents for facilitating the access to researchers. For the same reasons, the initial classification has been revised for press clippings and the General Secretariat.

Now, You now more about the history of our Club.
Translation : VE2HTO Christian
Club Radio Amateur de Québec inc.
www.craq.club/