I fell in love with ham radio when I was 13 yrs old, in 1958. I took a course at a local 'Y' and learned all the theory and code requirements, but I was too young to get a licence, as you had to be 16 yrs old to operate in Canada in those days. Before taking my test, and while still 16 years old, I entered McGill University to study electrical engineering (B.Eng (Electrical)), but the work was so demanding that I didn't have time to play radio. (In fact, most of my ham radio buddies who hung out at VE2UN flunked out of EE!).
I began my career as a communications research engineer, working for the Boeing Airplane Co. in Seattle, WA, on advanced avionics design for the (never built) US Supersonic Transport aircraft. In 1969, with the Vietnam War raging, and the environmental lobby scare mongering about the dangers of 'sonic booms',  the SST project was shut down, along with many others and, within a short period, over 70,000 people were laid off from Boeing, causing great devastation to Seattle's economy and to people's lives. I took the opportunity to complete an M.S.E.E. degree, specializing in communication and information theory, with a biomedical engineering application. On graduation, I returned to Canada, and embarked on a long and diverse career which, over the years, included museum and world fair exhibit design, multimedia production, software development, education and training, business development, and technology consulting.
I finally got my ham 'ticket' in 1977, and became the sponsor of VE3JW, a demonstration station (with HF, VHF, and slow scan capabilities) at Canada's National Museum of Science and Technology, which I operated as part of my job as Asst. Curator of Communications Technology (eventually becoming the Founding Curator of the Computer Technology Division).
In 1990 I moved to a property where I was finally able to install my first home-based station, which consisted of Heathkit HW100 and Yaesu FT101ZD HF rigs, and some VHF radios, a tower with a TH6 beam at 60 feet, inverted V for 40//80, an AR8 vertical and various other VHF/UHF antennas. I especially enjoyed DX rag-chewing, some CW, and slow scan.
In 2004 I moved from Ottawa to my present location in a rural part of the Thousand Islands region of Ontario, about 20 miles north of the St. Lawrence River / US border. Having scaled back my engineering consulting business I began to concentrate on other, particularly artistic, interests. This soon led to a new (semi-retirement) career as a music teacher  (guitar, bass, flute) in the local community. I did not re-establish my ham station at that time because music, photography, sailing, and flying consumed most of my time and money, and I remained inactive in radio for almost a decade.
In 2013, with the encouragement of my friend Tim (VA3TIC), and XYL Margaret (VE3WIR), I decided to get back into the hobby. I picked up a good used Kenwood TS570D and MC-60 desk mike, and with VA3TIC's skillful use of a 'slingshot', hung an 80-10 meter G5RV antenna up in some large trees, about 80 feet high and oriented roughly NE-SW. I made my first (new) contact on May 30, 2013.
I am amazed at the capabilities of the lowly G5RV! With just the 'barefoot' rig I worked over 90 countries in the first 3 months back on the air. Who says you need to spend a lot of time and money to get on the air and work DX? The technology has improved considerably since I was previously active, and with Ham Radio Deluxe for radio control, logging and DX spotting, it's more fun than ever. I've rediscovered the magic of radio that I felt as a kid!
In November 2013, we installed a 40 foot tower supporting a Mosley TA53M 5 band 4 element HF yagi. It's great to have a beam antenna again, and the country count is rising steadily! I also added a Kenwood TM-V71A 2m/70cm rig, and mounted an OPTEX UVS300 dual band vhf/uhf vertical at the top of the mast. This year I reconfigured and upgraded the shack for more effective operation, adding new shelving, a Bencher Keyer, a Rigblaster Nomic, upgraded the rotor to a HAM IV, raised the beam an additional 5 feet above the roof, and added an HDSDR based panadapter (My Panadapter) mod to the TS570.
Update - April 8-2015: The snow has just about melted, so today Tim (VA3TIC) and I put up a 160-10 meter Carolina Windom antenna, a heavier and more rugged OCF wire dipole antenna that is reputed to have much better performance than a G5RV, and which now adds 160 meter band operation to the shack.
Looking forward to meeting you 'further down the log' !
73 de Ted (VE3KEH / VA3TP)
Note: Our property is located within an area known as the Frontenac Arch Biosphere (FAB).  As stated on the FAB website: "The Frontenac Arch is the ancient granite bridge from the Canadian Shield to the Adirondack Mountains. Its incredibly rich natural environment and history was recognized in 2002 when it became a UNESCO World Biosphere Reserve, part of a world-wide network of 610 Biosphere Reserves in 117 countries. FAB is dedicated to protecting globally important heritage through sustainable community development in an ecologically sensitive region filled with a rich diversity of flora and fauna."
For the past decade I have been photographing this region extensively, from land- and waterscapes, to farms and barn, animals, birds, insects, etc. I have included a sampling of these photos below. I hope that you enjoy them!
Le 'Ham Shack': This is where it all takes place!
The Antenna 'Farm' - Minimum requirements for rural living!
Present QTH, view from lake side. The house sits atop a ridge 100 feet above Gananoque Lake which is part of the Canadian Shield, the rocky remnants of what was once, in the planet's pre-history, the oldest and tallest mountain range on earth.
It was quite a challenge to locate and install tower and the TA53M beam in such a confined space. We had to remove several trees and high branches to make room for the beam to swing.  
Here's Rod 'The Antenna Man' raising the beam an additional five feet above initial installation height. It made a noticeable difference in operating performance!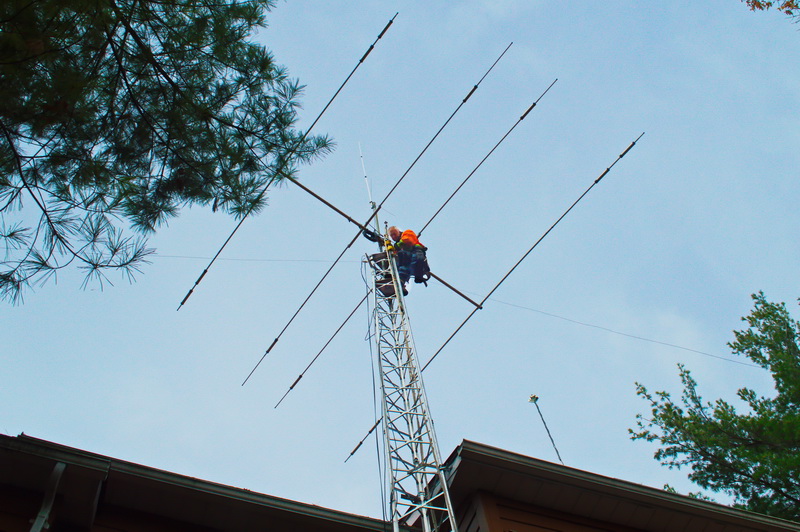 View from the house during spring time, looking down onto Gananoque Lake and XYL Margaret's incredible flower and rock garden.
Same view, in the winter.
Another view of Margaret's Enchanted Garden
My XYL Margaret, VE3WIR ('Women in Radio') (left).       Margaret and Ted at a Scottish Country Dance Ball (right)
Our section of Gananoque Lake on a windless foggy day.
This photo was taken just after Ted (VE3KEH), and Margaret (VE3WIR), both of whom are pilots, flew from Ottawa, Ontario to the Grey Rocks Inn in the Laurentian Mountains of Quebec, on a Cessna 172.
Margaret VE3WIR checking the fuel tanks of a Cessna 150 before taking off on a flight from Rockcliffe Airport in Ottawa.
The 'Sturm Vogel' (Storm Bird), a 38 foot Hughes sloop which we sailed for many years on Lake Ontario, in the Thousand Islands.
For a while we had a 'fleet' of sailboats, the 'Sturm Vogel' (seen here with VE3WIR aboard), and the 'Arcane Lady', a 26 foot Contessa sloop (blue boat in foreground). (That's what happens when you 'upgrade' before you sell your first boat!) Notice the Kingston Penitentiary (now shut down) in the background.
Ted (VE3KEH) and Margaret (VE3WIR) rehearsing in our recording studio.
Our best buddies, Shadowfox (Cairn Terrier) and Sparky (West Highland White Terrier). Both dogs are champions in the sport of Dog Agility, holding ATChC (Agility Trial Champion of Canada) titles. Shadowfox also earned a Lifetime Achievement Award in the sport, the first Canadian Cairn Terrier to reach this level. All credit goes to their skilled handler, Margaret (VE3WIR), for this exceptional feat.
Shadowfox on a 'rip and a tear' around the Agility course!
Mahoud (elephant driver) Margaret (VE3WIR) chauffeurs Ted (VE3KEH) on a trek through the jungles of northern Thailand.
One of our neighbours still plows his fields occasionally using old 'technology' !
We are surrounded by many picturesque farms and barns in our area. This one is typical.
Cows feeding during a snowstorm.
A dramatic Thousand Islands sunset!
A Blue Heron with fresh fish dinner in its beak !
A couple of Canada Geese, just recently returned from winter vacation, floating leisurely by the dock.
Large pileated Woodpecker ('Woody') hammers away at a tree on the property (left). An Osprey sits watchfully atop a Saint Lawrence River lighthouse.
A 6 foot Black Rat snake begins its climb, on its way to raid eggs from a bird's nest high up in the tree. These non-poisonous snakes are a protected species indigenous to this region.
Blue Jay with its furry winter coat on (left). A Robin Red Breast comes to visit in early spring (right).
Sunset over a frozen Landon Bay, on the Saint Lawrence River.