NEWS:
I am currently moving the station 100km north to a rural hilltop location. Internet connection is avaiable for remote operation.
The new station is now QRV. The VE6WZ skimmer is currently active from the new QTH and is sending spots to RBN.
Below are some new links to information about the VE6WZ remote station:
A .pdf file that is a collection of photos of the construction and some HFTA data on the VE6WZ QTH: http://www.qsl.net/ve6wz/Eagle%20Hill2.pdf
A Walking tour: Outside at the VE6WZ remote station: Video
A Walking tour: Inside the VE6WZ remote shack: Video
From the top of the tower: A 360 deg view from the top of the tower: Video
Here is a 3-D panaoramic view of the QTH from Google Earth:   Video
The VE6WZ Calgary city QTH is now QRT.
Name: Steve
Photo above: VE6WZ fishing at his summer home in VE3 (one of his daughters in the background)
Photos below: VE6WZ hiking and skiing in the Rocky Mountains near his home QTH
VE6WZ was first licensed in 1973. His first call was VE3HBX, and he got his Ham license in Ancaster, Ontario at the age of 15. His radio hobby began from an interest in electronics and building countless electronic circuits. The "magic of radio"--listening to DX on home-made sortwave radios--was too much to resist. Getting his Ham License was essential!! Within the first 2 years of being a Ham he had his first DXCC. He graduated from University with a BSc in Geology and has worked in the Oil and Gas exploration business for about 32 yrs. VE6WZ's main interest is building antennas, and working as much DX as possible on the "Lowbands"----40, 80 and 160m. The "magic of radio" is still felt here at VE6WZ!!
STATION: Elecraft K3s twin remote set-up,FTDX-9000D, ACOM 2000a, HB 4-1000a amp.
QTH: 
Antennas:
160m- US Tower HDX-589Mdpl motorized crank-up tower is shunt-fed for 160m.
(RX)-
80m- 2-el homebrew Yagi at 105' (32m) with 1/2 size (66') elements. The elements are loaded in the middle with Hi-Q coils. If you want to build your own, see construction details of the 80-40m Yagi here: http://www.qsl.net/ve6wz/intro.htm
40m- Sharing the same boom with the 80m Yagi is a 2 el inductor loaded short 40m Yagi.
30m- Force load the 80m Yagi
20-10m + WARC-Optibeam OB9-5
QSL via LOTW
Below: A wintertime screen capture from one of the video cameras at the remote station
Below is the HDX-589mdpl motorized crank-up tower with the 80-40m Yagi at 100' (32m) (Also, these 80m elements are vacuum relay switched into an "RX mode" and phased in the shack to yeild a 160mRX yagi)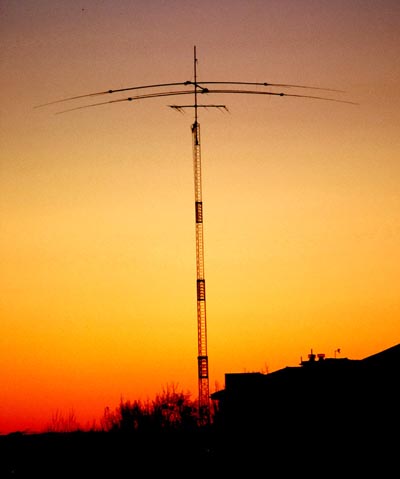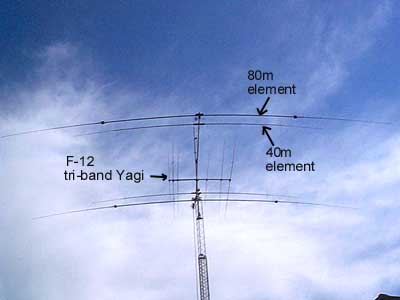 Below are the DXCC and WAZ statistics for VE6WZ.
All of these QSO's are since 1998 and only from the current city QTH at VE6
Low band DX-ing IS possible from a small city lot !
VE6WZ DXCC, WAZ, WORKED
TOTALS BY BAND SINCE 1998
BAND
DXCC WORKED
WAZ WORKED
NEEDED ZONE
160
202
36
 
80
286
40
-
40
335
40
-
30
187
32
 
20
252
40
-
17
173
32
 
15
239
40
-
12
120
29
 
10
215
39
34
5BWAZ TOTAL
 
199
 

Account Status

DXCC
Award
New LoTW QSLs
LoTW QSLs in Process
DXCC Credits Awarded
Total
(All)
Total
(Current)
Mixed *
0
0
342
342
338
CW
12
0
323
335
331
Phone
134
0
132
266
262
Digital
3
0
0
3
3
160M *
1
0
198
199
197
80M *
1
0
284
285
283
40M *
0
0
335
335
331
30M
88
0
0
88
87
20M
146
0
3
149
147
17M
80
0
2
82
80
15M
126
0
1
127
124
12M
52
0
0
52
51
10M
106
0
1
107
107
Challenge
591
0
816
---
1407

* = Award has been issued
All-time DXCC totals are not the best measure of a stations DX capabilities. Annual DX results more accurately reflect the current station capabilities rather than many years of historical activity, possibly spread over multiple QTH's with different equipment and spanning multiple solar cycles. Collecting annual data is also useful for studying DX success as a function of solar activity. (a seven year statistical study of 80m DX at VE6WZ is summarized here: Click ) A 10yr. 80-160m EU study is here
Each winter DX season at VE6WZ DXCC totals are summarized for 80 and 160m. Beginning on September 1, and ending around March 30, worked DXCC entities are totaled by the logging program. Below is a table showing the past results since 1999. (for some years a link to a table showing the entities worked is included)
There certainly appears to be a correlation with increased Low-Band DXCC entities worked and lower geo-magnetic activity during the low flux years 2008-2010 !!
YEAR
80m-DXCC entities worked
160m-DXCC entities worked
10.7cm Radio Flux Avg.
Avg. Ap Index
Ap chart with DXCC worked
Ap chart with DXCC worked
2014-2015
92
 
33
 
145
12
2013-2014
115
 
45
 
136
8
2012-2013
134
 
62
 
120
7
2011-2012
126
 
61
 
120
8
2010-2011

168

 

101

Diversity RX, end-fire vert-arrays
80
6
2009-2010

165

 

113

2el 160m RX array at 32m
73
3
2008-2009

162

 

113

Phased Beverage Arrays
70
5
2007-2008

156

 
57
 
75
7
2006-2007
136
 
28
 
80
8
2005-2006
140
 
42
Single Beverages installed
85
10
2004-2005
111
 
18
 
100
14
2003-2004
111
 
34
 
115
22
2002-2003
112
80m 2el Yagi @32m
21
 
140
17
2001-2002
105
 
33
 
230
12
2000-2001
97
80m Rotary dipole
31
 
167
14
1999-2000
65
 
21
 
180
15