VU2PTT

India




Login is required for additional detail.

QSL: ClubLog OQRS, Direct, LOTW, Bureau

Email: Login required to view

Ham Member Lookups: 44973



Log Search for my other calls & ClubLog OQRS here
Search VU2PTT contest QSO recordings archive here
On Twitter @VU2PTT
Expeditions:
VU4KV, Expedition to Neil Island, Andaman, Nov. 16-30, 2014
VU7AG, Off Island support - Expedition to Agatti Island, Laccadives, Nov. 10- Dec. 10, 2013
VU4PB, ARSI Expedition to Andaman Islands, March 15-31, 2011,

IOTA AS-096 St. Mary's Islands
Webmaster: Logger32 - a leading general purpose logging software by K4CY
Special calls: AT3T, AT2FOC, VU2PTT/C, VU40PTT, AT6T, AT0PTT & AT2PTT
Memberships: ARSI, ARRL, MARC, FOC, CWOPS, INDEXA, NCDXF, SCCC, VU Contest Group, EUPSK
Awards: 8BDXCC, DXCC (Mixed, CW, Phone, Digital, 80, 40, 30, 20, 17, 15, 12, 10)
 

VU2PTT @ VU4PB, March 2011

 

Current Shack in 2009

 

Old Shack in 2008

 

VU2PTT -#1 World- CQWW SSB 20m LP - 1991
---
I will listen, and listen, and then listen again before calling.

I will only call if I can copy the DX station properly.

I will not trust the DX cluster and will be sure of the DX station's call sign before calling.

I will not interfere with the DX station nor anyone calling and will never tune up on the DX frequency or in the QSX slot.

I will wait for the DX station to end a contact before I call.

I will always send my full call sign.

I will call and then listen for a reasonable interval. I will not call continuously.

I will not transmit when the DX operator calls another call sign, not mine.

I will not transmit when the DX operator queries a call sign not like mine.

I will not transmit when the DX station requests geographic areas other than mine.

When the DX operator calls me, I will not repeat my call sign unless I think he has copied it incorrectly.

I will be thankful if and when I do make a contact.

I will respect my fellow hams and conduct myself so as to earn their respect.
---
I will learn and obey the rules of any contest I enter, including the rules of my entry category

I will obey the rules for amateur radio in my country.

I will not modify my log after the contest by using additional data sources to correct callsign/exchange errors.

I will accept the judging and scoring decisions of the contest sponsor as final.

I will yield my frequency to any emergency communications activity.

I will operate my transmitter with sufficient signal quality to minimize interference to others.
---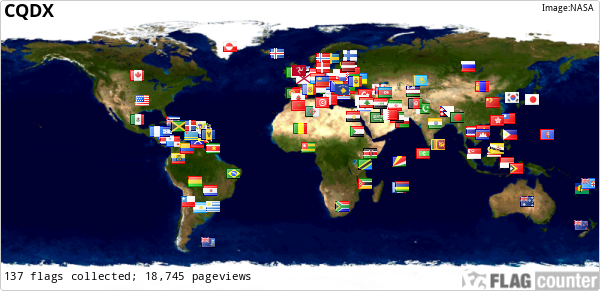 8613816 Last modified: 2018-01-29 16:48:42, 11909 bytes
Login Required

Login is required for additional detail.
You must be logged in to file a report on this page
Public Logbook data is temporarily not available for this user