QSLcard pictures courtesy of Carrie Gregory Photography:
I've been an Amateur Radio Operator since April of 1988. Currently I have a modest station with Icom 756 Pro III  When needed, I also run and Ameritron AL-811H for propagation down-turn. Faith, Family and the well being of others are most important to me. Ham radio is my favorite hobby and I get so much enjoyment meeting new people on the bands. Prince Edward Island is the smallest province in Canada, and one of the most beautiful places to live (I'm biased); 46deg Latitude and -63deg Longitude, only 139 miles long with 500 miles of beaches surrounding the Island; white sands to the north and red sands and cliffs to the south. The soil on the Island is red and made up of Iron Oxide. It stains clothes easily, but is excellent for grounding systems. Other interests of mine are guitar and photography.
'73 & God Bless.
For more information on Prince Edward Islandhttp://www.youtube.com/watch?v=WvTdBI8RzfE
We also have a historic connection with the New England States. Check out the history on the Yankee Gale of 1851.
"The Third of October, 1851, brought perhaps the greatest marine disaster in P.E.I. history. The afternoon was warm and still..... the sky heavily clouded. The north and north west had a lurid, glassy appearance about sunset. It was a Friday, perhaps the best remembered Friday in P.E.I. history. A violent gale and wind arose from the East-North-East, which continued for two terrifying days. Before it was over, the New England fleet, fishing off our shores was devastated - nearly 100 vessels were wrecked or stranded, and hundreds killed."  T.W. Stewart.
For more on the Yankee Gale of 1851 click on the following link  http://www.islandregister.com/yankeegale.html
Below is the Confederation Bridge, said to be the longest bridge in the world over ice covered water. Opened May 31st 1997. 12.9 kilometers long (8 Miles). Connects Prince Edward Island to the mainland in New Brunswick. It took about three and a half years to complete but only takes about 11 minutes to cross.
Photogra​pher Unknown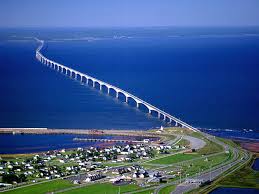 Confederation Bridge from the air.
North Shore Beaches
French River
****************************************************************************************************
Below is a view of very ambitious amateur radio antenna setup from Bromsgrove England.
         NOT MY ANTENNA -NOT MY ANTENNA-NOT MY ANTENNA
The antenna below is not my antenna but belongs to G0EVY. This is only a prototype. The current version is massive and only his own description can do it justice. You can talk to Dave, just by dropping into our adhoc gathering on-air. He and a bunch of us gather on 40 meters most evenings around 0200 UTC. Everyone's welcome! Once winter sets in and the static lowers, we sometimes move to 80 meters; Around and about 3.786 Mhz.
G0EVY base antenna is impressive, as is his mobile setup... See photos below.