As of January 2016, I have been a licensed ham for 46 years, and have been active for most of those years. I picked up my original ticket after earning my Morse Code merit badge with the Boy Scouts. I found the following picture of my first station, which consisted of a Heathkit DX-60 and a Heathkit HR-10B receiver. I had three crystals when I first started out, one for 80 meters, one for 40 meters and one for 15 meters. My antenna was an all band trap dipole that was about 20 feet in the air, with the ends dangling down from the supports, as the lot I grew up on wasn't long enough for the antenna from end to end.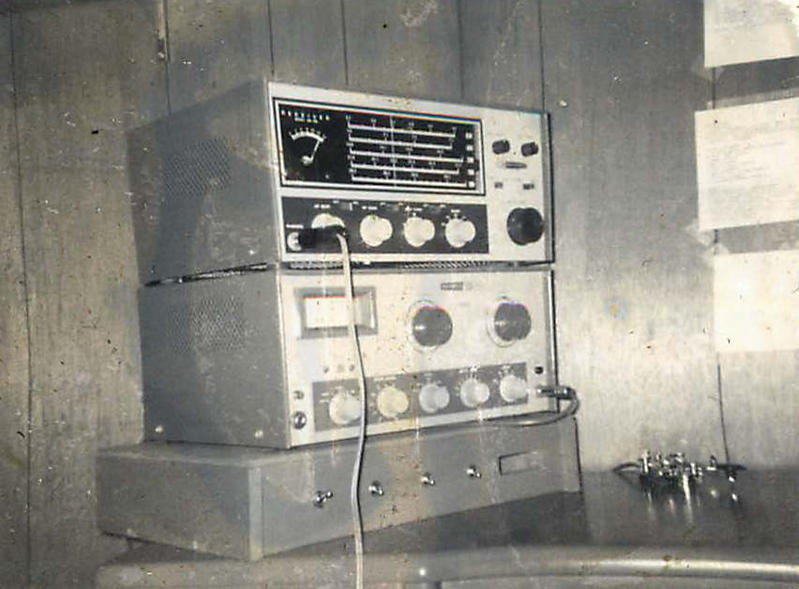 In 1990, the DX bug bit, and I have been fortunate enough since then to have worked/confirmed them all. It took 15 years to earn the #1 ARRL DXCC Mixed Honor Roll Award. My last country worked/confirmed was Andaman Island. The recent Navassa Island operation allowed me to earn my #1 ARRL DXCC Phone Honor Roll Award. I also hold Honor Roll in CW (need 3 more for #1 Honor Roll), and with the recent expedition to S. Sandwich es S. Georgia, I worked the last two I needed for my Digital Honor Roll Award. My 5BDXCC award has endorsments for 160, 30,17 and 12 meters, and currently I have 2665 band countries confirmed for the DXCC Challenge Award. I'm 5 zones shy of earning the 5BWAZ award, so there is still plenty of DX to chase!
My current station consists of an Elecraft K3, P3, Palstar AT2K and an Acom 2000A. (I have trimmed down my shack since the picture for my QSL card was taken.) The Elecraft gear was purchased in kit form, and all were fun and gratifying projects to build. They have all turned out to be great performing pieces of equipment as well. All of my antennas are mounted on a US Tower TX-472 MDP 72' tower. There is an Optibeam OBW10-5 for 10-20, a Force12 240/230 for 30 and 40, a sloper for 80 meters, a phased pair of Sigma 80H's for 80, and a folded monopole for 160. The Optibeam and Force12 are mounted on the same mast, which is turned with a Yaesu G-1000DXA. The Optibeam has survived 9 years of hard northern Minnesota winters and ice storms, and the Force12  and TX-472 have been in use for 19 years! Anything that can survive outdoor use for that long in Minnesota deserves a mention! I use RUMlogNG logging software, and if you use a Mac in the shack, I encourage you to check it out.
Other interests include fishing, hunting and photography, none of which I'm very good at, but enjoy nonetheless.
I answer all QSL card requests and post all my contacts on LOTW, usually within one week of the QSO.
I'm a member of the ARRL and the Twin City DX Association (TCDXA). If you have an interest in DXing, you should take a look at the TCDXA newsletter's which can be found at www.tcdxa.org/newsletter.html All past issues are available, and the publication is an excellent read.
Hope to see you in the pile-ups!