BOUVET - #2 Most Wanted
Like Apollo 13, our 3YØZ DXpedition (Jan-Feb 2018) was a "successful failure."
After a very rough trip from Punta Arenas, Chile, to Bouvet, we arrived with 80+ mph winds and high seas.   On day #3, winds and seas were calmer with 2 hours of clear blue sky....then the fog rolled in and the winds picked up.   That evening, our anchors were not holding in the wind.   Then while maneuvering between Bouvet and huge icebergs, we had one of two engines fail.   With hurricane force winds predicted for the next four days, our ship's captain, for safety reasons, aborted the mission.   With only one engine, we headed down wind and down current toward Cape Town, South Africa, traveling 1900 miles at 3-4 knots.   After an incredible reception by South African hams, we headed to our homes.   We were successful in all returning home safely, but failed in our attempt to activate #2 Most Wanted Bouvet.
So near, yet so far.  Watching Bouvet from our ship, we were impressed how very very dangerous the romotest place on earth is.
Bouvet, dawn day #3               ...about an hour later.   Weather changes FAST!
An iceberg 3 miles east of Bouvet.  It is 3/4 mile long....and that's only the 10% above water!!!
What an incredible adventure with an incredible team and ship's crew!  Stay tuned, the adventure isn't over!
I have been to Paradise!
Palmyra Atoll and the January 2016 K5P DXpedition
It is THE most beautiful place on the planet!
K5P Team:   Dick W3OA, Glenn W0GJ, Jerry WB9Z, Craig K9CT, Hal W8HC, Lou N2TU, John K6MM, Mike K9NW & Tom ND2T
In spite of limited antennas and propagation, we were able to get more than twice our predicted number of contacts with Europe, which is almost antipodal and through the auroral zones.   What a great team to work with!!!
The February 2015 K1N Navassa DXpedition was a tremendous DXpedition!!!
K1N Team (left to right):  Mike NA5U, John W2GD, Tomi HA7RY, Ralph KØIR, George AA7JV, George N4GRN,
Gregg W6IZT, Jerry WB9Z, John K6MM, Mike N6MZ, Bob K4UEE, Craig K9CT, Lou N2TU, Glenn WØGJ & Jeff NM1Y.
K4UEE now has a wonderful video available!!!   Here is the trailer:  https://www.youtube.com/watch?v=TPdbe1wN1r0
I am the Contest Advisory Committee representative for the ARRL Midwest Division as of early 2016.  
Our emphasis this year is getting "youth" (ages 5 - 50) interested and involved in contesting.   I would like to hear from you, even if you are not in the Midwest Division, about any ideas or have any success stories with "youth" in contesting.
From the EIDXA January 2014 Newsletter
(Eastern Iowa DX Association)
Member's Spotlight
Glenn Johnson, WØGJ
Glenn grew up near Marshalltown, Iowa. After getting a degree in Forestry at Iowa State University, he then received his M.D. degree from the University of Iowa. After an internship in Seattle, and residency at the Mayo Clinic in Rochester, MN, he spent five years in the Air Force in Anchorage, Alaska. He returned to practice orthopedic surgery in Minnesota and after 30-some years has returned full circle back to Iowa. For the last 6 years Glenn has been working part-time for the Mayo Clinic Health System. In 2012, he and Vivien, KL7YL, made the move permanent to a "perfect" retirement QTH between Decorah and Calmar on top of the highest hill in Winneshiek County, in the very northeast corner if Iowa.
Glenn's interest in amateur radio started as a youngster listening to his grandfather's short-wave radio. He was licensed at age 15 and within three months had worked all 50 states with a homemade crystal transmitter…with three crystals, one for 80M, two for 40M, one of which worked on 15M. He has always been interested in contesting and working DX. He has achieved #1 Honor Roll, 5BDXCC and 5BWAZ awards.
He has four consecutive First Place World scores in the QRP category in the ARRL 160M Contest. He has co-led three major DXpeditions to #2 Most Wanted areas (Kingdom of Bhutan in the Himalayas (2000), Lakshadweep in the Arabian Sea (2007), and Desecheo (2009)). His first DXpedition was to Heard Island (1997) and the most recent, Malpelo (2012) in the Pacific. All of these DXpeditions were awarded DXpedition of the Year. In 2003, Glenn was inducted into the CQ Magazine Amateur Radio Hall of Fame. In 2012, he was inducted into the DX Hall of Fame. He has been vice president of the Northern California DX Foundation for the past four years.

His wife and four children are all licensed hams and competed in ham radio contesting from their home. They have traveled to many countries, some quite remote, for contest activities. He and his wife have home-schooled their four children, all which have left home. Melissa, K1MJ, and husband Rolly, WR0LLY, who live in Bennington, NE, have Glenn & Vivien's first grandchild, Lincoln.

Glenn has been a practicing orthopedic surgeon for over 36 years. He is currently works for the Mayo Clinic Health System in Minnesota and Iowa. His interest is in Minimally Invasive Surgery and he has developed a highly regarded practice specializing in outpatient partial knee replacement surgery and anterior hip replacement surgery.

His other area of interest is teaching orthopedic surgery in third world countries. He is a member of Orthopedics Overseas. He has spent a lot of time at a crippled children's hospital in Bethlehem, Israel, and has had four tours of duty in The Kingdom of Bhutan in the Himalayan Mountains. In addition to teaching medicine he also brought amateur radio into Bhutan. He taught the first group of hams licensed in the country and in later years helped establish club stations in several high schools throughout the country. For this work he received the prestigious 2004 ARRL Humanitarian of the Year Award. The Kingdom of Bhutan recognized Glenn with a lifetime callsign of A51B. He is returning to Bhutan to work in the near future. After retirement at the end of 2015, Glenn plans to return to Bhutan quite often.

Glenn loves working on towers and building antennas. He spent four years of research in designing and building his current contest/DX station and antennas. TCDXA Grayline Newsletter recently featured Glenn's move from Minnesota to Iowa: http://tcdxa.org/Newsletters/September2013Grayline.pdf
Glenn has many other interests including beekeeping, wood working and building furniture, draft horses and carriage driving and flying both a float plane in the summer and a ski plane in the winter. He also holds a commercial helicopter rating. He is also very active in local community affairs and in his local church. He is looking forward to getting his new grandson licensed and into DXing!
We searched for nearly 4 years for the "perfect" QTH and found a 68 acre farm on one of the highest hills in the county with a commanding view in all directions.    The main tower: 165' rotating Rohn 55G with full-size M2 40M4FS-125 @ 156' with three 4-el SteppIR's at 112', 76' (on TIC ring) & 40' All guys are Philystran.
The big tower has the KØXG rotating base and guy rings. The KØXG boom brackets are used for easy mounting of antennas. The prop pitch rotor is from Curt K7NV. Left to right: Richard KØXG, Craig K9CT, Roger N4RR & Glenn WØGJ.
Looking down on the full-size 4-el 40M beam. Yes, those are people near the boom! The blue objects are 55 gallon drums. The beam covers 0.092 (nearly 1/10th) of an acre and weighs in about 500 pounds!!! One of the KØXG boom brackets for a SteppIR boom.
I spent a LOT of time modeling the new QTH, towers and antenna with HFTA. You can see the peak gain of the 4-el 40M beam is 19.5 dBi !!!   Because of the sloping terrain, we didn't need to put antennas as high as one would need to on flatter terrain.   In fact, modeling the 40M beam above 165 feet, the pattern rapidly deteriorated.    156' feet was the sweet spot for all azimuths. 
In the right picture you can see the three stacked 4-el SteppIR's. The dark blue line is the stack and the other lines are the individual antennas. This plot is for 20M, with a peak gain of 18.1 dBi. The peak gain for 17M is "only" 21.1 dBi !!!!!    Just like the 40M beam, any higher positions saw deteriorations of the patterns.   This left 44 feet of separation for the 40M beam!  Perfect!
The second tower: 115' rotating Rohn 25G with 40M dipole at 115', full size OptiBeam OB 3-30 full size 30M beam at 96', 4-el SteppIR at 62' An Orion 2800 turns this tower.
This is the plot for the 3-el 30M beam, which is at 96' on the rotating 25G tower. Peak gain is 15.4 dBi for one of my favorite bands!
There is nothing sweeter than a nice 80M 4-Square at the dawn grayline! Towers are each 60' Rohn 25G (plus stingers for tuning) with Philystan guys. Each tower has two gull-wing elevated radials. I use the WXØB Array Solutions new 4-square array controller which uses the ON4UN/W1MK method of phasing and power distribution. For 75M, there is a dipole at 112' on the big rotating tower.
A very bright double rainbow 31 May 2016!  80M 4SQ is to the left and the two 160M towers are on the right under the rainbow.   Guys to the big rotating tower are in the "foreground."
Oh, WAIT! There is something better: a pair of full-size 1/4-wave verticals on 160M with a pot of gold at the end of the rainbow!!! Each tower is 154' tall with elevated radials at 25'. All guys are Philystran. Using the WXØB Array Solutions StackMatch II Plus phasing box, it can beam endfire or broadside with about 20-25 dB difference! For close-in/NVIS & high angle opportunities, there is a 1/2-wave dipole at 62' on the smaller rotating tower.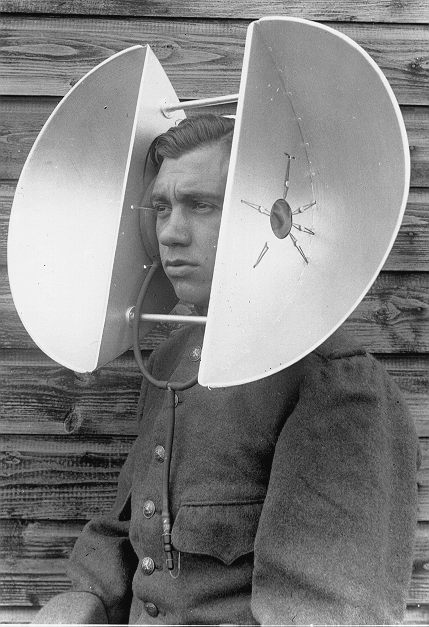 UFO landing???   For listening on the low bands I have the Hi-Z Circle-8 receiving array.   There are 8 verticals in a 200 foot circle with an incredible RDF of 13.45 in eight directions, which is equivalent to EIGHT pairs of 1600-foot long Beverages!   With an already quiet QTH, I can hear the low power AM traffic advisory 300 miles away in Chicago AT NOON!   
THE SHACK
Studio "F"
Radio?  What radio?   This is the "glass cockpit" of a FlexRadio 6700 (Studio "F").     Two ACOM 2000A amps provide extra thrust.   Three large 4K monitors have more room than there is elbow room on the desk!  I use Log4OM for general & DX logging and N1MM+ for contesting.
Under the desk are all of the wires in "wireless!"   The FlexRadio 6700 is on top of the right ACOM 2000A and the 4O3A AntennaGenius antenna switch is on top of the left ACOM 2000!.   Even though you see lots of wires/coax, the primary DX/contest station is LAN-based with the FlexRadio 6700 and AntennaGenius running on the home network.   The extra cabling you see is distributed to two other operationing positions, Studio "C" and Studio "N."
This is a closeup of the LAN-based 2 x 8 AntennaGenius antenna switch.   https://www.youtube.com/watch?v=3DEe8mB9DN0 is a good demonstration.   This is a perfect station automation accessory for a FlexRadio!   This does the antenna selection automatically for each of the two outputs on the FlexRadio 6700.  
These Array Solutions switches control (left to right):  160M vertical phasing, 80M 4-Square & SteppIR stack controls.
There is nothing fancy on the outside of the Flex-6700.   It is what on the INSIDE that counts!!!   It is THE most incredible radio I have ever owned!!!   I feel like a kid again!   
Studio "C"
Studio "C" is directly opposite the Flex station and is used daily.  Top row:  Collins 51S-1, KWM-2, 312B-5 & 30L-1.  Bottom row:  75S-3C, 32S-3, 312B-4 & 30L-1.    I suppose I could call this "Studio 'K' (knobs)," as the FlexRadio operating position has ONE knob!   I could only dream of such a station as a kid.   For my 50th anniversary as a ham, I found most of this equipment at an estate sale, and have added some to it.   With the quality of this 50-year old gear, I should be ready for another 50 years of operating!    I can dream, right?   Just like when I was a kid!   Some dreams DO come true!
Studio "N"
Sometime, when the urge hits, I go into the corner and use Studio "N" - my old 1966 Novice station:  RME-6900 & Johnson Adventurer and a small handful of crystals.  Those were (and ARE!) the good 'ol days!!!   I always dreamed of getting a Johnson Ranger or a Collins S-line, but both were out of reach for a poor farm kid.   Still, this simple station has more magic to me than anything else.   I worked all 50 states in my first three months as a Novice....and some DX, all with simple wire antennas.   I had one crystal for 80M and two for 40M, one of which worked on 15M.   I've expanded this station considerably.  I now have FIVE crystals!
The NEMA box outside of the shack. ALL feedlines are hardline, mostly LDF7 & LDF6. The feedlines to the 160M towers and multiplier tower are 7/8" CATV (75-ohm). You can see some 75:50 ohm baluns in the pictures. Coax is used only on the drip loops, the lightning protection and into the shack. Each antenna comes into the shack to an A/B switch.
The antenna switching network behind and underneath the shack desk (picture taken before desk/cabinets installed): At the very left are the portals to the outside NEMA box. In the left half of the picture you can see the A/B switches. There is one for each antenna.  All of the "A" feeds go to the AntennaGenius & FlexRadio 6700.    The "B" feeds go to the switching network that feeds Studio C and Studio N.   There is a simple fail-safe to prevent routing RF into the wrong places.
The SteppIR controllers follow the radio's frequency. With the forward, reverse and bi-directional modes, the station is extremely flexible.   The three stacked SteppIR's can be assigned to individual bands or selected as a stack. When in the "stack mode," any possible combination or single antenna can be selected. 
In the very first contest, 2013 CQWW SSB Contest, a M/2 effort scored 10.8M points, breaking the old WØ 3.4M record set 10 years previously. In the second contest, 2013 CQWW CW Contest, a single op effort scored 6.3M points, breaking the old WØ 5.4M point record.
Family & Friends
I cannot thank my WONDERFUL XYL, Vivien KL7YL, enough for her support of this project and my hobby!!! Also, my dear friend Paul WØAIH who helped get the BIG antennas up on the towers. He has been a ham since 1949, the year I was born. This sign is on the 170' crane we used to lift the antennas.
We have an empty nest now, but all of the kids are hams and contesters. We had a contest club: N1JJ "Number One Johnson Joules."
Mark NØMJ is married to Emily, who is studying for her license. Melissa K1MJ is married to Rolly WRØLLY, and had a son born December 2013, who is already working on his code.   
Contesting at 5 days old! No better way to learn the code! I don't think I quite qualify for a multi-op entry in the ARRL 160M Contest this year....but maybe next year when grandson Lincoln knows the code.
My pileup skills keep improving!   Lincoln is now the proud big brother of TRIPLETS:  McKinley, Reid and Keeley!!!  (Born 1 Aug 2015)
Grandpa and Reid (4 1/2 months), our newest high speed CW op.
My other callsign:   N636P
My other "callsign" is N636P, a 1968 PA-18-160 Piper SuperCub. It is on floats in the summer, or maybe 31" tundra tires, and skis in the winter. On the right is my youngest daughter, Carrie, NØCMJ.
My buddies, Raymond & Barney, who taught me how to drive. We've done a lot of weddings! Seated with me is my oldest daughter Melissa, K1MJ, who is an equine veterinarian.   (Yes, the vet that had the litter (triplets)!!!)
As you can see, 2013 was a VERY good year for honey! I like Buckfast bees for their production and gentleness.  I now have a couple Russian hives.  They are even more gentle, but not quite as productive as the Buckfast bees.
I also do some woodworking. Here is Vivien with a cherry cradle. I have made several "Three-In-One's" which are fun!
Here is a cherry toy box I just finished. I use the Leigh Isolock jigs to rout interesting corner joints.
I have a ton of Eastern Red Cedar from my father's farm in central Iowa. Here are just a couple of cedar chests I've made.
Grandkids need projects from Grandpa's shop!                 A wind-powered CW machine made from scraps of wood!
We have just gone solar and off-grid!   We have 22.5 KW of solar panels and enough battery capacity to be totally independent of the grid.   On sunny days we produce 180-200 KWh and sell the excess back into the grid.   "When all else fails," we will be able to communicate!
Thanks for visiting my QRZ.com page. I hope to work you in the next contest or from a DXpedition!
P.S. The QSL card at the top is from our old QTH in Minnesota. The photo of the thermometer was taken on our deck one February morning!
73!
Glenn W0GJ
Calmar, Iowa
(Winneshiek County)