In memory of my dad Hy Fox - K1PSK (SK), who was licensed after me. The reason he got licensed is very interesting. He did not want me to take my ham equipment to college (University of Connecticut) because he thought it would detract from my studies. When another ham reported to me that someone using my call sign (K1CJV), I discovered that my father was "boot legging" with my call. I immediately brought my station to the University and told him I would bring it home after he got his license, which he did.
Current station equipment: ICOM IC-7300, ICOM PW-1 KW amplifier, HEX Beam on a US Tower MA-40,  G5RV antenna, 17 meter dipole, 160 meter dipole, and multiband trap dipole. Back-up station includes Kenwood TS-430S with AT-250, Yaesu FL-2100B amplifier, LDG AT-600Pro1 tuner, and various VHF/UHF equipment. At the present time, I am not using the amplifiers and run bare foot. I absolutely love operating  with the IC-7300  - a very rig to operate.
Secondary QTH: During the the period May to September, I also operate as W3FOX/P from 9 88th Street, Unit 104, Ocean City, MD 21842. This location is in Worcester County. I can see the Atlantic Ocean from my balcony. I am using a second Icom IC7000 from this QTH. Antennas are a challege when operating from a condominium. I am using dipoles with the center insulator tied to the end of a flag pole hanging from the balcony railing with the two ends tied back to the railing in a "v" configuration. Have also been using a 59 foot endfed fire with a matching transformer, but can can only use this at night because it runs to an adjacent property. Because the condominium association did not appreciate all the antennas, I have installed an IC-7000 with a Little Tarheel in my car. I am now active from the mobile on 80 through 10 meters. Please check out W3FOX/M on QRZ.com.
Below are some photos of my current station as well previous stations that date back to 1957. It is hard to believe that I have been licensed for almost 59 years. I plan to add a photo of my current station soon. Just purchased an ICOM IC-7000, but will keep my legacy Kenwood TS-430 as a backup.
Email: w3fox@comcast.net
Formerly K1CJV and KN1CJV - First licenced in 1957
Foreign calls held:
DL5GO(Germany) - 1964 to 1967
DL5GO/LX(Luxemburg) 1964 to 1967
KA7DF(Itazuki AB and Hakata AS, Japan) 1971-72
KA2DF(Tachikawa AB, Japan) 1972-74
KA1DF & KA1DX(Marcus Island - Minami Torishima) 1972
QSL by:  http://www.kb3ifh.homestead.com/
MY CURRENT PRIMARY OPERATING POSITION AT MY HOME QTH, WITH MY JUNIOR OPERATOR SIMON (TIBETIAN TERRIER) AT THE CONTROLS.
ICOM IC-7300, ICOM PW1 (not currently using it), Macintosh laptop for logging and digital, using RumogNG and FLDIGI. 
7 Band DXCC, DXCC Challenge, 303 countries confirmed.
K4KIO Hex Beam mounted on US Tower MA-40. Mobile with Icom IC-7000 and Little Tarheel.
MY FIRST STATION AT AGE 15 (1957)
MY STATION AT TACHIKAWA AIR BASE, JAPAN. WITH MY OLDEST SON AND HIS DOG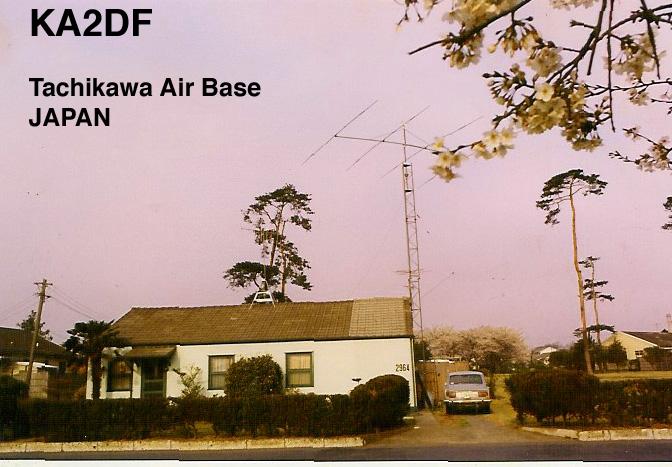 MY QTH AT TACHIKAWA AIR BASE JAPAN. FOUR ELEMENT 20 METER MONOBANDER.
ONE OF OPERATING POSITIONS AT KA1DX ON MINAMI TORISHIMA ISLAND DXPEDITION FOR CQ WW DX CONTEST.
YOURS TRULY AT THE CONTROLS.
My Tibetan Terrier Simon Trying To Operate My Portable Station in Ocean City, Maryland
Antennas are a challenge when operating from a condo that has so many restrictions. If you look closely, I have the center insulators of a 15 and 20 meter dipoles attached to the ends of two different flag poles with the ends of the dipoles in a sort or "V" configuration tied back to the balcony. A 144/440 vertical is also attached to the balcony railing and attached with a flag pole bracket.