My nickname is Mack.
The pictures below are various operating positions in my shack. My goal is to be able to operate on every band and mode from 160M to 23 cm. I do this at legal limit on 160M - 6M and 100W on all other bands including 23 cm. There are 18 antennas and three towers on my lot. My primary transmitting antennas are a SteppIR at 75 ft, Mosley 67C-3 at 80 ft, a 3/8 wavelength inverted L on 160M, an 80 meter vertical and inverted V and M2 Yagi's for higher frequencies. I use a Circle 8 active array receiving antenna on 160M and 80M. My favorite modern radio is a Flex Radio 6600 and 6700. My favorite vintage radio is the Collins S-Line.
My shack embodies the ying and yang of ham radio. One part is ultra modern and high tech with full computer control of everything. The other half uses vintage rigs, some as old as 1943 and paper logs. I operate in the ying and yang of ham radio daily on all modes.
I belong to four great clubs in the local area: The Dayton 2010 Club of the Year the North Fulton Amateur Radio League http://www.nfarl.org, the Southeastern DX Club http://www.sedxc.org, the South East Contest Club http://secc.contesting.com, and the North Georgia QRP Club http://www.nogaqrp.org.
I would like to especially thank my many great friends for all your support through the years since I became a ham in 1968. I won't try to name them all because there are so many.
I also operate a public resource available via the Internet. A CW and RTTY Skimmer server covering the entire CW and RTTY portions of 8 bands simultaneously (160M-10M). If you're interested in the CW/RTTY I can hear at my QTH and would like to link your logging program directly you may connect to w4ax.com port 44000 with your logging telnet application. I also send this data to the Reverse Beacon Network at http://www.reversebeacon.net. 
My other main hobby is trail running. I'm a very active runner typically running six days a week and about 80 miles a month on very rugged and hilly trails. I prefer to run with my four dogs off leash so I can have some alone time in the deep woods.
Vy 73,
Mack de W4AX
The Main Operating Position #1. Fully automated. One microphone, paddle, and PTT for six transceivers. 160M - 23cm. Flex 6600 and Flex 6700, Maestro, IC-910, DR-235, TK-981.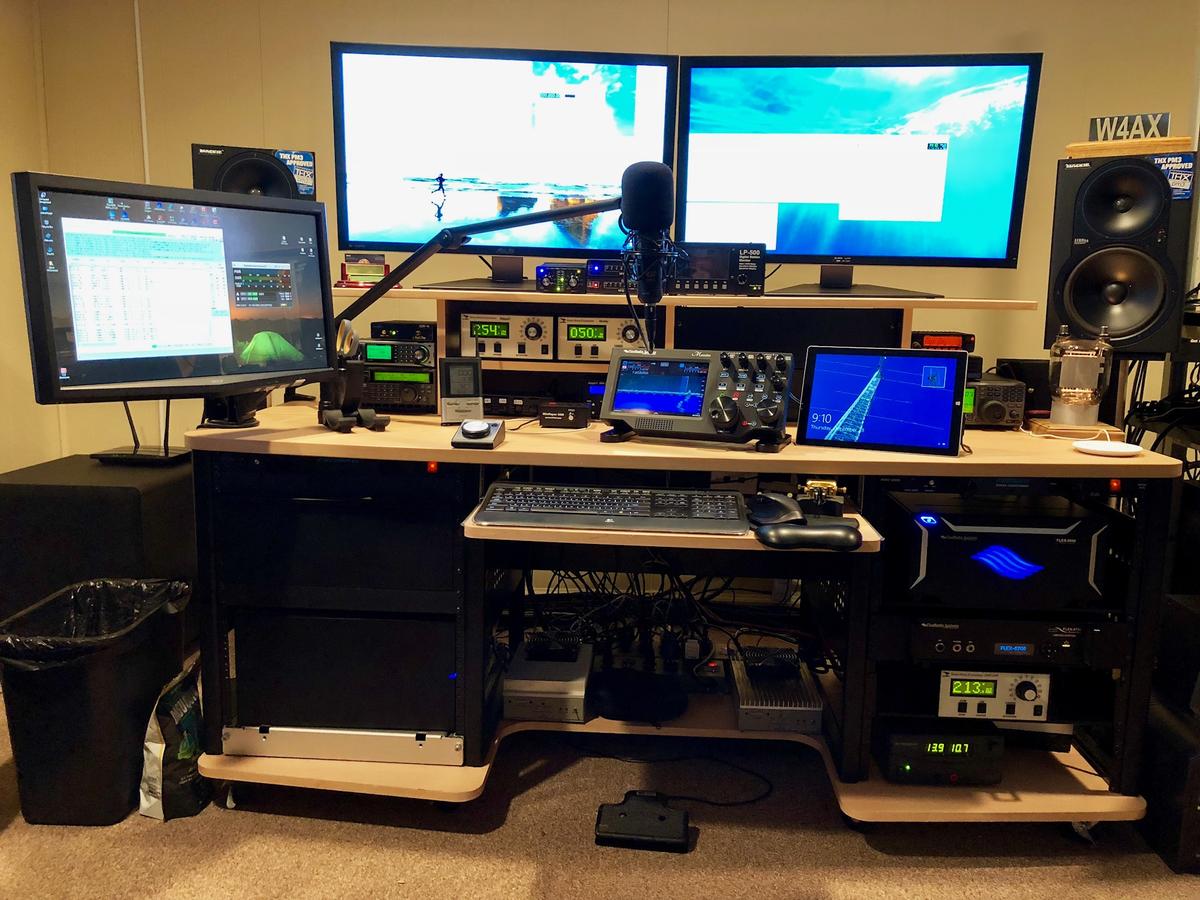 Left Closeup
Right closeup
The right pedestal
---
Antenna Entry Panel, PowerGenius XL Amp, Two AT-AUTO Tuners
____________________________________________________________________________________________________
The Alpha 9500 and Dummy Load
---
Vintage Operating Position #2 The WW II Military Radio Stack
Left closeup
Globe King 500 AM Transmitter
---
Hallicrafters BC-610I built in 1951. 300 W of AM Carrier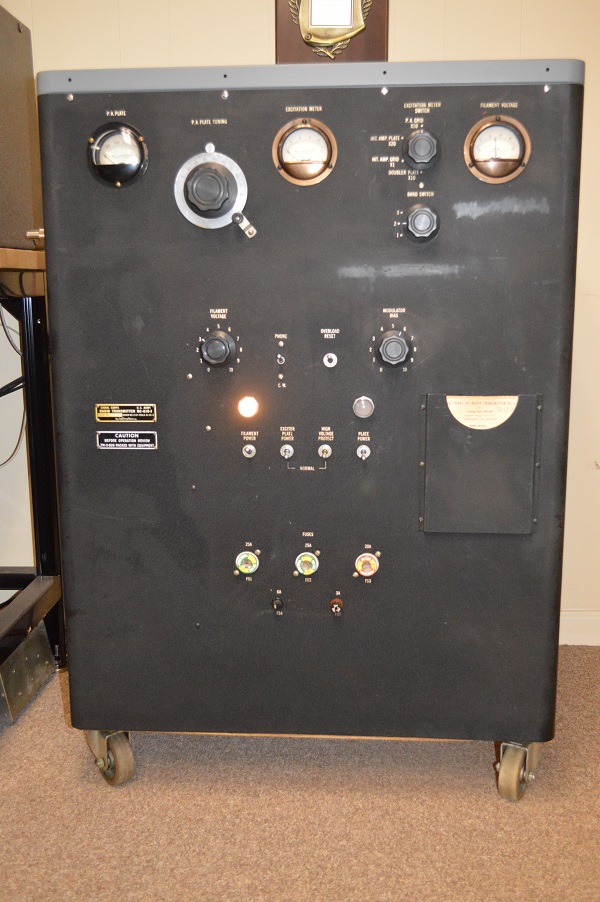 ---
Collins Position #3 KWM-2A/75S-3C and HF-380, Acom 2000
---
Operating Position #4 The S-Line Station and Collins 30S-1
---
Operating Position #5 - Collins Gold Dust Twins and Collins 32V-3
---
Operating Position #6 - The Elecraft K-Line
---
The Test and Workbench
---
72 foot tilt over tower. Mosley 67-C-3, 6 Meter, 2 Meter Beams
75 foot tower. SteppIR 40M-6M beam, 75M Inv V
55 foot tower. M2 144, 220, 440, and 900 MHz Beams, Discone Antenna.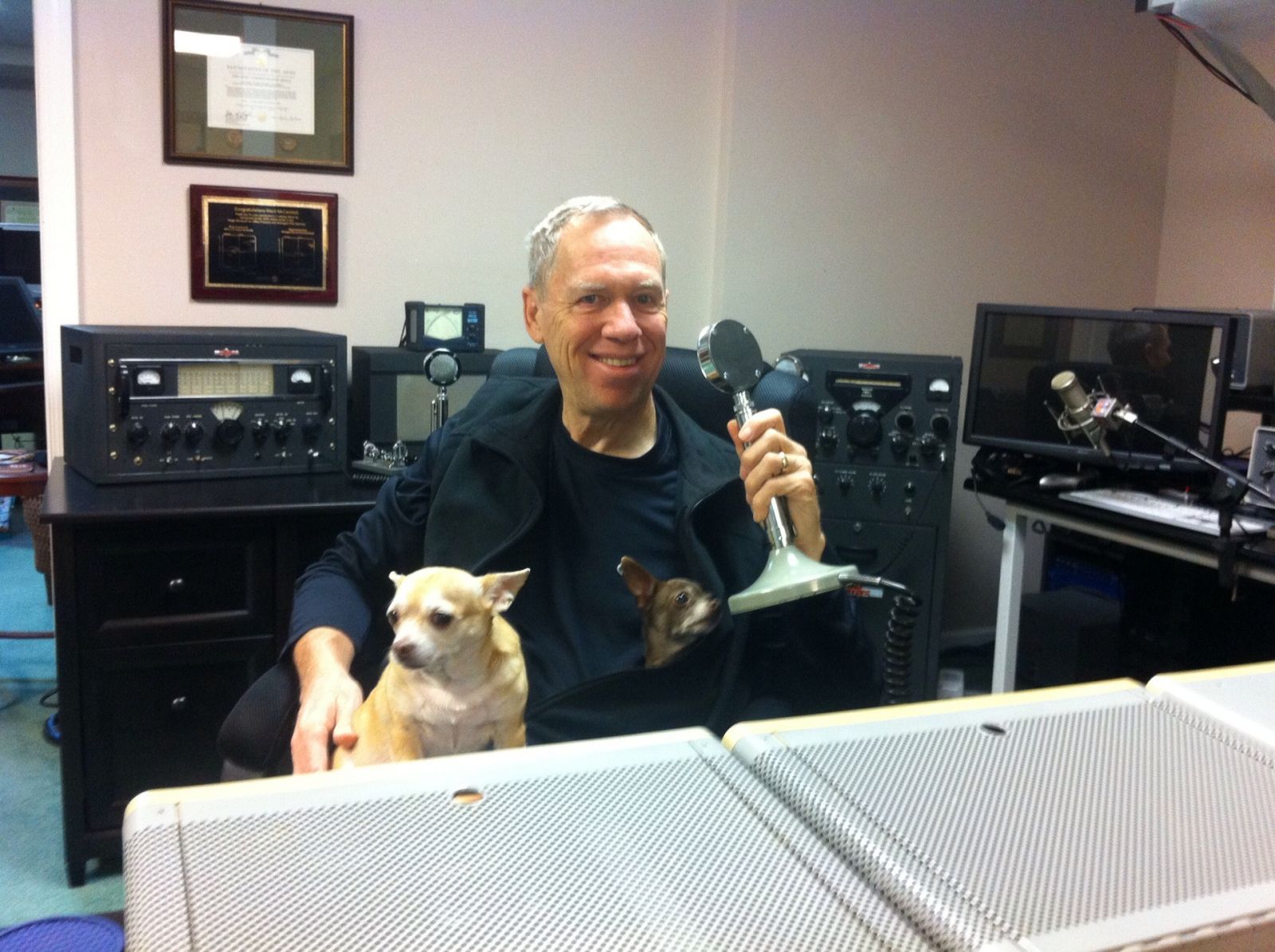 Panoramic View