The group picture is of our three children, their spouses, and their children. We have seven grandchildren and five great grandchildren. My wife and I celebrated 62 years of marriage on September 2, 2017. I have enjoyed ham radio for 66 years since my sophomore year in high school in1951, receiving my General Class license that year, and receiving my Advanced Class ticket the following year.
I retired May 15, 2010, after 26 years as President of William Jessup University, a Christian Liberal Arts University of around 1600 students here in Rocklin, California.  I am currently working back at the university 20 hours a week as a consultant for special development projects.
My rig is a Kenwood TS-480HX into a solid state linear amplifier running 500 watts into a three element SteppIR at 40 feet.
Steelhead Trout! Ocean run rainbows in costal streams of California! Second Picture is 19 lb. trophy steelhead from Smith River and the third picture is a 30 lb. salmon on the American River!  I love catching these monster fish!  
My favorite fishing spot in Yosemite National Park with Half dome in the distance!
Below, I'm standing on my head on my 80th birthday on top of half dome on June 11, 2015. My dad, brother and I did the same thing on our 70th birthdays.  The local Newspaper picked up on my journey and entitled the article "One half dome meets another"!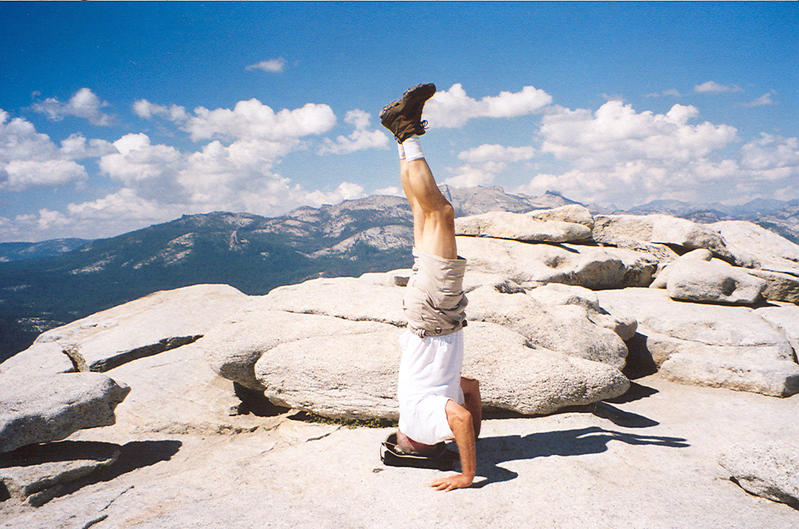 Below is graduation and a portion of our student body at William Jessup University