Anna operated from Bequia Island (IOTA NA-025) as J8/W6NN between July 4 and July 11, 2016,
including operation as the St. Vincent and the Grenadines Headquarters Station J87HQ during the IARU HF
Championships.
 
QSL information for all W6NN and DXpedition contacts:
PJ2/W6NN (2011), VP5/W6NN(2012), VP2EAR (2013), EA8/W6NN(2013), 9H3NN (2013), V25N (2014), J38NN (2015)
All logs are uploaded to Clublog, LotW and eQSL.
If you believe you contacted us and are not in the log, please send an email to w6nn@richseifert.com
Send Direct QSLs to my home QTH address in the US (shown above): US send SASE, International send SAE + USD2$ or 1 valid, stamped, new IRC (expiration 2017).
Bureau cards should be sent via W6NN to the US bureau, and will be responded via Bureau.
PLEASE DO NOT SEND CARDS TO NON-US BUREAU (PJ2, VP5, EA, 9H, etc.); THEY WILL NOT REACH ME.
Direct cards without stamp or 2$/IRC will be returned via Bureau.
BEST WAY TO GET A QSL, either Direct or Bureau is via Clublog!!
You can check the logs for your QSOs and request a QSL card ($2 direct or free via bureau) with the Online QSL Request below:
Feel free to combine QSLs for KE1B, W6NN, ZF2LL, DXpeditions, and our contest callsign K6MMM.
All logs are uploaded to LoTW and eQSL.No need for multiple envelopes or stamps/IRCs.
BUREAU CARDS FOR REPEAT CONTACTS
I appreciate the many cards I receive via the Bureau. I will reply with a QSL card for all contacts with new stations,
and for repeat contacts on different bands or modes. It is not practical (or especially useful, for awards or other purposes)
to reply with a QSL card for every contact, particularly repeat contacts on bands and modes that have already been confirmed.
I will reply 100% to all cards sent direct, regardless of band or mode.
***************************************************************************
Located in the beautiful Santa Cruz Mountains of Northern California, 100 km south of San Francisco.
Elevation 600m, with line-of-sight to the Pacific Ocean.
County: Santa Cruz
This is the view of the Santa Cruz Mountains from our QTH:
Love to work DX, also enjoy contesting - SSB, CW and RTTY.
First licensed (Tech): September 2009
General: May 2010
Extra: February 2011
Previous callsign: KE1BYL
W6NN since April 1st, 2011
All credit goes to my boyfriend, Rich KE1B for our wonderful station. He's got a lot more rigs, but here is what I use:
Radios:
Amplifiers:
Antennas:
20/17/15/12/10m: Optibeam OB11-5 (17 element, 5-band interlaced Yagi) at 18m

160/80/40m: Inverted Vees at 18m

2m: Diamond X200 (omnidirectional) at 20m, 40 element phased Yagi array at 10m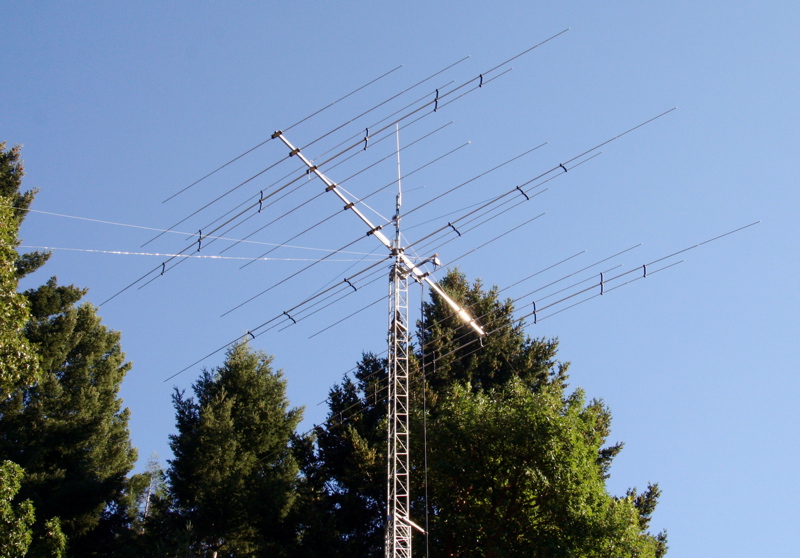 Holiday DXpeditions:
Curacao at the PJ2T station, April / May 2011 - PJ2/W6NN

Grand Cayman Island, July 2011 - ZF2LL

Providenciales, Turks & Caicos Islands, May 2012 - VP5/W6NN

Anguilla, May 2013 - VP2EAR

Tenerife, Canary Islands, August 2013 - EA8/W6NN

Gozo Island, Malta, August 2013 - 9H3NN

Antigua, May 2014 - V25N

Anguilla, November 2015 - VP2EAR

St. Vincent & the Grenadines (Bequia), July 2016 - J8/W6NN and J87 HQ

Barbados, July 2016 - 8P6NN
Magyar radiosokat szeretettel udvozlom Kaliforniabol, es remelem hamarosan ujabb kapcsolatokat tudunk teremteni.
Hope to hear you on the bands!
73 & 88,
Anna
W6NN
�