I began my ham career with a Novice license (WN8OQJ) in 1964 while a junior in high school. I built my first transmitter from an ARRL Handbook design but the design was flawed and when powered up for the first time, I let the smoke out! I upgraded the next year to Technician (WA8UUY) and about 4-1/2 years later to Advanced. In 1977 I upgraded to Extra and changed my call to W8TN.
I've operated as W8TN/6Y5, ZF2EK, W8TN/VP9, XX9TN and as a member of the 1985 FOØXX Clipperton DX'pedition making over 1,000 QSO's from each of those locations. In September 2012 I operated as a member of the Swains Island (NH8S) DX'pedition.


My operating awards include DXCC Honor Roll - Mixed 356/338 (need P5 to have them all) plus Phone Honor Roll, 5BDXCC, 10-Band DXCC, DXCC Challenge (2,400+), 5BWAS, WAZ, Geritol 75-M W.A.S. (No. 300), 6-M W.A.S., VUCC on 6-M & 432 MHz plus the first 6-M DXCC in West Virginia. I have also worked DX on VHF/UHF including meteor scatter (SSB & WSJT) and CW Moon-Bounce (EME) on 2-M and 432 MHz. One of my biggest thrills was being the Technical Coordinator for the Kanawha School of Davisville, WV, for their SAREX communication with the Space Shuttle in 1994. I am a Life Member of both ARRL and AMSAT, a member of the A-1 Operators Club, and President of the West Virginia DX Association (http://wvdxa.blogspot.com/). 
In 2015, I was awarded the West Virginia Outstanding Amateur of the Year award.  The photo below shows Phillip Groves, N8SFO, the West Virginia ARRL Section Manager (on the right) presenting the award.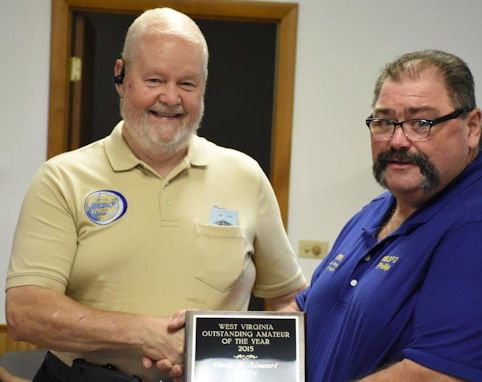 In addition to operating I have enjoyed just about everything in ham radio from contesting, to building equipment/antennas, to QRP, to satellites, to moonbounce, to software/computers, to Field Day, to mobile HF & VHF, to the latest digital modes. Over the years I have been an Elmer to several budding hams and that, for me, is the most fulfilling aspect of ham radio.
You can see my Blog here (http://w8tn.blogspot.com/).
Currently my equipment includes an Elecraft K-3S, microKEYER II, RadioSport RS60CF Headset (see above thumbnail photo), an SPE Expert 2K-FA amp and an Alpha 8406 amp for 6-M. Antennas include an InnovAntennas 8-L LFA-2 for 6-M, a 4-L SteppIR, 40-M Wire Vertical, Inverted-V's for 30-M and 17-M, plus a 160-M Inverted-L, an 80-M wire vertical and 5 Beverages.
Search my log below: