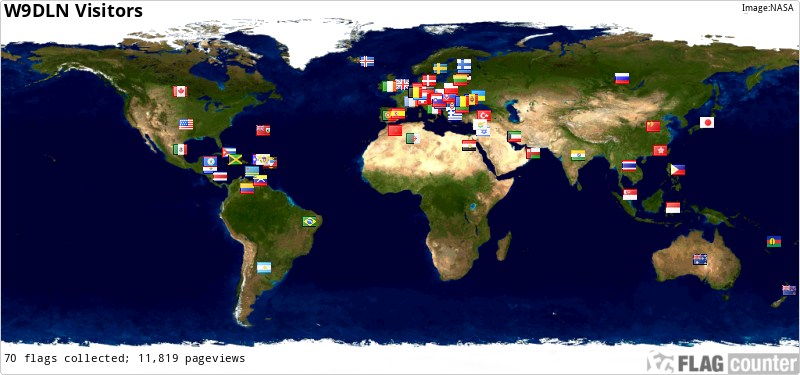 Thanks for looking me up. Chances are we just worked so hello again. If not then it is nice to meet you.
I am active on all MF and HF bands as well as 6M, 2M and 440 MHz. I operate 95% of the time on CW. The rest of the time I am on RTTY or SSB.
I have been a ham since 1977. My original calls were WD8JTQ. I spent many years as a novice operating CW. I upgraded to General in 1983 and finally Extra in 1987. In 2004 I applied for the vanity call W9DLN.
I am active in the SKCC group. I really enjoy those guys and gals. My member number is 3635T. Recently I have discovered the fun of QRP and became a member of NAQCC (#4275). I am also involved in ARLHS (#1616). I have activated over 70 lighthouses in Wisconsin, Michigan, Minnesota and Ontario. Finally, I have become active on 6 meters. I have been a ham over 30 years and finally got on that band. When it is open it is a lot of fun.
If you would like a QSL card please send a SASE if possible to help me with postage. I'd sure appreciate it.
73, Dan, W9DLN
DX Code of Conduct
I will listen, and listen, and then listen again.

I will only call if I can copy the DX station properly.

I will not trust the cluster and will be sure of the DX station's call sign before calling.

I will not interfere with the DX station nor anyone calling him and will never tune up on the DX frequency or in the QSX slot.

I will wait for the DX station to end a contact before I call him.

I will always send my full call sign.

I will call and then listen for a reasonable interval. I will not call continuously.

I will not transmit when the DX operator calls another call sign, not mine.

I will not transmit when the DX operator queries a call sign not like mine.

I will not transmit when the DX station calls other geographic areas than mine.

When the DX operator calls me, I will not repeat my call sign unless I think he has copied it incorrectly.

I will be thankful if and when I do make a contact.

I will respect my fellow hams and conduct myself so as to earn their respect.